The Delusions and Realities of the Immigration Debate
Democratic Senator Michael Bennet of Colorado answers questions about DACA, the shutdown, and his efforts to overhaul the Dodd-Frank banking regulations.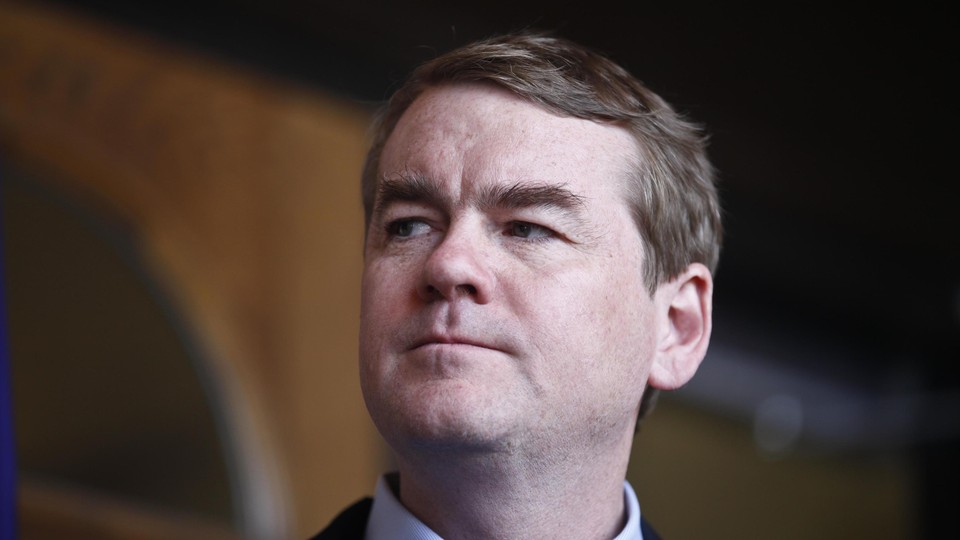 Two weeks ago, President Trump reportedly stunned several U.S. senators attempting to negotiate an agreement on immigration when he wondered out loud why America was taking immigrants from nations like Haiti and El Salvador and referred to African states as "shithole countries," expressing a preference for immigrants from Norway.
The dispute over what to do with the hundreds of thousands of young undocumented immigrants brought to the U.S. illegally as children led to a government shutdown this past weekend. Those immigrants were left in limbo last year after Trump rescinded the Obama-era Deferred Action for Childhood Arrivals program, which allowed the "Dreamers" to work legally and spared them from deportation. Democrats and Republicans came to an agreement to reopen the government on Monday, after the Republican leadership in the Senate agreed to hold a vote on a DACA-related bill.
One of the lawmakers working on a potential immigration compromise is Democratic Senator Michael Bennet of Colorado, a DREAM Act supporter who represents a state that is both racially diverse and politically purple—Bennet's junior colleague is Republican Cory Gardner. On Meet the Press, responding to Trump's remarks, Bennet distinguished between Trump's comments and his person, saying that while he "was raised not to call people racist on the theory that it was hard for them to be rehabilitated once you said that," there's "no question what he said was racist."
I sat down with Bennet on Tuesday to discuss racism in the Trump era, immigration, whether Democrats caved in the government shutdown, and Bennet's co-sponsorship of a bill that would weaken Obama-era financial regulations. What follows is an edited and condensed version of our conversation.
---
Adam Serwer: On Meet the Press, you said that "I was raised not to call people racist on the theory that it was hard for them to be rehabilitated once you said that. But there's no question what he said was racist." What's the distinction and why is it important?
Michael Bennet: When you can avoid asserting that people are irredeemable then you try to avoid that. Particularly when that person is the president of the United States, which makes the racist comments that he made even more egregious and unfortunate than they would be if someone else made them.
Serwer: Do you think the Trump administration's immigration policies are driven by racism?
Bennet: I think they're driven by a profound anti-immigrant sentiment and a complete misapprehension of the contribution that immigrants and immigration has made to the United States of America. They see it as a negative force, immigration and immigrants as a negative force. I think the history is that it has been a positive force.
Serwer: You've spoken of your mother and grandparents being Holocaust survivors. How does that shape your views on immigration?
Bennet: It shapes my views on immigration in two ways. One is the sense that the United States at important moments in our history has been a refuge to people who are fleeing death and destruction in their countries.
The second is, there is not an immigrant in Colorado—and I have been to every corner of my state and over again—that has a thicker accent than my grandparents had when they died. And there is nobody I have ever met, and I don't say this as a politician, I say it as a human, as an American citizen, there was nobody I ever met who were greater patriots than my grandparents. They loved this country. And they were astonished by our political system, by our commitment to pluralism, by their ability to rebuild their shattered lives in the United States, and they truly believe they could never have done it anywhere else. I think a lot about them when we're having these immigration conversations. Not just about my grandparents, but my mother as well, who was the only person in the family who spoke English when they got here, who enrolled herself in public school in New York City.
Sometimes I hear people say on the floor say, my grandmother wouldn't believe that I had been elected to the Senate. And my grandmother wouldn't have any difficulty believing that, not because of me, but in her mind that's the way the country worked. And I believe that tendency, that impulse in America, is one we should be cherishing, and it's one the president of the United States doesn't seem to grasp.
Serwer: How do you see the current immigration debate being reflected among your constituents in Colorado? Do they, like the president, see immigration as being a serious crime problem?
Bennet: Absolutely not. His view of it is antithetical to their view of it. Many of my constituents are deeply aware of their own family's immigration history in the United States, and they believe immigrants should be treated as they were treated. When I started the work on the Gang of Eight, which was the comprehensive immigration bill that we passed before the Gang of Six—that tried to get this current bill passed, I first traveled Colorado to develop a set of principles for immigration reform.
The very first people that I went to see were, by and large, rural Republicans in my state, many of whom were farmers and ranchers, who were desperate to fix the immigration problem in order to have a predictable and stable workforce. So emphatically the answer is no. The people I represent, whether they're Democrats, Republicans, or Independents, by a very large margin, do not see themselves in the views that Donald Trump is expressing on immigration.
Serwer: Have you seen a change in the way your constituents see immigration since Trump was elected?
Bennet: Yes, in terms of the fear that immigrants have, that their families are going to be split up, that people are going to be deported, and the anxiety that other people have that the economy is going to be dislocated as a result of what Donald Trump is doing on immigration.  
Serwer: Last year you said Trump was turning his back on America's heritage by refusing to accept refugees. Doesn't America also have a heritage of barring immigrants based on race or nationality? FDR turned away a boat full of Jewish refugees during the Holocaust.
Bennet: I think that we have positive moments in our history and negative moments in our history. We incarcerated Japanese Americans in the state of Colorado, in Camp Amache. You could say that's part of our heritage; I would say it's a shameful part of our heritage and not something we should repeat. Governor [Ralph] Carr stood up against it and lost his political career as a result. That's the heritage we should be following.
Serwer: On Monday you voted to reopen the government, after Schumer and McConnell agreed to a deal where DACA would come up for a vote in early February. Was that a fair trade? Do you expect McConnell to keep that promise? Even if he does, do you expect the House leadership to allow a vote?
Bennet: I would have much rather had a deal that placed the bill that I had been working on with Graham and Durbin in a must-pass piece of legislation that would ensure it would reach the president's desk. I would have much preferred that. I don't think that deal was in the cards, and I worried a lot that the longer the government was shut down, the greater the attacks on immigrants would become.
Serwer: The president said the Democrats caved in the shutdown. Did you cave?
Bennet: No, I think we recognized the political reality of the situation.
Serwer: What would you tell a "Dreamer" about why you voted to reopen the government?
Bennet: I would tell them several things. I would tell them that keeping the government closed was not going to make it easier to pass legislation to secure their status, that it would make it harder, and that we might never be able to do it. And I would tell them that we have to work together to find a way get more than 60 votes in the Senate to pass this and force it through the House.
I would also tell them that people who are telling them that it's possible to pass a clean DREAM Act when Donald Trump is president, when Mitch McConnell is majority leader, and Paul Ryan is speaker of the House, are delusional. And that what we should be doing is working together to figure out how to mitigate the damage that President Trump has done. That's what I'm trying to do. Every day that's what we're trying to do.
Serwer: Do you think Mitch McConnell will keep his promise?
Bennet: I think he will keep his promise to hold a vote. It's up to the rest of us to force it over the 60 vote threshold.
Serwer: A lot of people are arguing that Democrats didn't get anything in exchange. What do you think Democrats got in return?
Bennet: What we got is a commitment to have a debate on immigration; that's something we didn't have before. Am I satisfied with that? No. We got CHIP.
Serwer: Your state legalized recreational marijuana. Should the federal government legalize marijuana? Do you see legalization as a racial-justice issue?
Bennet: What we're having right now is a tremendous experiment in federalism, and that's what we should continue to do. The states should look at this and ultimately we should decide as a country what we want to do, but I don't know that we're there yet. I think the sentencing disparities suggest important issues that have to be addressed.
Serwer: You're a co-sponsor on a bill to relax Dodd-Frank regulations requiring billion-dollar financial institutions to retain certain resources in the event of another big downturn, so they don't have to be bailed out again. Why is relaxing regulations on banks and credit-card companies like BB&T and American Express a good idea?
Bennet: There are people who think that Dodd-Frank was somehow a talismanic piece of legislation. I was here when it was written, I saw it written, I understand the give and take that was made. To hear people talk about this bill you would think that there were no lobbyists in the room when it was written. It was written just like every piece of legislation was written around here. And I think that reducing some of the capital requirements on some of the smaller financial institutions in this country will increase access to capital without creating a systemic risk to the economy. That's why I've been willing to consider it.
Serwer: According to The New York Times, "Under the bill, firms with less than $10 billion in assets would be exempt from the so-called Volcker Rule, which prohibits banks from making risky bets with federally guaranteed deposits." Why should banks be allowed to make such bets at all with federally guaranteed money?
Bennet: I don't think banks should make risky bets. I think that we should analyze how we got into in the Great Recession, and do everything we can to avoid it, and I think the changes in this bill promote some access to capital without creating the systemic risk that we had before.
Serwer: Why don't they create the systemic risk they had before?
Bennet: Because they're not big enough to do it.