Orrin Hatch's Retirement Paves the Way for a Romney Senate Bid
The longtime Utah senator announced his exit after 40 years representing the state, paving the way for the former Republican presidential nominee to enter the race to succeed him.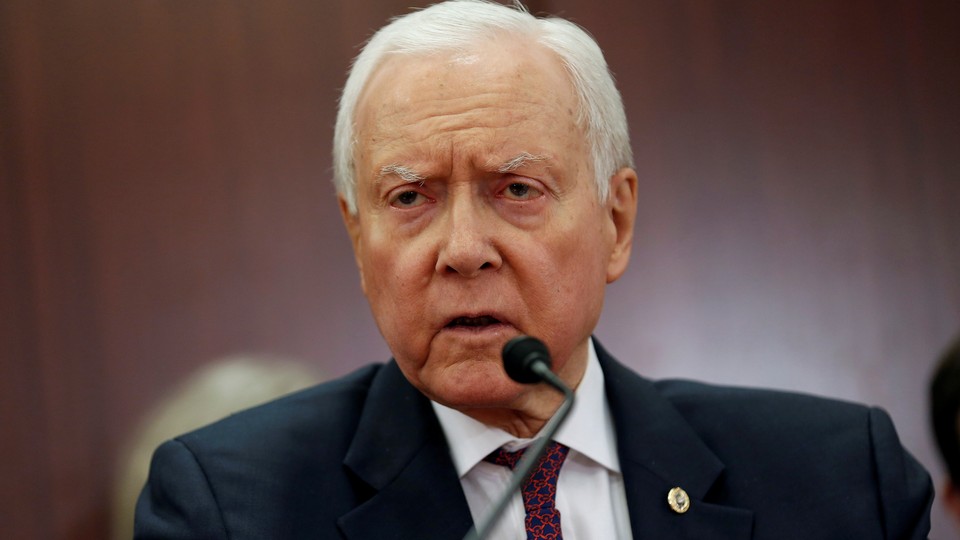 Utah Senator Orrin Hatch announced Tuesday in a video released by his office that he would not seek reelection next year, clearing the way for a possible Senate bid by Mitt Romney.
"After much prayer and discussion with family and friends, I've decided to retire at the end of this term," Hatch said, adding, "I may be leaving the Senate, but the next chapter in my public service is just beginning."
The announcement comes after months of speculation about Hatch's plans, and intense backstage political jockeying around his Senate seat.
The 83-year-old incumbent, who is the longest-serving Republican in the Senate, had promised Utah voters in 2012 that this would be his final term. But after his party took control of the Senate and then the White House, he began publicly walking back that pledge. Hatch's defenders argued that his experience and savvy were needed now more than ever—but not everyone was sold.
Behind the scenes, high-powered Republicans in Utah—worried about Hatch's abysmal poll numbers and eager to usher in an establishment-friendly successor—began waging a concerted campaign to convince the incumbent to retire. Wealthy donors raised money for a library or institute dedicated to his legacy, and efforts were made to assure him that his seat would remain in good hands. The question of who would take the baton from him was especially important for Hatch—and he had an ideal candidate in mind.
"If I could get a really outstanding person to run for my position, I might very well consider [retiring]," he told National Journal in April, adding, "Mitt Romney would be perfect."
Hatch hand-delivered a memo to Romney last year laying out the reasons he should run for his seat, according to a source with knowledge of the document. And as I first reported at The Atlantic last spring, Romney was seriously exploring a bid. People close to him told me at the time that he was alarmed by President Trump's incompetence and worried about the threat his presidency posed to the long-term health of the Republican Party. Still, he'd made clear that he would not run for the seat unless Hatch decided to retire.
By last October, people close to Hatch were telling me that the senator had made clear in private that he planned to retire. But with the prospect of a Senator Romney growing more likely, the Trump White House made a last-ditch attempt to keep Hatch around for another term—complete with a presidential visit to Utah, and enthusiastic lobbying behind closed doors.
Trump's efforts were not lost on the senator, and as Utah's political class waited last month for him to announce his decision, several sources told me they were worried Hatch was having second thoughts.
In the end, though, Hatch followed through on his plans to bow out, opening the door for a Romney bid. As the first Mormon to win a major-party presidential nomination, Romney is immensely popular in Utah, and is widely expected to win easily if he runs. As an elder-statesman figure in the GOP, he has distinguished himself as one of the most outspoken Republican critics of Trump.
During the 2016 primaries, Romney gave a scathing speech attacking Trump as "a phony" and "a fraud," and refused to endorse him even after he won the nomination. When Trump was elected, Romney had dinner with him to discuss a potential cabinet pick—but in the year since, he has continued to criticize the president. Last summer, he wrote that Trump's handling of Charlottesville had "caused racists to rejoice, minorities to weep, and the vast heart of America to mourn." And after Trump endorsed Roy Moore for the Senate in December, Romney tweeted that his election "would be a stain on the GOP and on the nation."
Romney replacing Hatch in the Senate could be a nightmare scenario for Trump—a staunch ally making way for a high-profile, newly empowered adversary. It remains to be seen, however, how Romney would view his project as a senator. Would he see himself as an anti-Trump truth-teller defending conservative principles from the poison of Trumpism? Or would he try to use his influence to pass major Republican legislation? People close to Romney tell me both scenarios are plausible. First, though, he'll have to decide if he's running.