The Unlikely Martyrdom of Carter Page
In a more rational world, the fact that Trump's Justice Department sought to surveil the former Trump aide would undermine his claim to political persecution.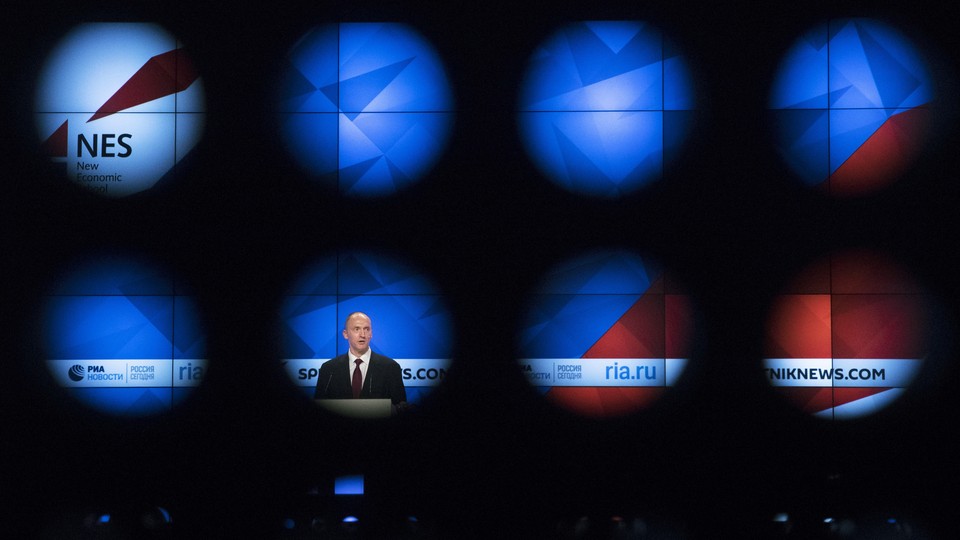 The meta-fight over releasing a memo prepared by Republicans on the House Intelligence Committee has at times obscured what exactly is in the memo, but its contents are slowly starting to come into view.
A New York Times story Monday provides one crucial element. According to that report, Deputy Attorney General Rod Rosenstein signed off on an application for a warrant to surveil Carter Page, a former Trump campaign foreign-policy adviser, that was based on information gathered by Christopher Steele, a former British intelligence officer who was paid in part by the Democratic National Committee. But when the Justice Department requested (and was granted) the warrant, the memo contends, it did not inform the judge of the source of the information underpinning the warrant.
The claim here is as complicated and convoluted as it sounds. The underlying theory seems to be this: If the warrant was obtained based on Steele's own research and other materials he may have relayed, and if the judge was not informed, then the warrant might have been improper. Courts have ruled that even if evidence of criminal behavior is found using such a warrant, that evidence can't be used in court—it is, as Justice Felix Frankfurter put it, "fruit of a poisonous tree."
But there are many questions about this theory. In broad terms, the memo's chief exponent, Representative Devin Nunes, has long since undermined any presumption of accuracy to which he may once have been entitled. Nunes has long insisted that the Obama administration was improperly surveilling Trump campaign members, and in spring of 2017 set off a strange cascade of events with a cloak-and-dagger late-night visit to the White House. Nunes, a former member of President Trump's transition team, said he was going to deliver sensitive information to the president—a curious explanation, since he was heading the House Intelligence Committee's ostensibly independent investigation into Russian interference in the election. It soon emerged that in fact Nunes was receiving information from the White House, which he used to make unsubstantiated claims about improper use of intelligence by Obama officials.
That means it's hard to take any assertions in the memo at face value. Still, it's known that Steele was passing information to the FBI, as Glenn Simpson of Fusion GPS, who hired Steele, testified to Congress. Fusion GPS had been hired by the law firm Perkins Coie, on behalf of the Democratic National Committee. It's also known that Page has been under FBI surveillance. The question is whether the Steele information was used to obtain the warrant; what other information was used; and whether use of Steele-derived information would invalidate the warrant.
First, there's no obvious reason why the Justice Department couldn't use information obtained in opposition research in a warrant application, assuming, of course, that it was accurate. Simpson said Steele approached the FBI with information he had obtained not at the behest of the DNC, but because he worried that there was information important to American national security, and he had a duty to inform law enforcement. This is arguably in contrast to the behavior of the Trump campaign, which after being told that an agent of a foreign government wished to offer damaging information about the Hillary Clinton campaign ahead of a June 2016 meeting at Trump Tower, chose not to inform law enforcement. Many political operatives have said they would have contacted the FBI under similar circumstances.
Second, it's unclear what if any non-Steele information was referenced in the warrant application. Bradley Moss, a lawyer who works on national-security cases, said in an email that he expected any application would have used other sources.
"You don't premise politically controversial and sensitive FISA warrants against a political candidate and/or his associates based exclusively upon a private opposition research document," Moss said. "That would be professional malpractice. The fact that DOJ purportedly went forward with getting the FISA warrant(s) suggests that at least some of the information in the warrant application was independent of the dossier."
The dossier has become a focus for Republicans seeking to discredit the investigation into Trump's ties to Russia. Some critics have argued that the entire investigation was premised entirely on Steele's work, which elicited a rebuttal laying out how the probe long predated the dossier.
Focusing on the Page warrant is a surprising strategy. It is not difficult to imagine that the American intelligence community had more information about Page than what was in the Steele dossier. As early as 2013, the U.S. government believed Russian intelligence was trying to recruit Page as an asset. The FBI was also surveilling him in 2016, prior to any warrant request that Rosenstein would have approved.
While illegally obtained evidence is indeed invalid, Page makes for an unlikely rallying point, both because of his history of questionable ties to Russia and because of his own statements in interviews and in congressional hearings. In jaw-dropping November 2 testimony to the House Intelligence Committee, Page offered confusing and often changing testimony about trips to Russia and Hungary and about who he had met with during those trips.
Page is a particularly unusual foil for Rosenstein, who until joining the Trump administration had a reputation as a meticulous, nonpartisan, and fair public servant but is also a lifelong Republican. But the deputy attorney general has found himself a medium for partisan warfare. After Attorney General Jeff Sessions recused himself from the Russia investigation, Rosenstein inherited it, and soon appointed Robert Mueller as special counsel.
Although Rosenstein is a Republican and was appointed to his post by Donald Trump, the president has suggested he is a Democrat and questioned whether he is trustworthy. The crux of Trump's anger is the Mueller investigation: Trump is angry about Mueller's appointment, and angry that Rosenstein has endorsed Mueller's work so far. Trump has railed against Rosenstein in interviews, and according to a New York Times story last week considered firing him as a method of firing Mueller.
Attacking Rosenstein serves a dual purpose for Trump and his allies. If Rosenstein is forced to resign or fired, Trump would appoint a replacement who would become Mueller's boss, and could fire the special counsel or move to limit his probe. The White House seems to recognize that firing Rosenstein merely to mess with the Mueller probe would be politically disastrous, but alleging misconduct in a warrant application could provide an excuse to push him out for other reasons. Even if Rosenstein doesn't go, however, the current line of argument serves the purpose of undermining trust in the FBI and DOJ as they continue to investigate Trump.
Last week, it was revealed that Trump sought to fire Mueller in June, but was blocked by White House Counsel Don McGahn, who threatened to resign rather than order Mueller's dismissal. Trump has at times threatened to fire Mueller, and a pivotal moment is approaching, as Mueller talks with Trump's attorneys about the president testifying. Democrats and some Republicans have renewed warnings to the White House not to fire Mueller, but bills that would protect the probe have bogged down in Congress.
Page has long alleged that he was the target of politically motivated persecution by the Obama administration, which he has referred to in letters to congressional committees as the "Clinton/Obama regime" and the "Clinton-Obama-Comey" regime, after the former FBI director. In a more rational world, the fact that Trump's Justice Department also thought the Page case required a FISA warrant would undermine Page's claim to political persecution; instead, in the inverted logic of the present moment, it's being used to argue that Rosenstein is some sort of partisan Democratic hack. (Page did not reply to requests for comment about the new report.)
In a rational world, the White House would also likely be defending the Justice Department and the president's own deputy attorney general. Instead, the Justice Department and White House are on opposite sides of the debate over the Nunes memo. The Justice Department has said that releasing the memo, which contains classified information, would be "extraordinarily reckless," but Trump—who seems to see vindication or at least political advantage from the memo's release—has pushed for its release. This is the genius of the memo as political bludgeon: It forces the Justice Department into asymmetrical warfare, because the government would likely be unwilling to release classified information that would contextualize or even justify actions described in the memo.
Deputy White House Press Secretary Raj Shah suggested Monday morning that the White House would allow release over the Justice Department's objections. "The Department of Justice doesn't have a role in this process," he said.
The House Intelligence Committee authorized the circulation of the memo among members of Congress, but not its public release. It also refused to share it with the Justice Department. Ranking Democrat Adam Schiff has blasted the memo as "a hodgepodge of false statements and misleading representations" that cherry-picks facts and omits the underlying intelligence on which it is based, which he said most members have not reviewed. Last week, committee Democrats prepared their own rebuttal memo, which is also not public. The tug-of-war over releasing the Nunes memo, and speculation about what it contains, may be over soon, though. The House Intelligence Committee is slated to vote as soon as Monday night on a public release.