No, Trump Will Not 'Hit Reset' With His State of the Union
An attack on one of the most inapt metaphors in American politics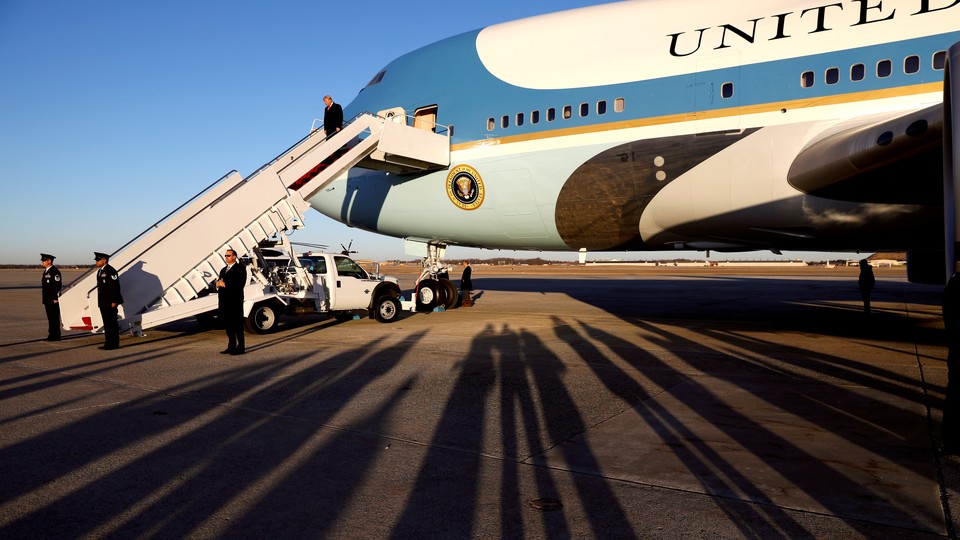 Among flacks and politicians, there is a fondness for a metaphor that journalists shouldn't reflexively adopt: that of a CEO or a corporation or an elected official or even a whole nation hitting reset, or the reset button.
The terms are invoked especially often around State of the Union speeches.
And if reporters thought President Trump was poised to tell Congress that he is changing his party affiliation, or asking all cabinet members to resign so he can start anew, or abjectly apologizing to the American people for his tenure to date, or pursuing another tax bill with different provisions than the one that he recently signed into law, I'd hold my tongue grudgingly as they recycled the reset language.
But why use reset while actually conveying that what's been happening up until now is going to keep happening going forward, as the Associated Press just did?
"Beset by poor poll numbers and the grind of the Russia investigation," the news organization writes, "President Donald Trump will look to reset his term with his first State of the Union address, arguing that his tax cut and economic policies will benefit all Americans." No! He obviously cannot simply start his term over again, and he has been arguing that his tax cut and economic policies will benefit all Americans at every point in his campaign and first year in office.
The Washington Examiner has an equally inapt variation on the theme. "Millions of Americans will watch on Jan. 30 as the president aims to reset the narrative that his policy agenda and approval ratings have been damaged by internal chaos and his own behavior," the newspaper writes. But surely his aim is to change or refute or end that narrative, not to somehow start it anew at the beginning.
Karl Rove brings us closer to how pernicious the metaphor can be.
"This is a moment where he can reset," he says of the State of the Union, "but the reset depends upon him following through in the weeks and months ahead."
But a real reset does not depend on what follows it.
To draw on the only actual reset button that I can recall using in life, if I forget to have Mario use the warp zone in level 1-2 and reset my Nintendo, the effectiveness of that reset does not depend on what I do going forward. To reset is to be at a new beginning, whatever comes next.
This is not a moment when Trump can reset, because none of us is going to forget his frequently crude, erratic, boastful, emotionally immature way of communicating, no matter what tone he strikes in the most formal speech of the year.
Our attention spans may be attenuated, but few people besides cable-news pundits are inclined to utterly change their professed judgment of a person's long-observed, persistent traits, based on him once reading words someone else wrote.
That partisan Republicans would like the American people to forget Trump's misdeeds, and would like to pretend that a good State of the Union renders them irrelevant, is understandable. Journalistic complicity in that charade is not.
If Trump ceases to lash out like a man who cannot master himself for six months or a year, I'd have no objection to a backward-looking piece that identifies when that change began.
Until then, every piece of news analysis that touts a reset is far more likely to be misleading than enlightening, because more often than not, resets are invoked by people who want credit for real change without having to do the actual work of effecting the change in question.
The metaphor is meant to do all the work for them.
If Trump is back on Twitter or television within the week, speaking and behaving in the only way we've ever known him to be capable of conducting himself, the Associated Press should run a correction to its story. It should note that in hindsight, Trump was not seeking a reset at all, just the empty illusion of one.