There's No Way Out
Trump's presidency may be a dysfunctional disaster, but there's no apparent way to end it.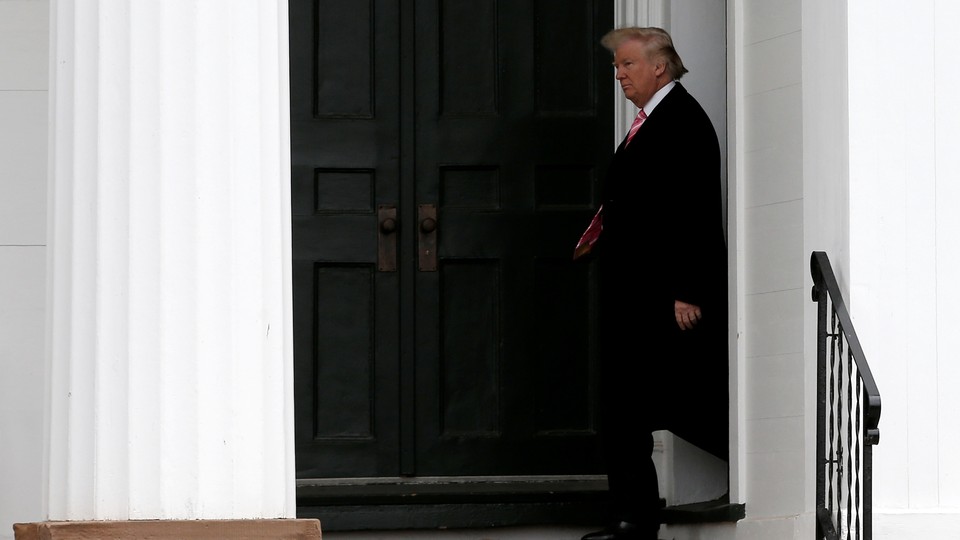 Last week, which brought the release of Michael Wolff's Fire and Fury, was rough for the White House. But this week has been worse still, and the damage has been almost entirely inflicted by the president himself.
Consider the highlights:
On Sunday, Oprah Winfrey delivered a speech at the Golden Globes that served as an implicit rebuke of the president. By week's end, at least two polls showed her leading Trump by double digits in a hypothetical presidential election, even though she has no political history and has not said she is running.
On Monday, several outlets began reporting that the White House was in discussions with special counsel Robert Mueller about the president testifying in the Russia probe, which his lawyers had once said would be over by either Thanksgiving or Christmas.
On Tuesday, the president invited lawmakers of both parties to the White House for a meeting about an immigration deal. The meeting was intended to show that Trump was on top of things, contrary to the portrait in Wolff's book of a bumbling incompetent distrusted even by his top aides. Instead, the president briefly said he'd agree to a Democratic plan for extending Deferred Action for Childhood Arrivals (DACA), before Republican leader Kevin McCarthy had to cut in and remind him that his position was exactly the opposite. Trump did, however, say he would sign any immigration bill Congress could send him.
On Wednesday, Trump held his first press conference of the year, appearing with Norwegian Prime Minister Erna Solberg. The president turned in an erratic performance, boasting about the U.S. selling a plane to Norway that only exists in the video game Call of Duty; refusing to say whether he would agree to speak to Mueller; continuing to obsess over his vanquished 2016 opponent, Hillary Clinton, with a riff about wind power; and incorrectly suggesting the U.S. does not use hydropower. The same day, sulking about Wolff's book, he made a nonsensical call for stricter libel and defamation laws.
On Thursday, the president began the day by publicly tweeting against reauthorization of an intelligence bill his staff was lobbying to pass. The president's objections were evidently inspired by his watching a Fox and Friends segment designed to sway him, and based on a debunked (and, ironically, defamatory) claim that President Obama illegally surveilled him. Nearly two hours later, the president clumsily walked back his tweet and backed the bill, presumably after a staff intervention.
As it turned out, he was just getting warmed up. Later on Thursday, a bipartisan group of lawmakers met with Trump to present an immigration bill, and even though he'd promised to sign anything Congress could send him, he rejected it. Worse, he delivered a racist rant to stunned lawmakers, referring to African nations as "shithole countries" and also saying, "Why do we need more Haitians? Take them out."
Trump also gave a lengthy interview to The Wall Street Journal. He often seems to grant print interviews at times of political peril, and they usually don't help him out. The Journal interview fit the pattern. Trump implied that he had been in contact with North Korean leader Kim Jong Un but refused to confirm it, saying, "I probably have a very good relationship with Kim Jong Un of North Korea." Either the president made up the idea of secret talks with Kim on the spot because he thought it would be buzzy, or else he blurted out details of sensitive secret talks in a newspaper interview. Neither is good. He accused FBI employees of treason for having sent exchanged text messages critical of him during the presidential campaign. Trump meandered through boasts about earlier stages of his career, from The Apprentice to his supposed athletic prowess as a boy. This sort of bragging would be seen as irrelevant and pathetic from any other president, and as it happens, that is true for this one too.
He continued tweeting all evening, with sundry attacks on Democrats. Around 11 p.m., he announced that he had canceled a trip to the United Kingdom—the Unites States's closest and most important ally—because he was angry that the Obama administration had decided to move the American Embassy in London. This neither makes any sense as a reason for canceling such a trip, nor is it true: The George W. Bush administration made the call.
He was tweeting again by early Friday morning, still fixated on the "shithole" meeting. "Probably should record future meetings," he mused. This is a curious idea for reasons both historical—since Richard Nixon, no president has been so foolish as to record all his meetings—and specific, since Trump's threat of releasing tapes of his conversations with James Comey led directly to Mueller's appointment.
As the week closes, everything is a mess. The president's foreign policy remains chaotic, from his willful damage to the Anglo-American alliance to his sidelining from the North Korea crisis. He appears to be on the verge of letting the Iran nuclear deal he so fiercely attacked survive. Trump has little credibility with foes or friends on the world stage, and his foreign-policy team remains dysfunctional, in large part due to his friction with Secretary of State Rex Tillerson.
Domestic policy is not a bright spot, either. Trump finally scored a legislative win with tax cuts late last year (though they fell far short of the large-scale reform and simplification he'd promised). It's not clear where he might go next. The president raised the idea of welfare reform, but then backed off amid congressional opposition. He has also discussed an infrastructure proposal, but over the weekend he undercut his own administration's position by expressing skepticism of public-private partnerships, the proposal's central mechanism. Prospects are bleaker because of the impending November election, in which Republicans are expected to lose seats, and the president's lack of understanding and interest in policy.
Trump's problems are not limited to policy. Republican members of Congress are retiring at a prodigious rate, anticipating a difficult election cycle. The Wolff book has brought into full public discussion a fact that has been apparent to most close political observers for years, if not months: The president either cannot or will not spend the time and effort required to execute his post effectively. Beyond that, he has lost the faith not only of most of the country, but also of many of his own closest advisers. That had been true for months, demonstrated by things they tell reporters without their names attached, but Wolff's Fire and Fury, in part because it attached names to such quotes, has rammed that point home.
The book also questioned Trump's mental fitness for office, a subject that many reporters have danced around but been wary to touch without any evidence other than Trump's public behavior. Yet the book goaded Trump into responding, arguing in a classic self-negating claim, that he was "a very stable genius." That has forced the press into an open discussion of his fitness for office. The tweets "now have made it fair game," New York Times editor Dean Baquet told Margaret Sullivan, "but I don't think that makes it fair game to speculate." Once this particular genie is out of the bottle, it's hard to imagine it going back in—questions of competence and cognition will shadow the rest of Trump's presidency.
There have been moments like this before in Trump's presidency, most notably in May 2017, where it felt as though the wheels were coming off the White House. Here is the paradox: Everyone, from the president to his staff to the Congress to the pundits to the people, knows that the current situation is a disaster, and yet there is no apparent way to end the situation.
The 25th Amendment remains a chimerical possibility, unlikely to be invoked even by the aides who disdain Trump, and with the chances of success, even if it were, deeply cloudy.
Special counsel Robert Mueller's investigation continues to pose a serious danger to the president, but all indications (Trump's attorneys notwithstanding) are that Mueller is working at a deliberate pace, and is unlikely to wrap his probe up any time soon. He has yet to allege any criminal behavior on the part of the president, and even if he does, there would be a fight over whether the president could be indicted. Even if he were, it's not hard to imagine Trump refusing to step down.
What about impeachment? There are no serious articles of impeachment on the table at the moment, and even if there were, they would not pass the Republican-controlled House. Democrats stand a decent chance at gaining control of the chamber in November (and every week like this from Trump shortens those odds), but even if they did and managed to impeach Trump, that doesn't mean they could obtain the two-thirds of the votes necessary for a conviction in the Senate, especially since Democrats remain a longshot to retake that chamber.
Trump could straighten up and fly right—begin taking his job seriously, quit making racist comments, stop undercutting his staff, and patch up relationships with U.S. allies. But there never was a Trump pivot, and there never will be.  Anyone expecting a man Trump's age to change from the way he has behaved for decades has lost touch with reality.
If there's no way for Trump to correct course, and no way for his opponents to force his removal him from office, that leaves only two more possibilities.
Trump could resign. It's clear he isn't interested in the work and is unhappy with the way he is treated by the press, the Congress, the courts, and foreign leaders. But Trump has had many opportunities to pull out, especially during the campaign, and never took them. His pride would seem to prevent him from resigning.
That means until at least the end of 2020, the situation will remain much as it is, with a president widely acknowledged to be dysfunctional and no way to change that. It is as though the United States is stumbling, never quite falling on its face but never fully righting itself, either, caught perpetually mid-stumble. The only certainty is more weeks like this one. There is no exit.