Is the Mueller Probe Heating Up?
The special counsel has interviewed many of Trump's closest aides and is now reportedly negotiating to speak with the president—but that doesn't necessarily mean the end is in sight.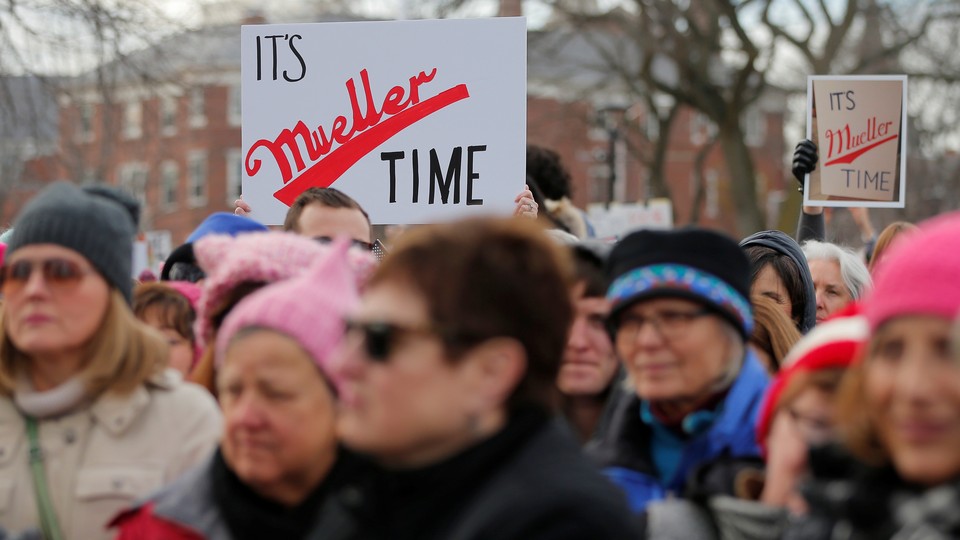 Special Counsel Robert Mueller remains as tight-lipped as ever, but a flurry of information about his probe into Russian interference in the election and what role the Trump campaign played has produced new developments in the last few days.
Attempting to divine the meaning of these moves remains opaque, but the scope of what the public has learned is significant. On Tuesday, The Washington Post reported that Mueller's team is seeking to interview the president himself "in the coming weeks," with a particular focus on the firings of National-Security Adviser Michael Flynn and FBI Director James Comey. If true, that would suggest Mueller is especially interested in whether Trump obstructed justice by asking Comey in February 2017 to let Flynn go (as Comey testified to Congress under oath) and then by firing Comey in May.
Rumors of an interview have circulated since earlier this month, and the president's legal team is reportedly now negotiating the terms of such an interview. The news of the discussions seems to come mostly from the Trump legal team.
Meanwhile, other recent reports indicate that Mueller's team has interviewed a huge portion of Trump's inner circle:
On Tuesday, The New York Times reported that Attorney General Jeff Sessions was interviewed by the special counsel's team last week. Sessions initially omitted several meetings with Russian Ambassador Sergey Kislyak from disclosures. He was also present when George Papadopoulos, a Trump campaign foreign-policy adviser, suggested a meeting between Trump and Vladimir Putin, and another adviser, Carter Page, says he informed Sessions of his plans ahead of a scrutinized trip to Russia. Comey says he asked Sessions not to allow him to be in a room alone with Trump. Sessions recused himself from the Russia investigation not long before Mueller's appointment.
The Times also reported that Comey had met with Mueller in 2017.
NBC News reported that Mueller has also spoken with Dan Coats, director of national intelligence; Mike Rogers, director of the National Security Agency; and CIA Director Mike Pompeo. A source described them to NBC News as "peripheral witnesses." Some reports have said Trump asked these men to intervene in the Russia probe, though Coats and Rogers refused to say whether that was true during testimony last summer.
NBC News also says that former Acting Attorney General Sally Yates, who was the first to inform the White House that the FBI had interviewed Flynn, has cooperated with the probe. Yates was fired for defying Trump on the first iteration of his Muslim travel ban. NBC also says that Flynn concealed his FBI interview from other White House officials.
White House Counsel Don McGahn, who was scheduled to speak to the Mueller team the day that Flynn pleaded guilty to lying to the FBI in December, has twice spoken to the probe, NBC News says.
Last week, Steve Bannon, the former White House chief strategist, agreed to speak with Mueller, on the same day that he appeared before the House Intelligence Committee and refused to answer questions about his time in the White House or Trump transition, though he spoke about the campaign. Murray Waas also reported that the White House justification for barring Bannon from testifying to the House panel did not apply to an interview with Mueller. While Bannon has offered sharp criticisms of Donald Trump Jr. and Jared Kushner, it's unclear whether he has much actual fresh information.
It's previously been reported that Jared Kushner, the president's son-in-law and a senior adviser; Hope Hicks, the White House communications director and a former campaign spokeswoman; and former White House Chief of Staff Reince Priebus have all spoken with Mueller.
As part of his plea deal, Flynn is known to be cooperating with Mueller. Papadopoulos is also apparently cooperating; his fiancee told the Post this week that she believed he would eventually emerge as the John Dean of the Russia scandal. CNN also reported Tuesday on signs that Rick Gates, a business partner of former Trump campaign manager Paul Manafort, might be negotiating a deal with Mueller. Gates was charged, with Manafort, for laundering $75 million.
It is a crime for witnesses to lie in interviews with the special counsel, even when not conducted before a grand jury.
That leaves notably few top Trump aides left to speak. Vice President Pence has apparently not spoken with Mueller. Nor has Donald Trump Jr., nor, of course, has his father—yet.
For months, the conventional wisdom, especially after charges against Manafort and Gates and Papadopoulos's guilty plea, was that Mueller was moving slowly and methodically, gradually working from the outside up in the manner of an organized-crime investigation, and that his path and timeline would remain opaque. Trump lawyer Ty Cobb has been ridiculed for repeatedly predicting a quick resolution to the special-counsel investigation—perhaps by Thanksgiving, then the end of 2017. Does the sudden onrush of interviews and news offer some vindication for Cobb, suggesting that while he may have been too fast, he was not wrong to predict a quick resolution?
The answer, of course, is, who knows? As I wrote in September, there's a great temptation to conduct augury using what little is known about the special counsel's probe, especially given the potential stakes and Mueller's own silence. Yet experts agree that it's very hard to make solid bets about his path. Similar, previous investigations—Watergate, Iran-Contra, Whitewater—all took much longer than Mueller has so far; he won't hit the one-year mark until May.
What about the Trump interview? The president's legal team will no doubt try to bargain for minimal exposure, and Cobb has expressed worry about Trump being led into a "perjury trap," where he ends up lying under oath about (what Cobb would surely argue was) a minor matter. Trump's attorneys might seek to prevent their client from having to testify more than once, especially since that would heighten the risk of a perjury trap.
John Q. Barrett, a professor of law at St. John's and former member of the Iran-Contra independent counsel's team, warned against reading too much into interviews with high-level officials.
"It's not one and done," he said. "Presumably with the president, you're not going to do a lot of returns to him. But even theoretically with the president I can imagine an investigation having a first contact, but that might not be the one and only." (Barrett also rejected the idea of a perjury trap: "Prosecutors do not do that. It's unethical. It's against Department of Justice policy.")
Bill Clinton, for example, gave a deposition in January 1998, in which he perjured himself, and then in August of the same year appeared before a grand jury. If Mueller questions Trump mostly about obstruction, he could still seek to interview him later about collusion with Russia—which might be more likely only after the Manafort and Gates charges are resolved, and they can be called to testify. Trials aren't expected to start in that case before September or October.
Securing testimony from the president is always a sensitive negotiation. Each side has one powerful piece of leverage: For Mueller, the threat of a grand-jury subpoena; for Trump, the threat of firing Mueller. In past cases, compromises have been reached: Clinton testified to the grand jury via video; Ronald Reagan submitted written answers to questions during Iran-Contra.
"You wish to be accommodating generally and sensitive, of course, to the presidency. There is no job like this," Barrett said. "You don't want to waste his time, you don't want to distract him. Presuming to ask the president for anything is a big step, but the need for law enforcement does require it."
It's possible that Mueller is taking things at a considerably faster clip than any of the earlier investigations. More likely, however, the recent news developments about his case are just more incremental information. Those hoping for a quick and decisive end to the probe—whether they are Cobb or Trump critics hoping for a coup de grace—would still be wisest to temper their expectations.