It's Joe Arpaio's Party Now
The controversial ex-sheriff says the GOP has moved in his direction—and that he's jumping into the Arizona Senate race to support Trump and his agenda.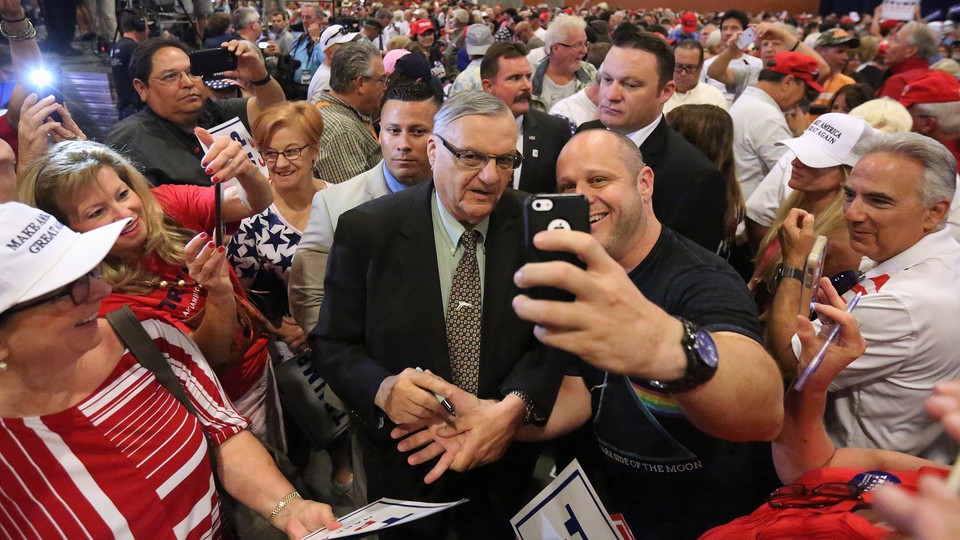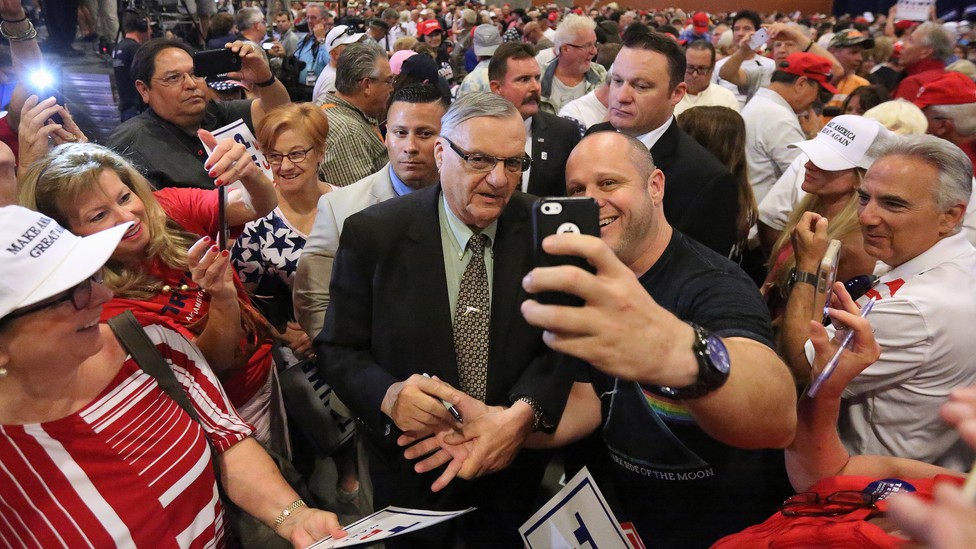 Former Arizona sheriff Joe Arpaio has the kind of résumé that in some other, hard-to-remember era would have consigned him to the fringes of American politics.
Over 24 years as "America's toughest sheriff" (a self-awarded superlative), Arpaio cultivated a national reputation for unabashed nativism and theatrically draconian law enforcement. He ran a "mugshot of the day" contest on the official sheriff's office website; forced prisoners to move from one jail to another wearing nothing but pink underwear; sent a deputy to Hawaii to investigate Barack Obama's birth certificate; and emerged as one of the fiercest champions of Arizona's brutal immigration crackdown in 2010.
Now, he wants to be a United States senator—and he believes the political climate has never been better for a candidate like him.
In a phone interview Wednesday, Arpaio told me the national GOP had moved sharply in his direction in recent years. All that gauzy post-2012 talk of Republicans reaching out to Latino voters and championing "compassionate" immigration reform seems like a distant memory now—replaced by a climate in which the godfather of the birther movement can become president by promising to keep Mexican rapists out of the country with a massive border wall.
This, in other words, is Sheriff Joe's moment.
According to Arpaio, several presidential contenders solicited his endorsement in 2016, and his early support for Trump won him a coveted speaking slot at the Republican National Convention in Cleveland. "I guess I must be doing something right in the Republican Party," he told me.
Arpaio is not alone in this assessment of today's GOP—ironically enough, it may be the one thing he and incumbent Senator Jeff Flake agree on. When Flake announced last year that he wouldn't seek reelection, he lamented that his party had been hijacked by the nativist forces that Arpaio represents. And, sure enough, there are already signs that the ex-sheriff's candidacy has caught the mood of contemporary Republicanism. One poll out of Arizona this week placed Arpaio within a couple points of GOP primary frontrunner Martha McSally.
There are, of course, plenty of reasons not to take Arpaio's bid too seriously. He has publicly flirted with running for statewide office so many times over the years that much of Arizona's political class has simply tuned him out. (Sound familiar?) As sheriff, he was found guilty of defying a court order to stop racially profiling Latinos—Trump pardoned him last year—and subsequently lost his reelection bid. And at 85, he is old even by the standards of the geriatric U.S. Senate.
What's more, it's not clear that Arpaio possesses the kind of media savvy or disciplined campaign apparatus that serious candidates in high-profile races typically rely on: When I called his cellphone Wednesday afternoon, he immediately picked up and consented to an interview, despite his apparent lack of familiarity with The Atlantic. ("I remember that magazine," he told me. "Is it the one that concentrates on the longitude level?")
Still, Arpaio shrugged off questions about his credibility.
His past flirtations with running for office? The skeptics can call them publicity stunts all they want, Arpaio said, but this time he's filed his papers and made it official—"So I guess they have to eat crow, huh?"
His age? "Well, so what? We got senior citizens in the congress, we got professional people still working with my age." Plus, voters can rest assured he won't be setting up camp long-term in the swamp. "When I do my six, won't it be great that I won't have to go meet lobbyists, or worry about getting reelected?"
As for that pesky criminal contempt conviction, Arpaio dismissed it as a no-big-deal misdemeanor rooted in cheap partisan politics. With Trumpian zeal, he ranted to me about the confederacy of haters who were hellbent on taking him down—something he believes he has in common with the president. "I've been going through the same thing as him with the biased judges, the ACLU, the Democratic Party—I could go on and on." He showed an especially visceral dislike for Flake, the man he's seeking to replace.
"At least I had the guts to run," Arpaio said. "Where's his guts? At least I'm fighting. Where's he? He gave it up! He's too busy blasting the president."
Arpaio's conviction that he has been victimized by establishment elites runs deep. At one point, I asked him if he had any regrets at all about how he conducted himself when he was sheriff. He responded with an extended riff on the evils of George Soros and the Obama Justice Department.
You don't have to look far for evidence that the Republican Party is well-primed for a candidate like this. Arpaio's bet is that the rest of Arizona is as well. In a midterm year when many Republicans will be trying to distance themselves from the deeply unpopular president, Arpaio told me he's running because he believes Americans need a Congress that's in lockstep with Trump.
"I have a lot of respect for him, and appreciate him," he told me. "So, I decided to run and get some people in the Senate who will support him and his agenda. I don't like what they've been doing to him."