How Trump Built an Obstruction-of-Justice Case Against Himself
The president's pattern of behavior may be enough to surmount the high legal threshold for proving that he sought to stifle the special counsel's investigation.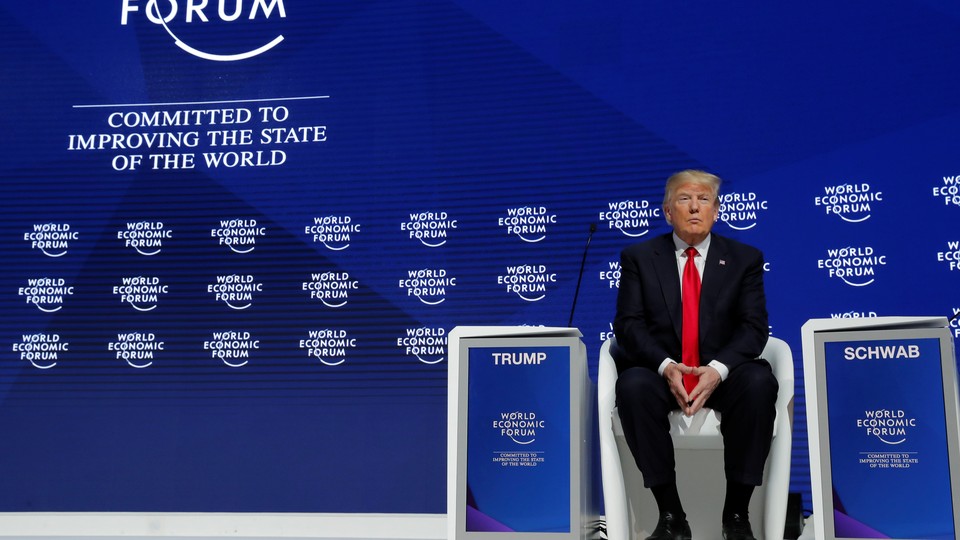 President Trump's own actions, as reported on Thursday night, have strengthened the case for obstruction of justice against him, despite the significant legal obstacles to pursuing such a case against a sitting president.
Trump ordered his White House counsel, Donald F. McGahn II, to fire Special Counsel Robert Mueller, who is investigating Russian interference in the 2016 election and potential obstruction of justice by the president, The New York Times reported. Trump relented only when McGahn threatened to resign, an echo of the 1973 Saturday Night Massacre, in which President Nixon's top Justice Department officials resigned rather than carry out his order to fire the special counsel investigating the Watergate break-in.
Obstruction of justice is a crime that depends on a person's state of mind, and so is difficult for prosecutors to prove. The law on whether a sitting president can be prosecuted, as opposed to impeached and removed from office by Congress, is unsettled. But legal experts say that Trump's pattern of behavior has made the case against him much stronger, because that pattern shows Trump repeatedly attempting to undercut the investigations into Russian interference and obstruction, and then in some cases misleading the public about it. That Trump was unsuccessful in firing Mueller is irrelevant—obstruction is a crime whether or not the attempt succeeds.
"At some point, a pattern of the same conduct indicates willfulness and intentionality," said John Q. Barrett, a law professor at St. John's University and former associate special counsel in the Iran-Contra affair.
The fact that it would be legal for Trump to demand that Mueller be fired, or that it is legal for the president to dismiss an FBI director, would not necessarily stifle an obstruction case. There could still be obstruction if the president were using his official powers for a corrupt purpose; the crucial factor is whether he had "corrupt intent." For example, prosecutors have discretion to decline to press charges in any particular case, but if they have taken money to do so, they have still broken the law.
"It's not an absolute impediment that the president can fire the FBI director at will," said Bruce Green, a law professor at Fordham University and former associate counsel in the Iran-Contra affair.  "Otherwise lawful acts can be the basis of an obstruction charge if committed with corrupt intent."
Since Mueller himself is not a witness to the attempt to fire him, it would not create a conflict of interest for the special prosecutor to include the incident as part of a hypothetical obstruction case, particularly if Mueller concludes that a sitting president is not prosecutable and refers the case to the House of Representatives for potential impeachment.
"Federal prosecutors' offices do not recuse themselves in situations like this," said Green. "For example, where a witness commits perjury in an investigation overseen by a particular federal prosecutor, that prosecutor can pursue a perjury prosecution."
In February 2017, Trump reportedly attempted to pressure then-FBI Director James Comey to end the investigation into former National-Security Adviser Michael Flynn. Trump also reportedly pressured Director of National Intelligence Dan Coats, who oversees U.S. intelligence agencies, to urge Comey to end his investigation into Flynn—attempting to use the CIA to stifle the FBI investigation into Watergate was among the articles of impeachment against Nixon. Flynn pled guilty in early December to misleading federal investigators about whether he had contact with Russian officials about lifting newly imposed sanctions levied as retaliation for Russian interference in the 2016 election.
The official White House explanation for firing Flynn was that he had lied to Vice President Pence. But former acting Attorney General Sally Yates testified that she told McGahn, the White House counsel, that Flynn had lied about his contacts with Russia weeks before Flynn was actually fired.
In May, Comey was fired, just two months after publicly confirming the investigation into Russian interference. The White House initially said that Comey was fired because he harmed the integrity of the FBI by publicly releasing "derogatory information" about Hillary Clinton during the investigation into her private email server. Trump later said he fired Comey because of the "Russia thing." After doing so, Trump told Russian officials in the Oval Office that firing Comey had relieved "great pressure" on him.
In March 2017, Attorney General Jeff Sessions announced he was recusing himself from the Russia investigation, following reports that he had misled the Senate during his confirmation hearings about having met with Russian ambassador Sergey Kislyak during the campaign. Trump was reportedly angry about Sessions recusing himself, later saying publicly that Sessions's recusal was "extremely unfair to the president" and that he would not have hired Sessions had he known he would recuse himself.
Trump also denied he was thinking about firing Mueller in December, even though the Times reported he had actually attempted to do so in June. On Wednesday, Trump complained to reporters that, "You fight back, oh, it's obstruction," adding, "There's no obstruction whatsoever." Trump also denied the Times report on Friday, calling it "fake news."
"The reflex is to strike back or to react to shut down questioning, inquiry, investigation, actors that aren't under his control," said Barrett. "It's an obstruct reflex, is really what it seems to be."
In isolation, legal experts say, one of these actions might be explainable. But taken together, the president's repeated attempts to interfere with the investigation, along with his denials, could indicate the "corrupt intent" necessary for an obstruction case.
"The firing of Jim Comey, standing alone, was ambiguous. Trump might plausibly contend that he fired Comey for an innocent reason unrelated to the Russia investigation—namely, that he thought Comey was unqualified to direct the FBI given his track record," said Green. "But if it's true that Trump also tried to fire Robert Mueller, innocent intent becomes less plausible. There would now be a stronger inference that Trump has been acting all along with the intent to impede the Russia investigation, since that was the central part of Mueller's assignment. And if one thinks that Trump's supposed reasons for trying to fire Mueller sound implausible and pretextual, the inference of corrupt intent becomes stronger still."
Another problem for Trump is that all of these attempts to influence the investigation, or even vent about his inability to control it, increase the possibility that the president's aides have evidence—recollections, notes, texts, emails—that would reflect on Trump's state of mind. All of which would be exceedingly helpful to Mueller—and perilous for the president.
And, it appears, at least some people with knowledge of these events are now sharing long-suppressed details with the press. "What's interesting is why someone is talking about this at this point, and why is it emerging now?" Barrett said.