How Federal Workers Spent Their Unexpected Day Off
One budget analyst planned to do some vacuuming and watch Law & Order.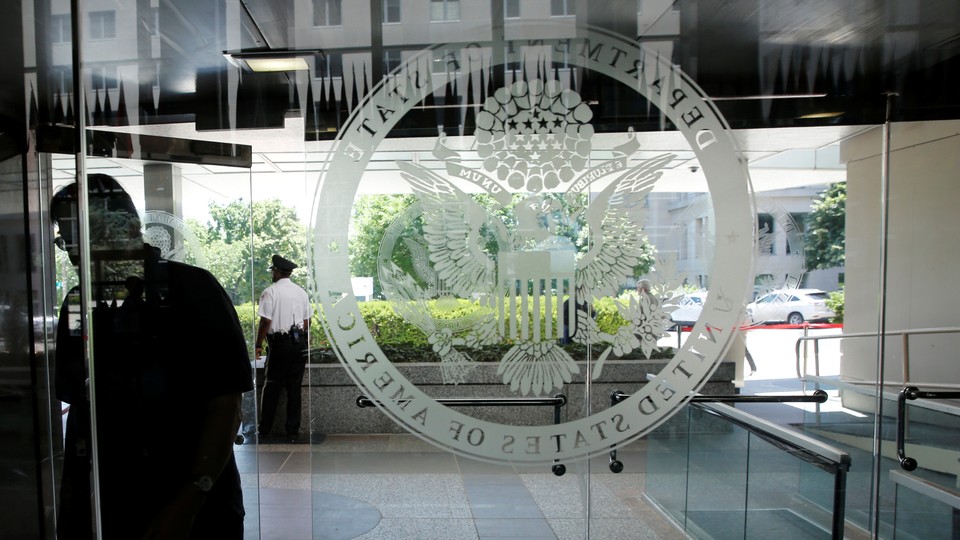 It was almost 60 degrees in Washington on Monday, without a hint of snow in the forecast, but some federal workers got the day off, anyway.
One analyst working in the Government Accountability Office told me in an email that he was mentally preparing himself for a days- or even weeks-long period without pay due to the government shutdown. But now that a deal has been reached, he said, "today just feels like one of the lesser holidays, like Columbus Day." The analyst, who requested anonymity because he was not authorized to speak with the press, said he and his wife spent the afternoon at Costco, stocking up on toilet paper, eggs, and milk. He also split a slice of pizza with his daughter. "All in all, not a bad deal in exchange for congressional inaction," he told me.
Lawmakers failed to pass a continuing resolution to fund the government last week, so starting midnight on Friday, non-essential arms of the government ceased operations. On Monday, many non-essential employees in Washington were asked to come to their offices and receive their furlough paperwork—documents ordering them not to work.
Many federal workers were upset by this turn of events, unable to continue experiments, work on critical projects, or otherwise serve the public. But some federal employees I spoke with found the unexpected day off rather liberating.
On my walk toward the State Department's Foggy Bottom offices, I noticed Mary Ann Rashid walking hurriedly up Virginia Avenue, lugging a large shoulder bag bursting with papers. I took a wild guess: "Federal employee?" I asked; she smiled, and pulled out a packet of furlough papers. "It says that I shouldn't be here until I'm told to come back," she told me.
Rashid didn't seem angry, just slightly exasperated. As a part-time foreign-affairs officer at the State Department, Rashid normally doesn't work on Mondays, so she had to come all the way in from her home in Oakton, Virginia, to get her packet, which she described as "a bit of a hike" (It's about 20 miles.) Rashid told me she was at the State Department for the 2013 government shutdown and the one in 1996, and she expects the outcome to be pretty much the same: furloughed for a while, then paid retroactively once the government starts up again. Until that time, she said, "I'm going to work on things I should have been doing anyway," like cooking, cleaning, and watching as much of the Australian Open as she can.
The government is expected to reopen for business on Tuesday. On Monday afternoon, the Senate reached a deal to fund the government through February 8 and reauthorize the Children's Health Insurance Program for six years, with Democrats getting a commitment from Republicans to hold a vote confirming the status of Dreamers by mid-February. The House is expected to pass the legislation, and once President Trump signs it into law, the government will be back up and running.
Outside the State Department's 21st Street entrance, a furloughed budget analyst sat waiting for her Uber. She told me she was planning on calling in sick today anyway. She wished the shutdown could have happened next month, she added, when she plans to go to New Orleans for Mardis Gras. But if it has to be today, she said she's going to relax and do some chores. "I'm gonna go buy me a vacuum cleaner so I can vacuum my house," she said, chuckling, "Watch my shows, like Law & Order."
In contrast with the 2013 shutdown, the country's national parks and monuments mostly remained open during the roughly 60-hour shutdown; but workers at the National Park Service were furloughed, meaning visitor centers and public restrooms were closed. Anna Boykin, a member of the National Park Service at Grand Canyon National Park, told me in an email that she had all weekend off.  "The first day [out of work] coincided with a snowstorm," Boykin said, "so my boyfriend and I took a walk on the rim."
I found David Grossweiler scrolling through his phone at at a bus stop outside the State Department in Foggy Bottom. To get his paperwork, Grossweiler had to travel in from Stafford, Virginia, which is more than 40 miles away. But he was a good sport about the whole thing. "It would have been nice if we could have done it in advance," he said, shrugging, "but I planned to be here anyway."
Grossweiler, an engineer at the State Department, told me he was instructed to refrain from doing any non-necessary work—and avoid using his government-issued Blackberry phone. I asked him how felt about it all. Again, he shrugged. "A little bit is just deja vu," he told me. In fact, he seemed a bit excited: "The Liverpool-Swansea game is on at 3 o'clock," he said, with a grin. "I'm a football fan, so I'm hoping to make that."