There's No Way Congress Is Going to Fix Entitlements
The GOP's tax cuts obliterated any hope of bipartisan reform, at least in the near future.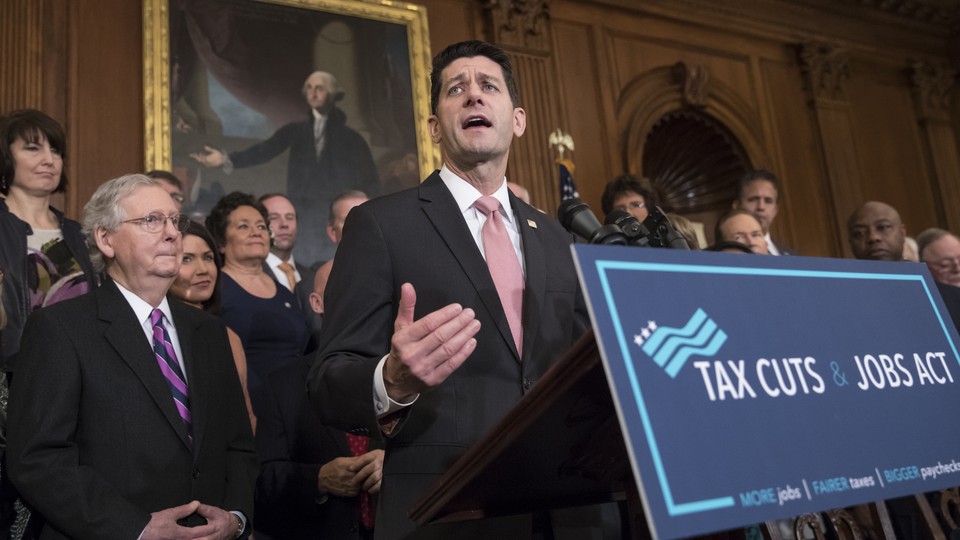 House Speaker Paul Ryan may think otherwise, but it's likely the tax bill that he helped drive through Congress last month has ruled out any serious effort to address the growing costs of federal entitlement programs for the elderly.
That's a problem, and not just for Republicans like Ryan looking to shrink the federal government. It's an issue for Democrats, too: They want to preserve crucial investments in younger generations, but to do so they'll eventually—and begrudgingly—need to impose some limits on the rising spending for seniors.
The clear message of recent political history is that the only way to implement such constraints is for both parties to link arms behind them. Yet the Republican tax cut, by enlarging the federal deficit by up to $2 trillion on a party-line vote, has made such a bipartisan agreement almost impossible to construct.
"The tax bill has made it more difficult both on the substantive and political side," said Robert Bixby, the longtime executive director of the Concord Coalition, a nonpartisan group focused on deficit reduction. "In taking a one-sided approach, the Republicans were able to get what they wanted in terms of a tax cut, but they made it much more difficult to get any entitlement reform."
The most immediate loser in that equation is Ryan. Retrenching federal entitlements has been his north star since he arrived in Congress in 1999. Throughout Ryan's career, the policy idea most often associated with him is converting Medicare into a "premium support" or voucher system. Under that approach, the federal government would no longer pay directly for seniors' health care, as it does now, and instead would provide them a fixed sum of money to purchase private insurance. (While premium support would still allow seniors to buy into the existing Medicare system itself, most analysts believe it would quickly grow unaffordable because only those with the greatest health needs would do so.)
The "Better Way" policy blueprint House Republicans issued under Ryan's direction in 2016 endorsed premium support. But the speaker has not pushed it to a vote. In interviews last month, Ryan signaled his determination to force a 2018 debate on restructuring Medicare and other big safety-net programs. "We [must] spend more time on the health-care entitlements, because that's really where the problem lies," Ryan insisted.
Ryan is right that federal spending for the elderly is on an unsustainable trajectory, mostly because American society is steadily aging. Through 2050, the Social Security trustees estimate that the number of seniors will rise from 48 million to 86 million. The Congressional Budget Office projects that, as a result, by 2047 Social Security and the major federal health-care programs, principally Medicare and Medicaid, will consume two-thirds of all federal spending (except for interest on the national debt). That's up from 54 percent now.
Conservatives have decried that future most vociferously, but it should concern Democrats, too. Increased spending on the elderly is already squeezing the resources available for investment in the productivity of future generations, such as education, scientific research, and infrastructure. The CBO projects that as spending grows on seniors, as well as on health care, federal discretionary spending—the portions of the budget that invest in future generations—will shrink relative to the economy.
That would not only be unfair to younger Americans, but it would also be counterproductive for the old: Seniors need more of today's diverse youth population to reach the middle class so they can pay the payroll taxes that support Social Security and Medicare. And although some Democrats want to avoid any cuts to programs for the elderly while at the same time preserving discretionary spending, in a graying society that would require an increase in taxes and total federal spending to a level that Americans are highly unlikely to accept.
This dilemma's logical solution is a three-sided agreement to raise taxes, impose some constraints on retirement programs, and preserve investments in future generations. Almost all serious, bipartisan deficit-reduction proposals (such as the one from the Obama-era Simpson-Bowles commission) have offered some variation on that formula. All have recognized that the only way to convince Democrats to accept entitlement cuts is to couple them with tax increases, and vice versa for Republicans.
But on both substantive and political grounds, the GOP tax bill has obliterated that possibility. By increasing the debt so much, the bill may force a future Congress to raise taxes just to fill the huge, new hole—even before it can respond to the increased spending demands of a growing elderly population. And the decision to cut taxes undermines the political formula required to induce almost any Democrat to consider supporting changes in entitlement programs: spending reductions balanced with tax hikes. "You have to have cooperation and trust across the aisle," Bixby said. "That's why you need a mix of spending cuts and revenue increases."
Ryan is now bugling for House Republicans to charge the hill for entitlement cuts without Democratic cover. But with Senate Majority Leader Mitch McConnell already publicly skeptical, Bixby and others think it's unlikely Ryan can spur a serious party-line drive to restructure Medicare, much less Social Security, the two biggest expenditures.
It's more likely any GOP drive to control "entitlements" will focus on programs that largely benefit lower-income families, including Medicaid and food assistance. But that effort will confront the same challenge as the attempt to repeal the Affordable Care Act: Particularly in the Rustbelt states that decided the 2016 election, the principal beneficiaries of those programs are the blue-collar whites at the core of the Republican coalition. By acting alone on taxes, Republicans have insured that they must act alone on entitlements, too. And that means any meaningful fiscal and generational rebalancing of the federal budget will have to wait—likely for many years to come.