Republicans Claim Victory in the Shutdown Fight
"Win for White House; Loss for Schumer," one White House official crowed. "He didn't really get much."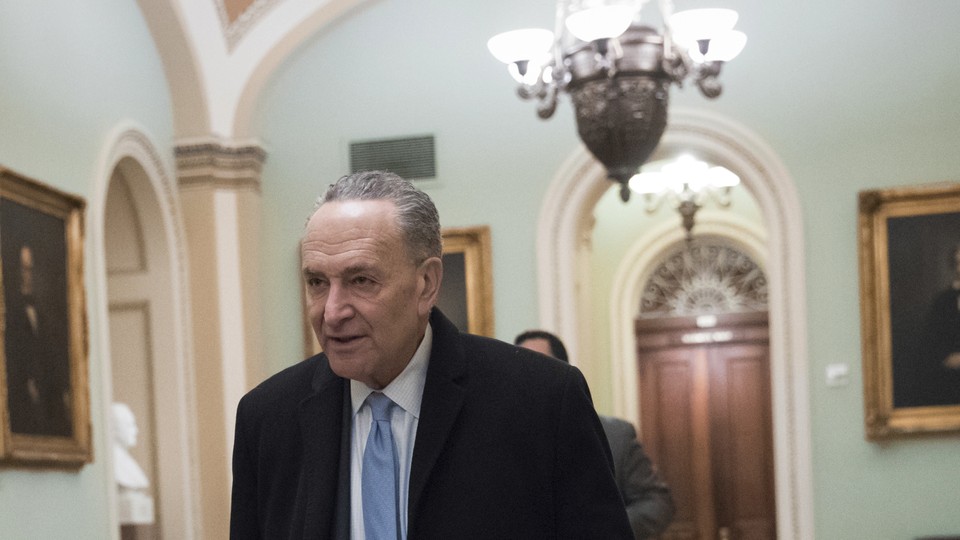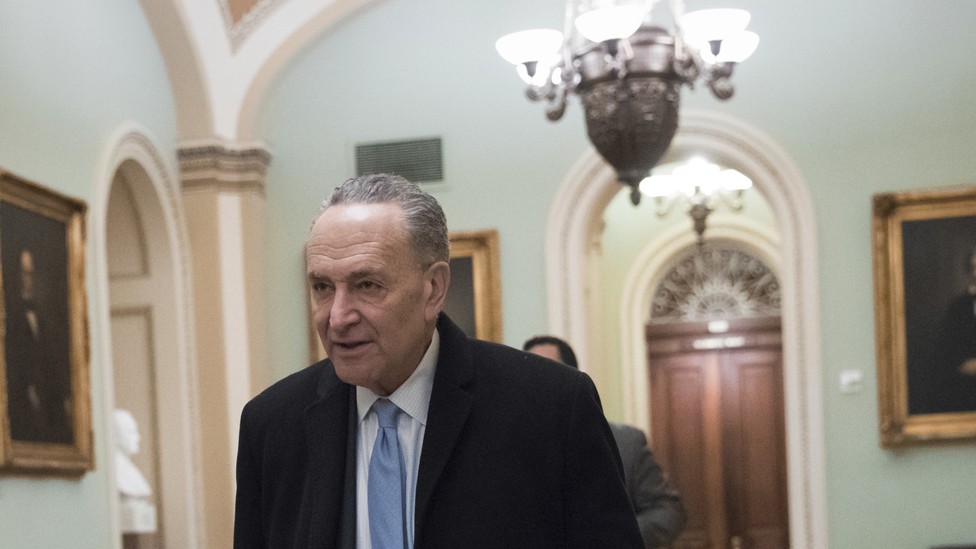 This story was updated on Monday, January 22 at 2:15pm
On Monday afternoon, Senate Minority Leader Chuck Schumer addressed a scrum of reporters in the Capitol to announce that Democrats would provide the votes to keep the government open until February 8, given Mitch McConnell's agreement to address "Dreamers" on the Senate floor next month.
The White House was quick to boast that Democrats had "cave[d]." "Win for White House; Loss for Schumer," one official who had been involved in the talks texted me. "He didn't really get much."
Of course, the reality is that President Donald Trump didn't have much to do with the deal—his last meeting with Schumer to avoid a shutdown was famously unproductive. Yet the official, speaking on condition of anonymity so as to describe confidential conversations, assured me that Trump's legislative affairs team has been on the Hill in the last several days "working this" and giving "regular updates" to the president, who, the source added, "has been very engaged." The official added that a group of senators supportive of Trump's immigration vision were meeting at the White House on Monday afternoon.
Democrats are already struggling with how to spin this development, especially when, just three days ago, they held a hard line against funding the government, energizing their base with the promise to protect DACA recipients. But one Senate Democratic source, who asked not to be named so as to discuss private conversations with senators, told me that something like reality has shone through in the interim. The Democratic caucus became increasingly uncomfortable with the "mixed poll numbers" on which side would take the blame should the shutdown continue. And with Democrats' edge over Republicans in the upcoming midterm elections softening, continuing the shutdown didn't seem worth the gamble. I asked the source how Democrats would try to frame the day, and the source, who's been on the Hill for over a decade, was at a loss: "If you had told me yesterday this is where we'd be, I would not have believed it. Yet here we are."
House Republicans are "confused" as to what Democrats expect to happen on DACA, one senior Republican staffer told me. The staffer, who requested anonymity due to the confidential nature of the discussions, said House Republicans had "no clue" what legislation to address DACA would even look like in this moment—a sign of the flimsiness of the deal to which Schumer assented. "Sooner or later we'll have to vote on something here [regarding DACA], but what that is, I don't know," the source said. "I don't know the substance. I don't know the process."
The three-week stopgap bill to fund the government will sail through the House, the staffer said, "as fast as they can get the papers turned around." The fate of a bipartisan compromise on DACA, however—not to mention one that both chambers can agree on—is far less promising.