Republicans Scramble for Unity Ahead of a Government Shutdown
For the GOP to stick it to Democrats, it's going to have to stick together first.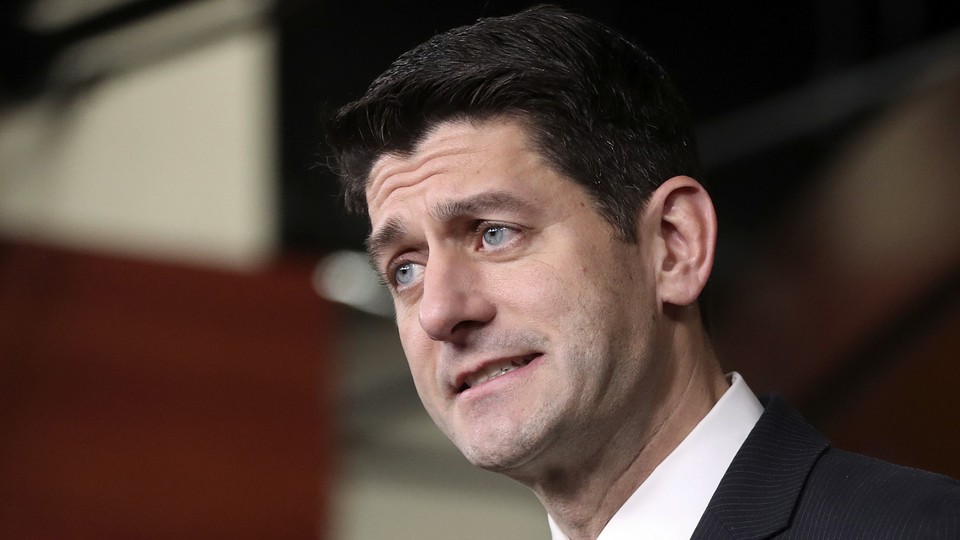 Updated on January 18 at 10:29 a.m. ET
If ever there was a moment when House Republicans could use some much-needed party unity, this is it.
The federal government is on the brink of shutting down Friday at midnight, and the GOP wants, first, to keep it open, and second, to blame Democrats if it can't. But both of those goals depend on Speaker Paul Ryan wrangling 216 of his 238 members to vote for a temporary spending bill that one top conservative likened to "a crap sandwich with moldy bread."
GOP leaders unveiled their latest stopgap proposal on Tuesday night and are eyeing a vote on Thursday. It would keep the government running for about another month, and includes sweeteners for each party. To entice Democrats angry over the lack of a deal on immigration, the bill would enact a long-awaited six-year reauthorization of the Children's Health Insurance Program. To win over conservatives, Republicans have attached—what else?—tax cuts: The continuing resolution would delay the enactment of several taxes included in the Affordable Care Act, such as those on medical devices, high-end insurance plans, and health insurers.
Whether they can muster the votes from either side is unclear. Democratic leaders aren't biting at the inclusion of the long-term CHIP extension—which they've demanded for months—and are urging their members to oppose any spending bill that doesn't offer protections for the 700,000 young immigrants at risk for deportation once President Trump ends the Deferred Action for Childhood Arrivals program in early March. "If they want Democratic votes for a spending bill, it will be reflective of Democratic values," said Representative Joseph Crowley of New York, the party's House-caucus chairman.
Complicating matters even more for the GOP, President Trump on Thursday morning seemed to undercut their strategy by tweeting his opposition to including a long-term extension of CHIP in a short-term funding bill. "CHIP should be part of a long term solution," he wrote. Removing the CHIP part of the continuing resolution would give Democrats even more reason to vote no, increasing the odds of a government shutdown.
On Wednesday, Ryan had pleaded with Democrats to set aside their DACA objections for the time being, arguing that it was "unconscionable" for Democrats to risk funding for children's health coverage or the military "by playing these political games and tying them to unrelated issues." "Real deadlines are occurring on Friday," he said.
It's a time-honored rhetorical tactic that Democrats recognize all too well: They relied on the same misleading message to batter Republicans for threatening and then executing on a government shutdown over Obamacare in 2013. Congress always retroactively restores funding and paychecks for government workers, including the military, in the event of a shutdown. And in the case of CHIP, the GOP has failed for months to advance an extension that could win support in the Senate. Only in recent days have Republicans dropped their demand to offset the cost of an extension with Medicare cuts that Democrats oppose.
Ryan's more immediate problem, however, is on his own side. Conservatives and defense hawks are fed up with the succession of stopgap spending measures, and they have pushed the leadership to include at least a full year of defense funding—with the big boost sought by the Trump administration—alongside a temporary extension for domestic agencies. "I don't like it," Representative Mark Walker of North Carolina, the chairman of the conservative Republican Study Committee, told me on Wednesday. "It's bad politics." He said the leadership appeared to be short of the Republican votes needed to pass the bill without help from Democrats.
Earlier in the day, Representative Mark Meadows of North Carolina, the chairman of the more confrontational House Freedom Caucus, told HuffPost that there was enough opposition just in his group to sink the bill. And it was Walker who on Tuesday compared the proposal to a scatological delicacy, according to The Hill. Asked if Republicans would have enough votes on their own, Ryan said party leaders hadn't whipped their members yet. "I think cool heads hopefully will prevail on this thing," he told reporters.
Yet in an indication of how much pressure Republicans are under, Walker told me he might vote for the bill anyway. "I think a majority of the RSC will go along one more time, but there is growing discontent," he said. Party unity is particularly important for GOP leaders because of the legislative gamesmanship Democrats are plotting. "If that wasn't the argument, this thing would be dead already," Walker said. "That is the one salvageable piece."
The House vote on Thursday is expected to play out like the vote on the last stopgap spending measure in December, when Democrats withheld their support until Republicans had put up enough votes to pass it on their own. If the GOP falters this time, Democrats could watch the bill go down and then mock Republicans for their inability to govern. A shutdown would become ever more likely.
But if Republicans muster the 216 votes on their own (the House has four vacancies), then some Democrats would likely jump onboard, as they did last month. The bill would then go to the Senate, where Democrats would feel the heat: Would at least nine of them vote to keep the government open, or would Minority Leader Charles Schumer pressure his members to stand together, defeat the bill, and shut down the government in a united, if risky, stand for the Dreamers? On Wednesday afternoon, Schumer criticized the Republican proposal as insufficient and said "revulsion" toward it among his members was "broad and strong." But he notably declined to issue a blanket threat to defeat it.
"We want to do everything we can to avoid a shutdown," Schumer told reporters. "But we Democrats believe that if there is one, it'll fall on the Republicans' backs, plain and simple." He again offered a reminder that it was Trump who said the country needed "a good 'shutdown'" in the middle of earlier spending negotiations last year. Yet if recent history is a guide, enough Democrats could reluctantly back the bill to avert the shutdown, angering immigrant activists.
But that outcome, too, would depend on the GOP holding together. While Senate Majority Leader Mitch McConnell urged his colleagues to back the stopgap bill, Senator Lindsey Graham of South Carolina—a defense hawk burned last week by Trump on DACA—told Politico he wouldn't vote for another continuing resolution. Republicans think they have a path to once again stave off a shutdown and force Democrats into a no-win, take-it-or-leave-it vote. But first they'll have to discover a sense of unity that appears, for now, to be missing.