1968 and the Making of Modern America
One of the most momentous years in U.S. history began a half-century ago today. Join us in exploring it for the next 12 months, starting with these newspaper clippings to whet your appetite.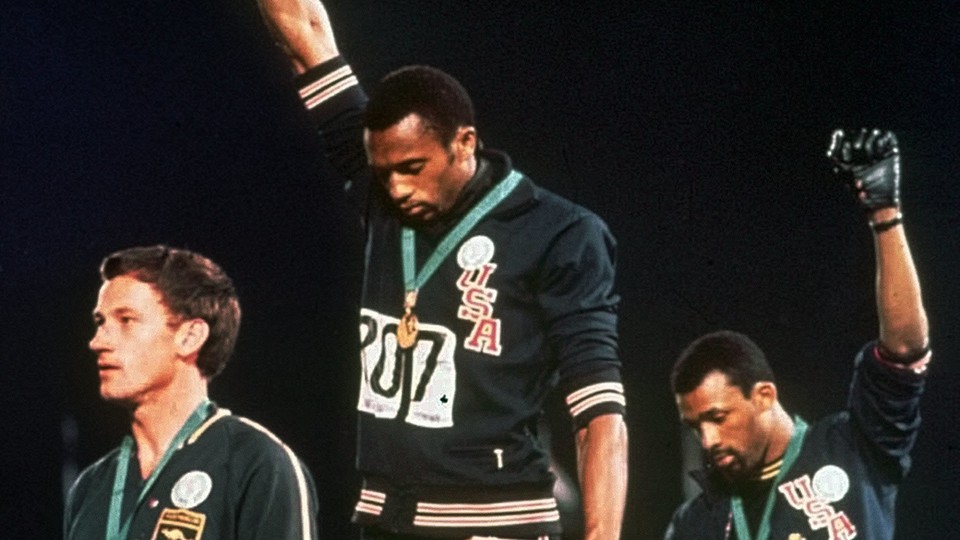 1968 began 50 years ago today.
Before it ended, Martin Luther King Jr. and Robert F. Kennedy would be assassinated; U.S. troops would suffer their deadliest year yet in Vietnam––and massacre scores of civilians at My Lai*; Richard Nixon would be elected president; the Khmer Rouge would form in Cambodia; humans would orbit the moon; Olympic medal winners in Mexico City would raise their fists in a black power salute; President Johnson would sign the Civil Rights Act of 1968; Yale University would announce that it intended to admit women; 2001: A Space Odyssey would premier; and Led Zeppelin would give their first live performance.
All year, along with colleagues at The Atlantic, I'll be looking back at the events of 1968, marking major touchstones as well as forgotten political and cultural events. One aspiration is to mark a particularly momentous year in American history. Another is to combat the presentist bias that harms our ability to see clearly today.
Toward that end, I'll be drawing on archival material, especially from The Atlantic and other publications; interviewing experts; looking back at popular movies, music, and television shows; tapping the varied curiosities of colleagues; and asking readers to participate in this backward looking project. For those of you old enough to have memories of 1968, are you willing to share recollections of public or private events, illustrative cultural moments, reflections about family life, anecdotes about technology, photos, or anything else that could help younger people understand what that year was like? Emails to conor@theatlantic.com on whatever you find of interest would be much appreciated!
If younger readers have particular questions or curiosities about any aspect of that year that you'd like to see answered or explored your emailed requests are welcome, too.
Future entries will appear in this space; anyone who would like to be emailed whenever a new item on 1968 is published can sign up to be pinged using this form:
And now, having introduced this project and made a pitch for your help in carrying it out, I'll conclude with some news events drawn from American newspapers published a half century ago, on New Years Day, January 1, 1968––each is a tiny piece of the mosaic we'll build together to see life 50 years ago anew.
Safety Director Urges Using Lap, Chest Belts
Many auto occupants can expect to escape death or serious injury in traffic accidents at speeds up to 60 m.p.h., says the director of the national highway safety program. Dr. William Haddon Jr. applies this assessment to persons riding in 1968 model cars equipped with safety devices newly required on vehicles built in America.

But remakes one basic proviso: the travelers must be wearing the combination lap and cross-chest seat belts… "Most people dying on the highways are dying of smashed heads––I would put it just that way," Haddon said in an interview. "And these belts, used together, prevent that." And, he said, the belts prevent another major cause of death in accidents: being crushed in one's car or by another car after having been thrown out of the vehicle.

––The Los Angeles Times
Klan Inroads in Illinois Law Units Probed
CHICAGO––Investigations were underway Sunday to determine whether the Klu Klux Klan has penetrated the ranks of the Illinois State Police and the Illinois National Guard. William Morris, state police superintendent… called the state police probe a routine investigation begun after the announcement that at least six Chicago policemen are klan members, including one said to be the head of the klan in Illinois...

Chicago police, meanwhile, also were conducting an investigation to determine whether policemen were members of the Black Muslim sect.

Police Capt. John Mulchrome, who conducted the investigation which led to the disclosure of klan penetration of the Chicago Police Department, said Patrolman Donald Heath recruited other police into the klan. A raid on Heath's home produced a cache of guns, 200,000 rounds of ammunition and a quantity of hand grenades. Heath has refused to resign from the police force, as several others accused of klan membership have done. "If I am fired I will have been condemned for my religious and patriotic beliefs," Heath said. Jay A. Miller, Illinois director of the American Civil Liberties Union, asked Police Superintendent James B. Conlisk to refrain from firing Heath solely on the basis of klan membership, which is not illegal in Illinois.

––UPI
De Gaulle Sees France as Beacon for the World
PARIS––President Charles de Gaulle hailed the French Sunday night as "a great people on the march" and painted France as an infallible beacon for the world.

In a heavily nationalistic New Year's Eve message, the 77-year-old general declared that only France's peace proposals could settle the conflicts in Vietnam and the Middle East. De Gaulle also proclaimed that "because they are French," the goals he is seeking "are in the interest of mankind."

In citing these goals, the French leader deliberately pressed many of the international nerves he rubbed raw during the past year, reasserting French responsibility for the future of Quebec, calling on Europe to stand up to the United States and reaffirming his new veto on British entry into the Common Market. He made it clear that these initiatives were reflections of France's historic vocation and new grandeur and that any Frenchman "worthy of the name" should be proud of them and support them.

De Gaulle said 1967 marked the year that France had recovered its independence "after an eclipse of several generations." In 1968, he indicated, France would make new efforts to play a major role on the world stage.

He said, "Everything indicates that one day we will be in a position to make the best contribution to international solutions." On the Middle East and Vietnam, he declared, "everything proves now that to find an end to these wars there are no other ways that the ones we have proposed."

––The Washington Post
Doctor Bills Expected to Continue Their Rise
CHICAGO––Your doctor bill is going up, as if you hadn't noticed. What's more, it's going up faster than the combined cost of groceries, rent, clothes, insurance, and recreation. And all the indications are, say the experts, that it will continue to rise. A preschool examination that cost $10 back in 1958 now averages about $13, says the Labor Department, and the home visit that cost $10 is now closer to $15. The bill for a new baby nine years ago might have been $200. Now it's slightly below $250… As of midyear, doctors took the largest share of the consumer health dollar, according to federal studies, although medical insurance sources say that hospital charges have now overhauled doctor's fees.

Whichever is head, one fact is certain: an increasing sensitivity is developing about "the affluent doctors."

A group of Minneapolis investors, including a substantial number of doctors, buys an Ice Follies show for $5 million.
A Chicago surgeon tells of a colleague who quit practice "to build block after block of suburban housing developments."
A survey in the Rochester, N.Y. area finds that 58 percent of those queried agree in various degrees that "doctors, like a lot of other people, are often selfish and interested in their own financial gain."
In Washington, AFL-CIO President George Meany declares that physicians are "probably averaging $35,000 to $40,000 a year because of a relentless escalation in fees." He asks federal control on them.

Angered by the last, Dr. Phillip Thomsen, president-elect of the Illinois State Medical Society, says Meany makes as much sense as the man who thinks "all labor leaders draw inflated salaries, raid union funds, beat up their opponents and bribe jurors."

––Chicago Daily News
Bring-Own-Bottle Parties Are Confusing
Dear Mrs. Post:

Evidently, you've never been to a party where you bring your own liquor! A person doesn't only drink from the bottle he brought, and by the end of the party no one could possibly know what portion of what bottle could be called his own. Therefore, how are the host and the hostess supposed to return the proper bottle and know just how much is supposed to be in it?

Mrs. A.S.

Dear Mrs. S.:

Apparently, "BYOB" parties vary in different areas. Around my hometown the hostess does not expect to keep the leftover liquor, and she often suggests that guests put their names on the bottles and take home whatever is left. If the liquor is pooled, as your letter suggests, there would be confusion about what bottle belonged to whom. Therefore, unless the hostess insists that everyone take some bottle home, the remains might be left to her.

––The Emily Post Institute
Stay tuned for much more about 1968 throughout the coming year.
---
*Correction: This post originally misspelled My Lai as "Man Lai."  We regret the error.