Donald Trump's Very 1990s Tabloid Scandal
The storyline is the same, but the technology changes.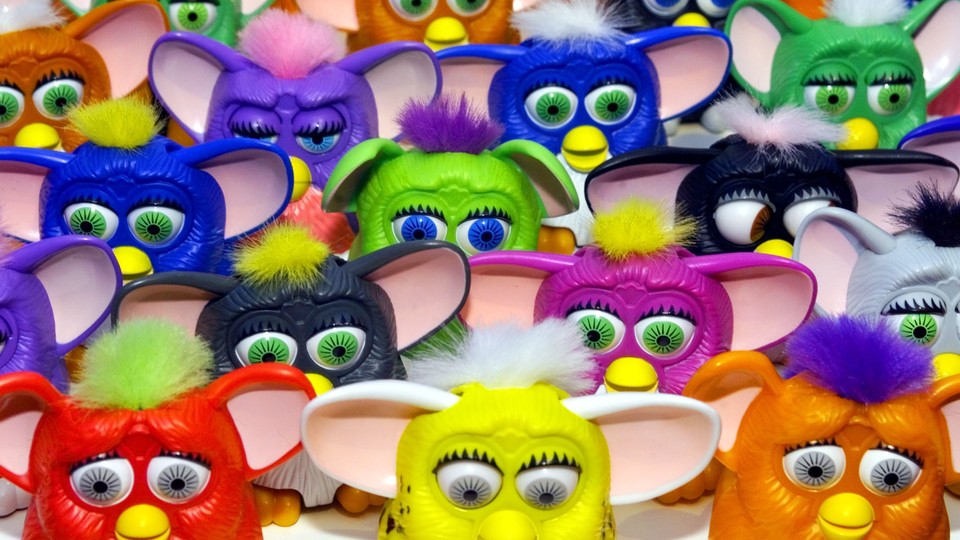 Nothing like a good old-fashioned Donald Trump tabloid scandal. And if that's not 1990s enough for you, this time it's a presidential sex scandal, too.
The celebrity gossip magazine InTouch Weekly says it's planning to run an extensive interview, conducted in 2011, with an adult-film star who claims she had an affair with Donald Trump in 2006. The Wall Street Journal reported last week that Trump's lawyer paid the woman $130,000 to keep quiet about it. (The White House said "these are old, recycled reports, which were published and strongly denied prior to the election.")
Stephanie Clifford, who goes by the stage name Stormy Daniels, says she had "textbook generic" sex with Trump—an assessment that evokes an earlier chapter in the Trump-tabloid-scandal genre.
In February 1990, Trump's affair with the actress Marla Maples set off some kind of mass tabloid fever dream. Trump was still married to his first wife, Ivana. The New York Post famously bannered its cover one day with a quote, attributed to Maples, that her liaison with Trump was the "BEST SEX I'VE EVER HAD." ("It's just an absolute, total lie that I said it," Maples later told the news anchor Diane Sawyer.)
The media frenzy was, Newsweek reported, "a kind of Gresham's law of escalating sleaze." There were the reports about Maples from her hometown in Georgia—Dalton, the Carpet Capital of the World—from those who remembered her as a nice girl; there were vivid and differing accounts of a dramatic confrontation between Marla and Ivana in Aspen; and there was Donald, describing just how major his own divorce was: "It's bigger than Elizabeth Taylor and Richard Burton," People magazine quoted him as having said at the time. Trump apparently wallowed in it. "Publicity is his cocaine," Newsweek said.
The first big exclusive about Trump's marital woes—"Love on the Rocks" was the headline, screaming from the front page of The New York Daily News on February 11, 1990—Trump recalled that it had coincided with the day Nelson Mandela was released from prison, signaling the end of apartheid in South Africa. Mandela is "probably calling up, 'Who is this guy? He blew me off the front page,'" Trump quipped.
The Trump affair and subsequent divorce kicked off what Vanity Fair's David Kamp would eventually declare "the tabloid decade," a shorthand for the infotainment era ushered in by a formidable triumvirate: the tabloids, and 24-7 cable television, and the still-fledgling internet. The bookend on the decade—which was also the end of the millennium, and carried with it a very specific kind of faux-apocalyptic glee—was the Bill Clinton sex scandal. It was also the moment when the New Yorker writer Calvin Trillin was trying to make "Sabbath Gasbags" happen, a reference to—and rejection of—the Washington punditry on Sunday morning cable television.
"When the Sabbath Gasbags inform you what the American people want, what they're really saying is what they—the Gasbags—want," Trillin wrote. If Trump ever heard Trillin's coinage,  he may have liked it—what with Trump's tabloid-esque proclivity for silly nicknames and his disdain for Washington elites. "It's the Gasbags who would love an opportunity to chew over Bill Clinton's detailed explanation of his relationship with Monica Lewinsky," Trillin wrote in 1998.
Technology seemed to be both "the cause and the outcome of a culture that privileged entertainment above all else," as my colleague Megan Garber once wrote. It was, Kamp groaned in Vanity Fair, a decade that amounted to "little more than a colossal joke, a series of occasions to slum inuredly through the mire of humanity." The Tabloid Decade was a moment that privileged cheeseballs and sleazeballs above all else—because they were repugnant, and shocking, and because schadenfreude is a powerful drug.
And now, here we are, contemplating a scandal that seems designed for an earlier century. Matt Drudge, who broke the story of  Clinton's affair with Lewinsky on his scrappy website in 1998, has been called a "one-man tabloid." The same might be said of Donald Trump. His Twitter feed is a modern tabloid all its own. He is both the main character and the publisher.
Trump's media genius—and he does have an extraordinary sense for commanding attention—is that he operates on pure tabloid instincts. He appeals to emotion, and to cliche, and to drama. Then there's the shamelessness, which is often very quotable. And the repetition, which makes his message unforgettable. This is a man who for years pretended to be his own publicist so he could call reporters to brag about himself. This is a man whose last sex scandal came, by the way, from a tape recorded for tabloid television, a format defined not just by celebrity but by "murdered coeds, septuplets, serial killers—an endless parade of freaks and victims," as Sheelah Kolhatkar once wrote for this magazine. If the American pastime of tabloid-reading is indeed predicated on a national "zeal for celebrity downfall," it only makes sense that Trump is a fixture. Ditto for the fact that humans simply love a dramatic story arc.
InTouch, with its 5,000-word exclusive on the way, once earned the dubious distinction of No. 3 most-accurate tabloid—ahead of OK! and Star, but below US Weekly and Life & Style—according to a nonscientific investigation by Gawker, which itself died the death of a tabloid, complete with a celebrity sex-tape at the center of its demise. The professional wrestler Terry Bollea, who uses the stage name Hulk Hogan, sued Gawker for publishing a video showing him having sex. The venture capitalist Peter Thiel helped bankroll the lawsuit. Both men were happy to destroy Gawker, and they did. "If there is one thing the tabloids fear," Alex Beam wrote for this magazine in 1999, "it is the Godzilla plaintiff the wealthy, aggrieved celebrity who just keeps on coming."
Outside of the courtroom, however, the tabloids love a celebrity who won't hold back. A lack of restraint is typically useful to one side of any deeply transactional medium, and especially one that thrives on the commodification of human drama. Old-school tabloids are a prime example of this sort of medium; Twitter and Facebook are others. Donald Trump isn't the only one-man tabloid publisher on the internet, after all. They're everywhere. Across infinite browser tabs, each episode of performed outrage and each barely disguised appeal for validation takes a page from the Trump playbook.
All the more reason why, here in the Decade of Tabs, the InTouch interview is a throwback to the Decade of Tabloids. Stormy Daniels has an "explosive" story, the magazine promises, hinting at questions of size having to do with something other than Trump's inauguration crowd. And yet the idea of a blonde porn star with a bombshell about her affair with the president? It's almost too perfect—the kind of storyline you'd expect from a machine programmed to generate tabloid stories. Donald Trump. A secret affair. A blonde with a tell-all. How unoriginal.
It may be all true. Plenty of tabloid stories are. But the sense that the story isn't that big a deal, somehow, is a product of the media environment in which it appears. The tabloid approach to human drama is all around us now, shock and outrage flowing in all directions, both in the relative silos of closed networks (like private Slacks and Facebook groups) and on open platforms (like Twitter).
Yet the American tabloid is still the place where reality television meets celebrity meets untrue stories masquerading as real. Where else would you expect to find Donald Trump? His message is still as tabloid-y as they come: Believe me, he says. And then he says it again: Believe me. And it doesn't really matter if you do, as long as you keep paying attention.