The Circumscribed Ethics Investigation Into Devin Nunes
The House Intelligence Committee chair claimed he'd been completely cleared, but the panel probing his conduct never gained access to the intelligence he was accused of divulging.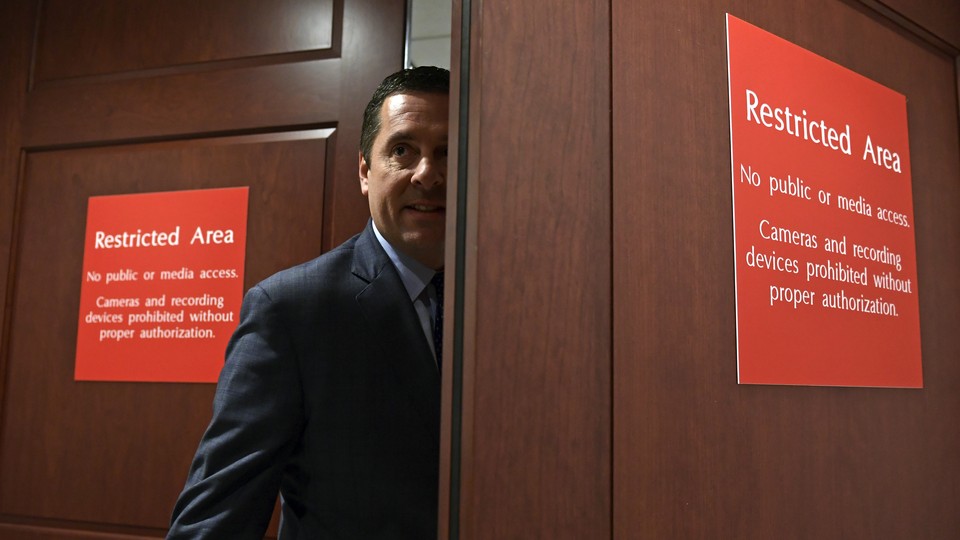 Early last April, the House Ethics Committee opened an investigation into whether the chairman of the House Intelligence Committee, Devin Nunes, broke rules governing the public disclosure of classified information when he told reporters that he had obtained details about "American intelligence monitoring foreign officials" who may have "incidentally picked up communications of Trump transition team members."
Eight months later, after seeking an analysis of Nunes's statements by classification experts in the intelligence community, the Ethics Committee closed the case. Nunes thanked the committee for "completely clearing" him, and said it had found he "committed no violation."
But the committee was never able to obtain or review the classified information at the heart of the inquiry, according to three congressional sources briefed on the investigation who spoke on condition of anonymity because they were not authorized to speak to the press. The panel's inability to determine for itself what may or may not have been classified—and what Nunes had actually been shown—likely contributed to its decision to close the investigation, according to one source.
Those restrictions cast doubt on whether the committee was able to authoritatively compare Nunes's statements to the press with what he had read in the classified intelligence reports. That, in turn, calls into question the thoroughness of the committee's investigation, and the accuracy of Nunes's claims of vindication. A spokesman for the Ethics Committee declined to comment. A spokesman for Nunes did not immediately respond.
Nunes said he would step aside from his committee's investigation into Russia's election interference until the Ethics Committee completed its inquiry, which marked the climax of a series of bizarre events that began with Nunes's late-night excursion to the White House last March.
Nunes spoke to reporters at least twice about the classified information he'd been shown by a source he characterized as a whistleblower. (The New York Times and The Washington Post later reported that three White House officials had helped Nunes gain access to the documents.)
In separate press conferences both before and after he briefed Trump on the material, Nunes offered details about when the collection of intelligence allegedly took place—"it appears most of this occurred, from what I've seen, in November, December, and January"—and on whom it focused: "There was clearly significant information about President Trump and his team and there were additional names that were unmasked," the California congressman said at the time.
Two left-leaning watchdog groups, Democracy 21 and Citizens for Responsibility and Ethics in Washington, quickly filed complaints with the Office of Congressional Ethics and pushed for an investigation into whether Nunes's press conferences violated House ethics rules governing the disclosure of classified information.
The Ethics Committee declared its investigation closed in December. "The Committee does not determine whether information is or is not classified," the panel's Republican chairwoman and Democratic ranking member said in a joint statement on December 7. "In the course of this investigation, the Committee sought the analysis of Representative Nunes's statements by classification experts in the intelligence community. Based solely on the conclusion of these classification experts that the information that Representative Nunes disclosed was not classified, the Committee will take no further action and considers this matter closed."
Nunes thanked the committee "for completely clearing me today of the cloud that was created by this investigation, and for determining that I committed no violation of anything—no violation of House rules, law, regulations, or any other standards of conduct." He blasted the investigation, after it was closed, as the result of "obviously frivolous" accusations "rooted in politically motivated complaints filed against me by left-wing activist groups."
Now, Nunes has again come under scrutiny over his role in crafting a classified memo that has been described as a summary of surveillance abuses carried out by Obama administration holdovers at the Justice Department. Nunes has declined to share his findings with either his Senate counterpart, Richard Burr, or the Department of Justice.
The assistant attorney general for the Office of Legislative Affairs, Stephen Boyd, urged Nunes not to release the memo in a letter last week. He noted that Nunes had not seen the underlying intelligence that would allow him to judge whether or not the department had acted inappropriately in requesting and obtaining Foreign Intelligence Surveillance Act warrants, and said the memo's disclosure could carry significant national-security risks.
The New York Times reported on Monday that the memo focuses at least in part on Deputy Attorney General Rod Rosenstein's decision to approve a FISA application to monitor Carter Page, an early foreign-policy adviser to Trump's campaign, which would have required a demonstration of probable cause to believe Page was acting as a Russian agent. Despite Boyd's letter, the White House indicated that it would decide whether to support or oppose the memo's release itself. "The Department of Justice doesn't have a role in this process," White House Deputy Press Secretary Raj Shah told CNN on Monday morning. A Justice Department spokeswoman, Sarah Isgur Flores, declined to comment.
Boyd indicated in his letter to Nunes that the department had established terms with House Speaker Paul Ryan's office for the DOJ's release of thousands of pages of classified material that Nunes had requested last year. Nunes's desire to declassify his memo and release it publicly could violate those terms, Boyd said.
But a Ryan spokesman, Doug Andres, disputed that claim last week. "As previously reported, the speaker's only message to the department was that it needed to comply with oversight requests and there were no terms set for its compliance," he told me.
Flores said Ryan's office "was involved in a number of high-level negotiations regarding" Nunes's subpoena, the production of the material, "and to what extent the production needed to be completed to satisfy the House's oversight interest."