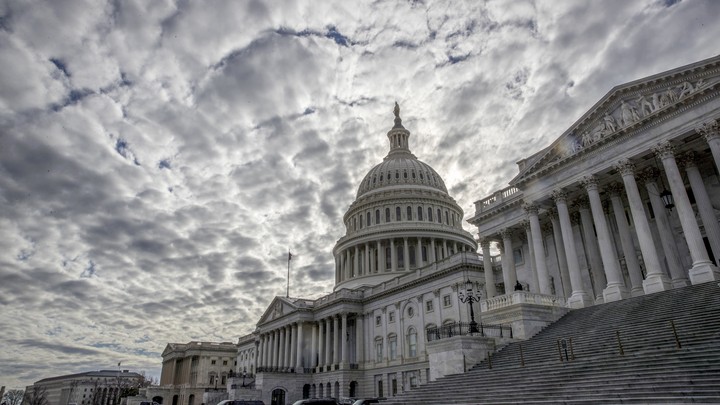 Updated on January 22 at 6:15 p.m. ET
Senate Democrats have given in.
A three-day shutdown of the federal government ended on Monday after Senate Democrats dropped their filibuster of a stopgap spending bill and accepted an offer from the Republican leadership to debate an immigration proposal by early February.
An overwhelming majority of the Senate voted, 81-18, early Monday afternoon to advance legislation to fund the government for the next three weeks, through February 8. A final version cleared the chamber on an identical vote later in the afternoon. Shortly after 6 p.m. Eastern, the House easily approved the bill on a bipartisan vote, 266-150, and sent it to President Trump for his signature.
In addition to reopening the government, the measure reauthorizes the Children's Health Insurance Program for six years and delays implementation of several taxes under the Affordable Care Act. Aside from its shorter duration—three weeks instead of four—the continuing resolution is virtually identical to the bill Democrats rejected on Friday night, resulting in the shutdown.
In an offer made Sunday night, Majority Leader Mitch McConnell committed that if Democrats reopened the government, the Senate would consider legislation by  the next funding deadline that would provide legal status for young immigrants about to lose their protections under the Deferred Action for Childhood Arrivals program. Minority Leader Charles Schumer initially balked at the proposal, and liberal activists quickly panned the offer as an "empty promise" from a GOP leader who was either unwilling or unable to deliver an immigration deal that could pass Congress.
"We've heard this record before, just last month in fact," said Vanita Gupta, president and CEO of the Leadership Conference on Civil and Human Rights, who spoke on a conference call with other top progressive activists urging Democrats to stand their ground. "It's simply the same broken record repeating the same broken promises. Democrats must not dance to Mitch McConnell's tune."
A bipartisan group of senators sought stronger assurances from McConnell, and by the early afternoon vote, enough Democrats were apparently satisfied. Yet there was little they could do to sugarcoat the outcome: Democrats will come out of the shutdown with nothing more than a commitment to address immigration on the Senate floor in a process that is "neutral and fair to all sides"—not necessarily to pass a bill that will give citizenship to Dreamers, nor a promise that such a bill would survive the more conservative House and earn Trump's signature.
"While this procedure will not satisfy all on both sides, it's a way forward," Schumer said. "I'm confident that we can get the 60 votes in the Senate for a DACA bill. And now there is a real pathway to get a bill on the floor and through the Senate. It is a good solution, and I will vote for it."
Schumer's agreement with McConnell did not have the support of House Democratic Leader Nancy Pelosi or the party whip, Steny Hoyer, according to an aide, because Speaker Paul Ryan has not made the same commitment to put an immigration bill up for a vote. But Pelosi and Hoyer didn't urge all Democrats to vote no, and despite opposition from three-quarters of their caucus, the bill easily cleared the House with most Republicans on board.
In an early indication of the Democratic divide, votes opposing the agreement on Monday came from some of the Senate's most liberal members as well as those likely to consider presidential bids in 2020, including Senators Elizabeth Warren of Massachusetts, Bernie Sanders of Vermont, Cory Booker of New Jersey, and Kamala Harris of California.  "I refuse to put the lives of nearly 700,000 young people in the hands of someone who has repeatedly gone back on his word," Harris said in a statement, referring to McConnell. "I will do everything in my power to continue to protect Dreamers from deportation."
In a statement Monday afternoon, Trump said he was pleased that congressional Democrats had "come to their senses and are now willing to fund our great military, border patrol, first responders, and insurance for vulnerable children." But he offered them little hope that he would move off of his demands for a deal on immigration. "As I have always said, once the government is funded, my administration will work toward solving the problem of very unfair illegal immigration," the president said. "We will make a long-term deal on immigration if, and only if, it is good for our country."
Democrats can point to enactment of a long-sought, six-year reauthorization of the Children's Health Insurance Program as a victory in the funding deal. And aides noted that McConnell's pledge for a "neutral" debate on immigration represented a shift after he earlier vowed only to bring up a bill that had Trump's explicit support. But the CHIP funding was part of the GOP offer on Friday night, before the shutdown, and an immigration bill opposed by the president remains unlikely to get through the House. "Last week, I was moved to tears of joy when Democrats stood up and fought for progressive values and for Dreamers," said Frank Sharry, executive director of the immigration reform advocacy group America's Voice. "Today, I am moved to tears of disappointment and anger that Democrats blinked."
We want to hear what you think about this article. Submit a letter to the editor or write to letters@theatlantic.com.
Russell Berman
is a staff writer at
The Atlantic
, where he covers politics.