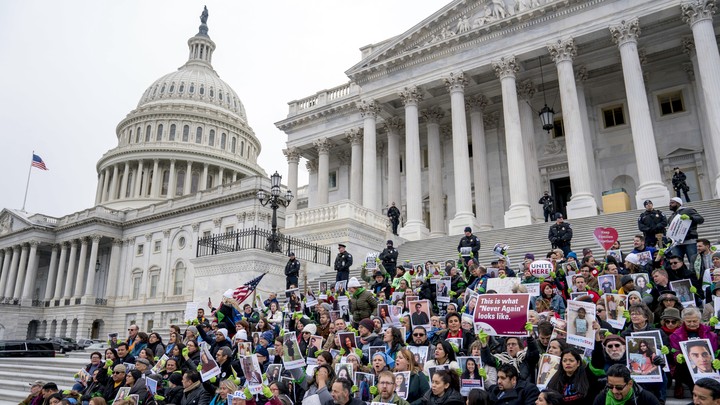 Over the next several weeks, chances are that one of two things will happen in Washington: Either a Republican-controlled Congress will pass, and a Republican president will sign, the most significant changes to U.S. immigration law and border security in more than a decade, or the federal government will shut down.
The precarious status of about 700,000 young immigrants is coming to a head, and leaders of both parties are finally hunkered down in negotiations over whether—and under what conditions—to protect them from the threat of deportation. Without congressional action, the Deferred Action for Childhood Arrivals program will end in March, halting the reprieve former President Barack Obama granted to immigrants who were brought to the U.S. illegally as children. But the real deadline is likely much sooner, because Democrats on Capitol Hill are under increasing pressure to use their limited legislative power to block any new extension of government funding if Republicans don't act on DACA. Under a stopgap measure Congress enacted last month, the next spending bill must pass by January 19.
"The urgency is there for us to get something immediately," said Cesar Vargas, co-director of the Dream Action Coalition. "Even though there is positive momentum, that momentum isn't translating into concrete policies and a final policy deal."
The wild card in the negotiations, as ever, is President Trump, who has vacillated in his demands for legislation to enshrine DACA provisions into law. Will he accept a path to citizenship for most or all Dreamers, as Democrats are insisting upon, or will he draw a line at more limited protections? And will Trump demand money for construction of his signature southern border wall and changes to the legal immigration system, or will he accept more modest enhancements to border security? In recent days, the president has returned to a more confrontational posture, as the White House angered Democrats by sending over the same list of hard-line demands it released in October.
"It is part of a pattern of behavior on the part of this White House during sensitive bipartisan negotiations," Senate Minority Leader Charles Schumer complained on Monday afternoon. "Over the past year, the Trump White House has much more frequently been a disruptive force rather than a unifying force." Schumer's top lieutenant and a leading DACA negotiator, Senator Richard Durbin of Illinois, was more blunt last week after the president pushed for $18 billion in wall funding: "President Trump has said he may need a good government shutdown to get his wall. With this demand, he seems to be heading in that direction," he said.
In addition to the wall funding, Trump wants Congress to end the diversity visa lottery and limit the ability of citizens and green-card holders to sponsor the entry of their family members—what restrictionists refer to as chain migration. Those demands go far beyond what Democrats thought the president had agreed to back in September as part of a "Dream-Act-for-border-security" arrangement they hashed out over dinner at the White House. Beyond extending protections for DACA recipients, the broader Dream Act could cover millions more immigrants brought to the U.S. illegally. In exchange, Democrats had offered to spend billions to beef up the border through a combination of hiring more and better-trained patrol officers, building more roads and guard towers, enhancing existing fencing, and bolstering the use of new technology—basically anything except the hulking, 2,000-mile wall that Trump had promised would be paid for by Mexico during the campaign.
"Hardliners in the administration and on Capitol Hill are now demanding 90 percent of their immigration agenda in exchange for 10 percent of the Democrats' immigration agenda," said Frank Sharry, executive director of America's Voice, a leading advocacy group for immigration reform. A person familiar with the talks said that while Democrats would not consider changes to family sponsorship, there had been discussions about limiting the diversity visa program in exchange for extending temporary protected status to immigrants from nations stripped of the designation by the Trump administration. On Monday, the administration announced that about 200,000 people from El Salvador must leave the U.S. after earlier stripping similar protections for immigrants from Nicaragua and Haiti.
Several different bipartisan groups have worked on DACA legislation in the House and Senate, and it's unclear which effort will form the basis of a final deal. Trump is hosting a bipartisan group of lawmakers at the White House on Tuesday to discuss the issue, and Republicans are waiting to see which, if any, proposal he decides to endorse.
Republican leaders have said they want to address DACA by the Trump-imposed March deadline, but they need the president to sell any deal to the party base and give them cover with the GOP's most ardent immigration foes in the Capitol. It is that expected backlash that has stalled previous attempts at reform in the House under both the Bush and Obama administrations. "Congress and President Trump cannot legalize DACAs without sacrificing the Rule of Law and broadcasting a call to come to America to be here for the next amnesty," tweeted Representative Steve King of Iowa, perhaps the nation's loudest restrictionist voice. "No matter the 'deal' the Rule of Law would fall!"
Democratic leaders, however, aren't in much better shape with their own base. The party's chief leverage is in the Senate, where at least eight Democratic votes are needed to defeat a filibuster of spending bills. Dreamer activists were angered when Schumer chose not to press the DACA issue in December, agreeing to punt the issue to January rather than corral his caucus for a shutdown fight before Christmas. The Dream Act is one of several pieces that Schumer and House Minority Leader Nancy Pelosi hope to attach to a longer-term spending bill, but it's possible that Congress might need to buy even more time after January 19 and pass another interim measure instead.
Immigration activists are losing patience, and not just with Republicans. "Senator Schumer needs to step up his game," Vargas told me. "At this point, we're seeing very amateur dealmaking skills from supposedly the master strategist." Activists spent much of December demonstrating outside the Capitol and at the offices of both Democratic and Republican lawmakers. "We really don't like that we are being used as bargaining chips for this supremacist agenda," said Juan Manuel Guzman, outreach and policy manager for United We Dream. "The Democrats need to use all the power they have, all the leverage they have, to make this a priority."
Schumer's office chose not to respond, though Democratic leaders have said they will continue to demand a DACA deal before agreeing to any one of several other legislative priorities that Republicans want to resolve, including lifting spending caps for the military or giving final approval for an $80 billion disaster relief package. "We maintained all of our leverage," a leadership aide said.
For Vargas, a Dreamer himself, and other immigrant advocates, the frustration goes back years—to when Democrats had majorities in Congress and Obama in the White House and still couldn't pass the Dream Act, much less a more comprehensive immigration overhaul. Now, he concedes that with Republicans in control, permanent protections will come with pricey strings attached, and perhaps even something that Trump will call a wall.  He said he could live with updated fencing on the border, or "a digital wall."
"For me, if Trump wants to say he has built a wall, an actual wall that's going to promote border security, that's a victory he should take," Vargas told me. "Frankly, if the Republicans and the administration are able to come out with a deal, they have played their cards very well. And Trump could get credit for a really good deal, because Democrats have failed to do that."
We want to hear what you think about this article. Submit a letter to the editor or write to letters@theatlantic.com.
Russell Berman
is a staff writer at
The Atlantic
, where he covers politics.