'I Think People Have to Find Ways to Send a Message'
Representative John Lewis joins other associates of Martin Luther King Jr. in criticizing the president's remarks about immigrants.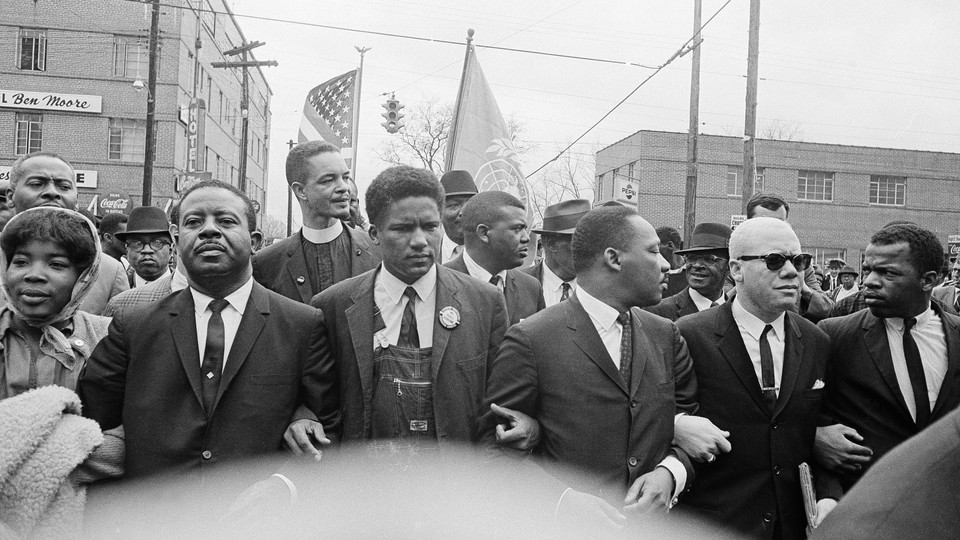 Representative John Lewis, the Georgia Democrat who was one of the key leaders of the civil-rights movement before his election to Congress, announced Friday that he would skip President Donald Trump's State of the Union Address, to be delivered by the president on January 30. "We cannot let someone go around insulting our brothers and sisters from another part of the world," Lewis told me. "If they're from Africa or from the Middle East or Mexico, they're still our brothers and sisters."
Lewis has been a thorn in Trump's side since the real-estate mogul's campaign began, and Trump's reactions to Lewis's criticisms have often marred civil-rights celebrations. Last year, again on the eve of the King holiday, Lewis told NBC's Meet the Press that he did not see Trump as a "legitimate president," and planned to skip the inauguration, an announcement that led to backlash from the president. The then-president-elect launched into a Twitter tirade against the congressman, saying his district—which covers King's home—was in "horrible shape and falling apart (not to mention crime infested)." Using rhetoric about African American communities that mirrors his insults to people of color abroad, Trump also told Lewis to focus on "the burning and crime infested inner-cities of the U.S."
In December 2017, Lewis also skipped the opening of the Mississippi Civil Rights Museum because Trump attended and spoke. Trump's appearance was met with boycotts and protests as well.
Lewis sees his continued choice to boycott Trump as a way to avoid those regular debacles and making a statement. "I think it's important that when you see something that is not right, not fair, or not just, you have a moral obligation to say something to do something," Lewis told me. "When I made the decision to stay away from the inauguration last year, almost 70 of my colleagues stayed away. I think people have to find ways to send a message."
Lewis is one of a number of civil-rights leaders criticizing the president this weekend, in the wake of explosive reports about language he used during a meeting about immigration reform.
Several outlets, confirmed by senators from both sides of the aisle, attest that in a Thursday meeting on immigration reform, Trump questioned why America needed more immigrants from Haiti, El Salvador, and some African nations, referring to them as "shithole" countries. "Why do we need more Haitians, take them out," he reportedly said. At the same time, the president also said that Norwegian immigrants should be prioritized. Trump now disputes that he ever said the words in question, merely characterizing his speech as "tough."
Trump's remarks, as reported, echoed some of the most virulently white-supremacist immigration laws in American history. In the shadow of that outburst, the president appeared at the annual ceremony proclaiming a holiday honoring the civil-rights leader Martin Luther King, Jr.
During and after that ceremony Friday, Trump faced strong criticism for his comments from associates of the late civil-rights leader. Some of the strongest came from Bernice King, the daughter of Martin Luther King, Jr. and Coretta Scott King. On Twitter, the activist and CEO of the King Center said that "I'm not surprised when I hear President Trump has said something else insulting [racist, bigoted, hateful] about a group of people or a nation of people." She also spoke for the King family on a Facebook Live video, admonishing the president to refrain from "any effort at tweeting something negative or insulting" on the holiday itself.
The elder King's protege and friend Andrew Young, a former Atlanta mayor and ambassador to the U.N., took a more diplomatic approach to dismantling Trump's comments. During an interview with The Atlanta Journal-Constitution, Young pointed to the role that the Haitian Revolution played in the politics of America and in the road to black liberation in the United States. He echoed the sentiment that Haiti is extremely disadvantaged, but placed the blame at the feet of slavery, colonialism, and exploitation, including on the part of the United States. "It's largely because the French and the Europeans resented they were defeated there," Young said. "Haiti has been neglected. It's also been the victim of hurricanes and earthquakes. We have helped, but never enough to get them on their feet."
The comments are the latest example of Trump's willingness to voice racism or insensitivity while in office. During an event with the Navajo Code Talkers, he derided Senator Elizabeth Warren as "Pocahantas," for no apparent reason other than the fact that he was addressing a crowd of Native Americans. He directed police officers in Long Island to rough up suspects and retweeted a series of intensely Islamophobic videos from a British nationalist group. And they follow the positions that marked his life as a private citizen: the birtherism, anti-immigrant invective, the federal discrimination lawsuit that he settled, and his calls to execute the Central Park Five, the since-exonerated group of black and Latino youth accused of a brutal rape.