Congress Produces Drama While Mueller Produces Results
Steve Bannon stonewalled a House committee, then promptly agreed to an interview with the special counsel—the latest example of how Mueller is moving ahead as lawmakers feud and spin their wheels.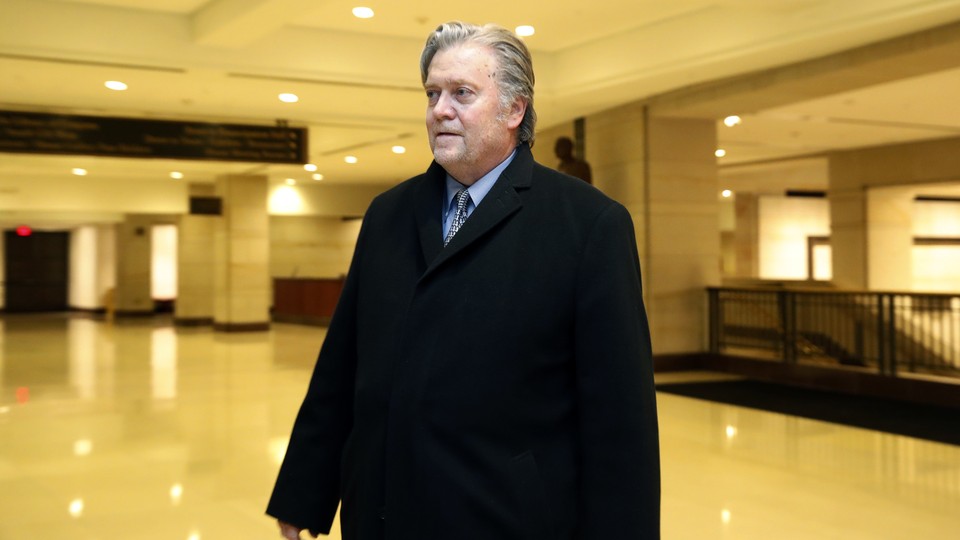 On Tuesday, Steve Bannon spent hours behind closed doors with the House Intelligence Committee. It was rough. The former White House chief strategist stonewalled lawmakers, they said, even after members from both parties issued a subpoena. Then, on Wednesday, CNN reported that Bannon has struck a deal with Special Counsel Robert Mueller's team for an interview.
The disparate results obtained from Bannon neatly symbolize the difference between Mueller's probe and the various congressional panels, all of which are in their own ways investigating Russian interference in the 2016 election and what role the Trump campaign played in it. The congressional panels are high drama, but low results, riven by procedural hurdles, partisan foodfights, and what appears to be interference from the White House. Mueller, meanwhile, has kept his head down and his lips sealed, with most news about his probe emerging from outside sources or from court documents, but all appearances suggest a team moving slowly but inexorably and effectively forward.
Bannon's testimony to the House Intelligence Committee had been scheduled since at least last week, but Tuesday morning, as Bannon testified, The New York Times reported that Mueller had subpoenaed him. The House interview was voluntary, but Bannon apparently wouldn't say much, answering questions about his time on the Trump campaign but refusing to discuss the presidential transition team or his time in the White House. He also reportedly wouldn't talk about his conversations with Trump after leaving the White House in August.
Initial reports suggested he had invoked executive privilege, the hazily-defined concept that the White House may declare discussions around the president secret to insure that advisers can speak frankly in making policy. But the top Republican and Democrat on the committee said that instead Bannon had suggested that certain answers might infringe on executive privilege. The Associated Press reported that Bannon's lawyer was conferring with the White House in real time about what questions he could answer. (The attorney, Bill Burck, is also representing White House Counsel Don McGahn.)
That led frustrated lawmakers to issue a subpoena, but Bannon still refused to talk. "We're going to get answers from Mr. Bannon," Mike Conaway, the top Republican on the panel, said, but it was unclear how that might happen. Lawmakers could subpoena documents, for example, or hold Bannon in contempt.
The standoff is in contrast to Bannon's apparent acquiescence to an interview with Mueller. The special counsel's subpoena was noteworthy because it is the first time Mueller had ordered one of Trump's close confidants to testify before a grand jury. NBC also reported that FBI agents had visited Bannon's home. The Mueller probe has at times used aggressive tactics, especially against former Trump campaign manager Paul Manafort, which outside analysts view as a way of intimidating both the subjects of those tactics as well as other possible witnesses and targets.
If Mueller's goal was to get him to agree to an interview, CNN's story suggests it worked. Speaking before the grand jury is usually a higher-stakes move, intended to corner witnesses, especially ones prosecutors believe might be lying, although it is still a crime to lie during interviews. The Daily Beast reported that Bannon intends to speak openly to Mueller. The ability to invoke executive privilege in a grand jury proceeding is somewhat disputed. In 1974, the Supreme Court rejected a broad claim of privilege by the Nixon administration, ruling, "Neither the doctrine of separation of powers nor the generalized need for confidentiality of high-level communications, without more, can sustain an absolute, unqualified Presidential privilege of immunity from judicial process under all circumstances."
Other administrations, though, have on occasion attempted to keep quiet during grand-jury testimony. Bill Clinton aide Sidney Blumenthal did so in 1998, during the investigation into the president's affair with Monica Lewinsky. Presidents have also fought against congressional subpoenas by invoking executive privilege.
These invocations tend to elicit a predictable partisan response: The opposition party decries them as outrageous power grabs that defy the rule of law; the president's party defends them as reasonable limitations.
"The claim of executive privilege is really frivolous," then-Republican Arlen Specter said of Clinton in 1998, while Democrat Bob Torricelli replied, "Executive privilege has been used by every president since Thomas Jefferson, or at least many of them, on occasion." Nearly a decade later, as Bush tried to impede an inquiry into the firing of U.S. attorneys, Democrat Patrick Leahy said the White House was engaging in "Nixonian stonewalling," but Republican John Cornyn called it "basically a political witch hunt."
The bipartisan anger at Bannon on Tuesday is not only an exception to this historical pattern—it's an exception to how the current congressional investigations into Russia and the election have gone. The House Intelligence Committee in particular has been the setting for much partisan sniping; GOP Chair Devin Nunes eventually stepped aside from that probe after a bizarre escapade in which the White House was apparently feeding him claims of improper behavior by Obama administration officials, though none of those claims have produced any proof. Despite stepping aside in favor of Conaway, members say Nunes has continued to interfere with the probe.
The Senate Judiciary Committee has been only slightly less acrimonious. Earlier this month, two senior Republicans asked the Justice Department to investigate whether Christopher Steele, author of the Trump dossier, lied to federal agents, in what Democrats described as naked political protection of the president. The following week, ranking Democrat Dianne Feinstein released the transcript of an interview with Fusion GPS principal Glenn Simpson, setting off another war of words.
The Senate Intelligence Committee has, by contrast, been a model of functionality, and it has produced a large amount of interesting information about the role of social media in Russian interference, but has not produced as many public revelations about Trump campaign collusion.
When these panels are not kneecapped by partisan sniping, they're also dealing with obstacles offered by the White House, from the Nunes escapade to the question of Bannon and executive privilege.
For all of the attention, it's unclear what Bannon has in the way of relevant information. He joined the Trump campaign after the June 2016 Trump Tower meeting between several Russians and Manafort, Donald Trump Jr., and Jared Kushner. According to Michael Wolff's Fire and Fury, he was not present when the president dictated a misleading statement about that meeting. Bannon was also reportedly not present when Trump decided to fire FBI Director James Comey, only learning of the decision once it was made. The New York Times reports that if Bannon were a target for Mueller, he would not likely have been subpoenaed.
In Wolff's book, Bannon makes several noteworthy statements. He calls the Trump Tower meeting "unpatriotic" and "treasonous," and speculates that those in the meeting would have brought the Russians to visit Trump. He also suggests that Kushner and Trump Jr. are ripe for prosecution. But these statements are similar to widely circulating speculation, and it appears Bannon is offering his own speculation. If he has any actual evidence to back them up, he has not offered it publicly.
It's not unusual for there to be tension and differences in approach between congressional investigators and a special or independent counsel. During the Iran-Contra hearings, congressional panels hobbled an independent counsel by offering immunity to certain people. Mueller may be just as happy to see the congressional investigations spinning their wheels for now.
If the special counsel ends up accusing Trump or top lieutenants of serious criminal behavior, however, Congress will be essential to handling it. There is an ongoing legal debate about whether a sitting president can be indicted (unsurprisingly, White Houses have argued not, while previous prosecutors have concluded it is possible), but political exigencies and the possibility of presidential pardons mean that Congress would likely be indispensable to any form of accountability. At this point, such a role seems beyond the grasp of either House or Senate.