When the Army Planned for a Fight in U.S. Cities
In 1968, one retired colonel warned that urban insurrections could produce "scenes of destruction approaching those of Stalingrad."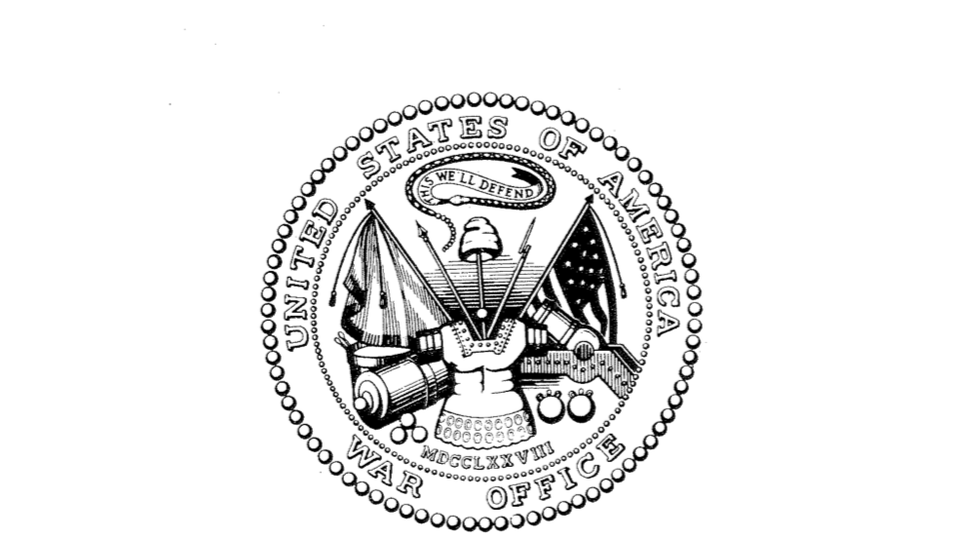 Editor's Note:
This is part of The Atlantic's ongoing series looking back at 1968. All past articles and reader correspondence are collected here. New material will be added to that page through the end of 2018.
In January 1968, Colonel Robert B. Rigg, a retired Army intelligence officer, published an article in ARMY magazine that captured the attention of an establishment reeling from recent riots in Watts, Detroit, and other American cities. He argued that those disturbances might be relatively mild precursors to a coming rebellion in the streets––that during the next few years, "organized urban insurrection could explode to the extent that large American cities could become scenes of destruction approaching those of Stalingrad in World War II."
As he envisioned it, those disaffected by the Vietnam War or poverty or racial injustice might at any time attempt a guerrilla uprising in their cities, where man has invariably built "a finer jungle for insurrection" than any in nature.
"Rooftops, windows, rooms high up, streets low down, and back alleys nearby could become a virtual jungle for patrolling police or military forces at night when hidden snipers could abound, as they often do against U.S. and allied forces in Vietnam in daylight," he wrote. "Could local police or National Guard units carry out such search-and-destroy campaigns in the cement-blockjungles of high-rise buildings?"
He didn't think so.
"Urban guerrillas could shoot down the streets, drop fire bombs, and not even need mortars," he wrote. Hostages could be taken. The Communists might even try to fuel the flames of insurgency. And while social, economic, or political reforms might succeed in staving off such rebellions, he reasoned, they might not; thus his call for "an effective system of intelligence in the ghettos," including deep penetration by undercover cops and military intelligence, along with Army preparations to fight pitched urban battles here in America.
His conclusion included this chilling suggestion:
Army units must be oriented and trained to know the cement-and-asphalt jungle of every American city. Possibly the sight of such maneuvers in several cities could prove a deterrent to urban insurrection.
* * *
Rigg's article coincided with a massive loss of faith in American cities, fueled by riots, rising crime, and racism––and also by federal policies like investment in highways and subsidized home loans for World War II veterans that made suburban existence more viable for people and businesses alike, causing many to relocate away from dense cores to where land or labor were cheaper.
His arguments circulated widely.
U.S. News and World Report republished the article in its January 15, 1968, issue. A week later, The New Republic ran a piece summarizing the article at greater length than I offered above, appending a small amount of analysis at the end:
Is Rigg having a nightmare?

Richard Nixon warned in New York on January 9 that this summer there will be war, not just riots, in the city streets. He said "radicals" were planning "the bringing of great cities to their knees." Gov. George Romney said this month that in Michigan whites and blacks are busy arming against each other.

Is this just Republican scare talk?

On January 15, a series of police conferences, closed to the public, began on the prevention and control of civil disorder at six locations around the nation. They were inaugurated by the United States attorney general and attended by 400 police officials and many city mayors.
Americans would only later discover that abusive COINTELPRO surveillance of Black Power activists, anti-Vietnam protesters, and suspected Communists was, in fact, already operational, in part because the establishment feared insurrection.
Even today, many remain unaware of what the Army was planning.
* * *
In September 1968, months after the assassination of Martin Luther King Jr. and ensuing riots, the U.S. Army published a then-classified plan called Garden Plot, noting "dissatisfaction with the environmental conditions contributing to racial unrest and civil disturbances and dissatisfaction with national policy as manifested in the anti-draft and anti-Vietnam demonstrations."
Those grievances "might provide a preconditioned base for a steadily deteriorating situation leading to demonstrations and violent attacks on the social order," the plan stated. "Should external subversive forces develop successful control," it continued, "federal military intervention may be required to preserve life and property and maintain normal processes of governments."
What followed was a detailed blueprint for how the U.S. Army, on the president's orders, would deploy simultaneously to 25 American cities to put down civil unrest. For instance, "Riot control agents should be used to accomplish your mission prior to the use of live ammunition," it noted. "Authority to issue live ammunition to personnel under your command is authorized. They are not to load or fire their weapons except when authorized by an officer in person; when authorized in advance by an officer under certain specific conditions; or when required to save their lives. Warning shots will not be fired; however, when shooting is necessary, shots will be aimed to wound rather than to kill."
The Army set forth these factors in "assessing the probabilities of civil disturbances" in a given urban area:
(a) Population by race.
(b) Population of the "core city" of the urban area; percentage and distribution of the minorities population.
(c) Presence of large "blue collar" neighborhoods, as reflected by the industrial payrolls and industrial concentrations.
(d) Presence of poor economic and sociological conditions, and their reflections in crime rates.
(e) Unemployment rate in the area, and sections of concentrated unemployment.
(f) Presence and degree of activity of militant racial, leftist and anti-draft, and extreme right-wing groups, and an assessment of the capabilities of these to provoke disturbances.
(g) History of civil disturbances in the area.
(h) Assessment of known and probable demonstrations.
(i) Existence of widespread sense of injustice and real or imagined lack of means of redress.
(j) Caching of arms or explosives; other preparations for disturbances.
Twenty-five "high-priority" areas were identified, and the Army planned as if to combat civil disturbances in all of them at once. That would result in the activation of five brigades. They would deploy to Baltimore, Cincinnati, Cleveland, New York, Philadelphia, Boston, Louisville, Newark, Pittsburgh, Richmond, Trenton, Wilmington, Atlanta, Memphis, Miami, Nashville, Chicago, Detroit, Kansas City, St. Louis, Gary, Milwaukee, Los Angeles/Long Beach, and San Francisco/Oakland, while an additional 30,000 troops would keep order in Washington, D.C.
Of course, no mass deployment of that sort ever occurred, but Garden Plot was activated by the Secretary of the Army in April 1992 to help quell the riots in Los Angeles. New plans that superseded Garden Plot were created after the September 11, 2001, terrorist attacks; they were declassified in 2009 and released to the public.