A Tentative DACA Deal in the Senate
A bipartisan group of six senators have struck an agreement to protect Dreamers and bolster security. But it's not clear whether it's enough to win over President Trump or majorities in Congress.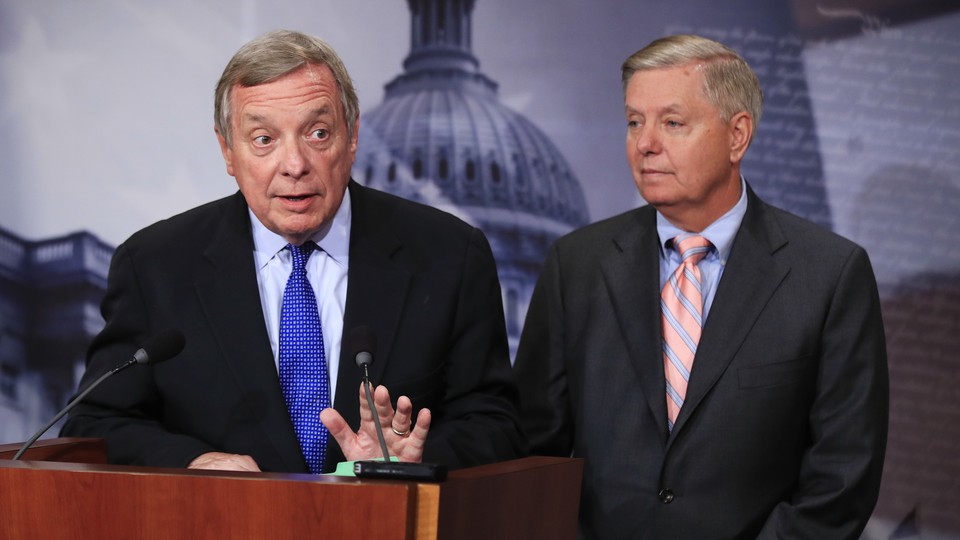 A bipartisan group of six senators say they've struck an "agreement in principle" on legislation to provide a path to citizenship to young undocumented immigrants while bolstering border security and making changes to the legal immigration system.
Now they have to sell it—to a wide range of colleagues in the House and Senate, and most importantly of all, to President Trump.
The senators—Republicans Lindsey Graham of South Carolina, Cory Gardner of Colorado, and Jeff Flake of Arizona, along with Democrats Richard Durbin of Illinois, Michael Bennet of Colorado, and Robert Menendez of New Jersey—have been negotiating a deal in the four months since Trump said he would end Obama-era protections for around 700,000 immigrants who entered the U.S. illegally as children. The president had called on Congress to act by March 5, the date that he set for terminating his predecessor's Deferred Action for Childhood Arrivals program.
But Trump's demands for the legislation have been a moving target, and it's unclear whether the agreement among a group of senators known for their support of undocumented immigrants can gain his support. Nor is it clear yet that the Senate deal will form the basis for a final legislative pact. Lawmakers have already offered competing proposals, and earlier this week Trump tasked a second negotiating group of two senior members from each party to meet as well. The president's endorsement is especially critical not only because his signature is needed on any final legislation but because Senate Majority Leader Mitch McConnell has said he will only call up an immigration bill that has Trump's backing.
Trump took several contradictory positions during an unusual public meeting he held with lawmakers at the White House on Tuesday. At multiple points, he said he'd sign whatever immigration legislation Congress sent him. But at others, he reiterated his demand that any deal include funding for the wall, which Democrats oppose and which Trump had said would be paid for by Mexico. The president also insisted on an end to the diversity visa lottery and to what he calls "chain migration," or the process by which immigrants can sponsor the arrival of their extended family.
The Senate group did not release details of their agreement other than to say it addressed the four areas that Trump wanted in the deal: DACA, border security, "chain migration/family reunification," and the diversity visa lottery. "We are now working to build support for that deal in Congress," the senators said in a joint statement.
Among the unanswered questions are whether the agreement includes explicit funding for Trump's border wall, which he has continued to demand in some form, and exactly how both the so-called Dreamers and their undocumented parents will be treated. The senators referenced the Dream Act, which strongly suggests that the young immigrants will see a path to citizenship in the bill, as opposed to a more limited, renewable legal status backed by House conservatives.
Politico reported on Thursday that the deal would include $2.7 billion for additional border security, among that $1.6 billion for a border wall. The Daily Beast reported that Dreamers could obtain citizenship after 12 years and that the agreement revamps the diversity visa lottery so that some of the 50,000 slots go to immigrants from nations that recently lost their Temporary Protected Status. But in a sign of how far the deal still has to go, the Washington Post reported that during a meeting on Thursday, Trump recoiled at the idea of restoring protections for people from countries like Haiti, El Salvador, and nations in Africa. He referred to them as "shithole countries," the Post report.
Though the DACA deadline is March 5, lawmakers are working under a tighter timeframe. The federal government runs out of money on January 19, and Democrats have said they'll support another stopgap spending measure only if a DACA deal is at hand. House Minority Leader Nancy Pelosi said Thursday that the legislation wouldn't need to be enacted by then, but at least an agreement was necessary.
One such immigration accord was struck on Thursday, but whether it can make it into law remains to be seen.