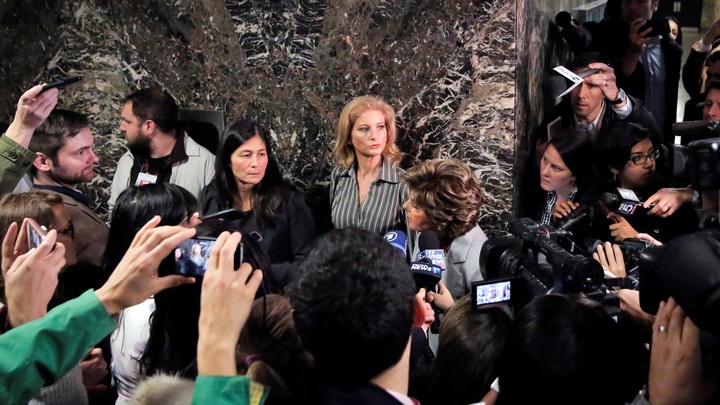 It's been two months since the reckoning began. In early October, The New York Times and The New Yorker first published the alarming accounts of women who said they'd been assaulted by Hollywood mogul Harvey Weinstein. Rare is the day since then that women, and some men, haven't come forward with accounts of sexual misconduct from famous and not-so-famous men alike.
Lurking in the background of the roiling debate about harassment and assault in American society are the allegations made against President Trump by at least 19 women, many of whom came forward after the release of the Access Hollywood tape in October 2016. Trump vociferously denies any wrongdoing. "Is the official White House position that all of these women are lying?" a reporter asked Sarah Huckabee Sanders, the White House press secretary, in late October. "Yeah, we've been clear on that from the beginning, and the president's spoken on it," Sanders replied.
Some of the women's stories date back to the 1980s when Trump's personal relationships were fixtures of the New York City tabloids; others begin after he returned to the public eye with his NBC series The Apprentice. Their accounts describe a wide range of alleged behavior, including lewd remarks, overt harassment, groping, and sexual assault. One woman, Summer Zervos, is currently suing the president for defamation after he repeatedly called her and the others liars. What follows are details from each accuser—listed alphabetically—and the president's corresponding defense.
---
Kristin Anderson
---
Mariah Billado
---
Lisa Boyne
---
Rachel Crooks
---
Tasha Dixon
Year: 2001
Allegation: Dixon told CBS News's Los Angeles affiliate in October 2016 that she met Trump while representing Arizona during the 2001 Miss USA pageant. Like other participants in competitions run by the Miss Universe Organization, which Trump bought in 1996, Dixon said Trump would visit the women's dressing room while the contestants were changing. "He just came strolling right in," she told the network. "There was no second to put a robe on or any sort of clothing or anything. Some girls were topless. Other girls were naked."
Response: The Trump campaign denied allegations made by Dixon and other former pageant contestants. "These accusations have no merit and have already been disproven by many other individuals who were present," the campaign said in a statement. "When you see questionable attacks like this magically put out there in the final month of a presidential campaign, you have to ask yourself what the political motivations are and why the media is pushing it."
Status: Dixon has not spoken to news outlets since the election.
---
Jessica Drake
Year: 2006
Allegation: During a press conference with lawyer Gloria Allred in October 2016, Drake, a former adult-film actress and director, described meeting Trump during a 2006 golf tournament at Lake Tahoe, Nevada. She said two women were with her, and that Trump "grabbed each of us tightly in a hug and kissed each one of us without asking permission." Drake told reporters that Trump later called her and asked her to accompany him to dinner and a party. When she declined, she said Trump offered her $10,000 if she agreed to his offer. Allred showed reporters at the press conference a photograph of Trump and Drake together.
Response: The Trump campaign denied Drake's account and accused Hillary Clinton of orchestrating the allegation. "This story is totally false and ridiculous. The picture is one of thousands taken out of respect for people asking to have their picture taken with Mr. Trump," the campaign said in a statement. "Mr. Trump does not know this person, does not remember this person, and would have no interest in ever knowing her."
Status: Drake spoke at a press conference during the Women's March on Washington in January alongside three other women who accused Trump of sexual misconduct. "Like many, I am horrified by the potential upcoming administration and fear the consequences it will have," she told reporters.
---
Jill Harth
Year: 1992-1993
Allegation: Harth and George Houraney, her romantic and business partner at the time, first met Trump in 1992 regarding a business proposal. She told The Guardian in July 2016 that Trump's unwanted advances began at dinner that night when he tried to grope her under the table. According to Harth, those advances continued at a January 1993 business meeting at Mar-a-Lago, the president's estate in Florida. She said Trump cornered her in his daughter's bedroom during a tour of the property. "He pushed me up against the wall, and had his hands all over me and tried to get up my dress again," Harth told the newspaper. Houraney said he did not witness the two incidents but believes Harth's account of them. She shared her account during a deposition in 1996 as part of a lawsuit against Trump claiming that he failed to hold up his end of a business deal. (Trump settled out of court for an unknown sum.)
Response: Michael Cohen, the Trump Organization lawyer, denied Harth's allegations in a statement to The Guardian. "It is disheartening that one has to dignify a response to the below absurd query," he said via email. "Mr. Trump denies each and every statement made by Ms. Harth as these 24-year-old allegations lack any merit or veracity."
Status: Harth continued to speak out against the president after the election. In October, she tweeted, "My pain is everyday with bastard Trump as President. No one gets it unless it happens to them. NO one!"
---
Cathy Heller
Year: 1997
Allegation: Heller told The Guardian in October 2016 that she met Trump during a Mother's Day brunch held at Mar-a-Lago, where she was dining with her husband, her children, and her in-laws. According to her, Trump was greeting attendees table by table. When he was introduced to her, Heller said Trump forcibly kissed her. "He took my hand, and grabbed me, and went for the lips," she told the newspaper, adding that she felt "angry and shaken." The Guardian interviewed an unidentified relative who witnessed most of the encounter, as well as friends who said she told them about it in the years afterward.
Response: "There is no way that something like this would have happened in a public place on Mother's Day at Mr. Trump's resort," Jason Miller, a Trump campaign spokesman, told The Guardian. "It would have been the talk of Palm Beach for the past two decades."
Status: Heller told The Guardian in October that sharing her story the previous year had been difficult, but that she received "tremendous support" from friends and family. She added that she was glad so many women had stepped forward after the Weinstein allegations were made public. "It's not a Democrat or Republican thing. It's men in power," Heller told the newspaper.
---
Samantha Holvey
Year: 2006
Allegation: Holvey, who represented North Carolina at the 2006 Miss USA pageant, told CNN in October 2016 that Trump personally inspected her and the other contestants before the competition. "He would step in front of each girl and look you over from head to toe like we were just meat, we were just sexual objects, that we were not people," she said in the interview. "You know when a gross guy at the bar is checking you out? It's that feeling." Holvey said that she was "disgusted" by his behavior and "had no desire to win when I understood what it was really all about."
Response: CNN said that messages left with the Trump campaign about Holvey's account "were not returned." Trump broadly denied the wave of sexual-misconduct allegations in October 2016 and accused the women who made them of lying.
Status: Holvey has not spoken to media outlets about her account since the election.
---
Ninni Laaksonen
Year: 2006
Allegation: Laaksonen, a model and former Miss Finland, told Finnish newspaper Ilta-Sanomat in October 2016 that Trump groped her backstage at the Late Show with David Letterman in 2006. "Trump stood right next to me and suddenly he squeezed my butt," she told the newspaper, according to a translation by The Telegraph. "He really grabbed my butt. I don't think anybody saw it, but I flinched and thought, 'What is happening?'"
Response: Neither Ilta-Sanomat nor The Telegraph quoted a specific response from Trump or his campaign, but Trump broadly denied the wave of sexual-misconduct allegations in October 2016 and accused the women who made them of lying.
Status: Laaksonen does not appear to have spoken to media outlets about her account since the election.
---
Jessica Leeds
Year: 1980s
Allegation: Leeds told The New York Times in October 2016 that she sat next to Trump in a first-class cabin on a flight in the 1980s. Almost an hour into the flight, he lifted the armrest and "grabbed her breasts and tried to put his hand up her skirt," she told the newspaper. "He was an octopus," she added. "His hands were everywhere."
Response: "None of this ever took place," Trump told the Times in a phone interview for the article, which also included a separate account by Rachel Crooks. The newspaper characterized his response as "highly agitated" and noted that he called one of the reporters "a disgusting human being."
Status: As the "Weinstein effect" gained momentum this fall, Leeds spoke to The Washington Post in October about her experiences since the election. "It is hard to reconcile that Harvey Weinstein could be brought down with this, and [President] Trump just continues to be the Teflon Don," she told the newspaper.
---
Melinda McGillivray
Year: 2003
Allegation: McGillivray told the Palm Beach Post in October 2016 that she met Trump at Mar-a-Lago during a Ray Charles concert in 2003. Ken Davidoff, a society photographer who often held photo shoots at the resort and was a friend of McGillivray, invited her to assist him. McGillivray told the newspaper that Trump clandestinely groped her while they and others were meeting Charles after his performance. The Post also spoke with Davidoff, who said that McGillivray came up to him shortly after the meeting and told him, "Donald just grabbed my ass."
Response: The Post said it reached out to the Trump campaign for comment but did not cite a response. Trump broadly denied the wave of sexual-misconduct allegations in October 2016 and accused the women who made them of lying.
Status: McGillivray expressed anger toward Trump when she spoke to The Washington Post in October 2017 about the allegations. "What pisses me off is that the guy is president," she told the newspaper. "It's that simple."
---
Cassandra Searles
Year: 2013
Allegation: Searles met Trump when she represented the state of Washington during the 2013 Miss USA pageant. In a Facebook post written in June 2016, Searles said "this one guy treated us like cattle" during the stage introductions and "proceeded to have us lined up so he could get a closer look at his property." She didn't name Trump specifically, but she included a photo of him in the post and noted the "guy" was running for president. "He probably doesn't want me telling the story about that time he continually grabbed my ass and invited me to his hotel room," Searles added in a comment on the post.
Response: Trump did not specifically respond to Searles' account when it received widespread media attention in October 2016. He broadly denied the wave of sexual-misconduct allegations that month and accused the women who made them of lying.
Status: Searles has not spoken to media outlets about her account since the election.
---
Natasha Stoynoff
Year: 2005
Allegation: Stoynoff, a journalist at People magazine, wrote in October 2016 about her 2005 encounter with Trump at Mar-a-Lago. She met with Trump and his wife Melania for a story about their one-year wedding anniversary. While giving her a tour of the mansion, Trump cornered her in a room and began forcibly kissing her, Stoynoff said. "I turned around, and within seconds he was pushing me against the wall and forcing his tongue down my throat," she wrote. According to her, Trump did not relent until a butler arrived and informed him that Melania was on her way for their interview. Stoynoff said Trump resumed his advances after the interview, telling her that they would have an affair and mentioning an infamous tabloid cover about his purported sexual prowess. In a separate article, People cited six people who corroborated Stoynoff's account.
Response: Trump denied the allegations in a message on Twitter. "Why didn't the writer of the twelve year old article in People Magazine mention the 'incident' in her story. Because it did not happen!" he wrote. Anthony Senecal, Trump's longtime butler at Mar-a-Lago, also denied the encounter had taken place.
Status: Stoynoff revisited the incident in an October 2017 op-ed in USA Today about sexual misconduct. In the piece, she said an "Oscar-nominated actor" had assaulted her when she tried to interview him for her college newspaper. Stoynoff declined to name the actor, saying "this particular creep isn't running for president and no longer has power in Hollywood." But she said that episode shaped why she didn't immediately go public with her allegations about Trump. "Like many women, my life has been riddled with experiences of sexual misconduct by teachers, doctors, bosses, and more," she wrote. "Sadly, many women begin to feel this behavior from men is a given, and so we go on, dying a little inside each time it happens."
---
Bridget Sullivan
Year: 2000
Allegation: Sullivan told BuzzFeed News in May 2016 that she met Trump in 2000 while she was representing New Hampshire in that year's Miss Teen USA pageant. According to Sullivan, Trump would "hug you just a little low on your back" and give women "a squeeze like a creepy uncle would." She also said Trump would walk through the young women's dressing rooms while they were naked and changing.
Response: Hicks told BuzzFeed that Sullivan's story and similar ones shared by some contestants were "totally false."
Status: Sullivan has not spoken to news outlets since the election.
---
Temple Taggart
Year: 1997
Allegation: Taggart told The New York Times in May 2016 about two separate encounters. She first met the president in 1997 while representing Utah in that year's Miss USA pageant. When she was introduced to him, Taggart said, Trump "kissed me directly on the lips." She told the newspaper that Trump repeated his actions during a subsequent meeting at Trump Tower in Manhattan, which she attended because of his offers to help her obtain modeling contracts.
Response: Trump told the Times in an interview that he "would never do that." When NBC News revisited Taggart's story after the Access Hollywood tape became public in October 2016, he issued a more forceful denial. "I don't even know who she is," Trump told the network. "She claims this took place in a public area. I never kissed her. I emphatically deny this ridiculous claim."
Status: Taggart told the Times in November 2017 that she and other women who accused Trump of misconduct had spent the year since his election angry about what happened and fearful of potential retaliation by the president.
---
Ivana Trump
Year: 1989
Allegation: The president's first wife described a 1989 sexual encounter she had with him as "rape" in a deposition during their divorce proceedings in 1990. Her account did not become public until 1993, when it was recounted in a book about the Trumps by author Harry Hart III. Just before the book was published, Ivana said in a statement that her use of the word "rape" should not be "interpreted in a literal or criminal sense" by readers. "On one occasion during 1989, Mr. Trump and I had marital relations in which he behaved very differently toward me than he had during our marriage," Ivana said in the statement, which, according to The Daily Beast, was released by her ex-husband and his legal team. "As a woman, I felt violated, as the love and tenderness, which he normally exhibited towards me, was absent."
Response: Michael Cohen, the Trump Organization's legal counsel, downplayed the incident in a 2015 interview with The Daily Beast. "You're talking about the frontrunner for the GOP, presidential candidate, as well as a private individual who never raped anybody," he told the outlet. (Cohen received widespread criticism for falsely stating during the same interview that a spouse cannot be raped, for which he later apologized.)
Status: After the incident resurfaced in 2015 during Trump's presidential run, Ivana described her claim from the deposition as "totally without merit" in a statement. "I have nothing but fondness for Donald and wish him the best of luck on his campaign," she added. "Incidentally, I think he would make an incredible president."
---
Karena Virginia
Year: 1998
Allegation: Virginia told The Washington Post in October 2016 that Trump put his arm around her and touched her breast at the U.S. Open tennis tournament in 1998. She said she encountered Trump while waiting alone for a car outside the tournament building. According to her, Trump also made comments about her body to a group of nearby men before getting in a car and leaving.
Response: The Trump campaign denied Virginia's account of events. "Voters are tired of these circuslike antics and reject these fictional stories and the clear efforts to benefit Hillary Clinton," Jessica Ditto, a Trump campaign spokeswoman, told the Post.
Status: Virginia has not spoken to news outlets since the election.
---
Summer Zervos
Year: 2007
Allegation: Zervos first met Trump in 2005 when she was a contestant on the fifth season of NBC's The Apprentice. In an October 2016 press conference, Zervos told reporters that she met Trump for dinner in 2007 at the Beverly Hills Hotel in Los Angeles to discuss job opportunities. She said Trump greeted her with an open-mouth kiss when she arrived at his room. "He then grabbed my shoulder and began kissing me again very aggressively and placed his hand on my breast," she told reporters. "I pulled back and walked to another part of the room. He then walked up, grabbed my hand, and pulled me into the bedroom. I walked out." Zervos said Trump then embraced her, urged her to join him on the bed to watch television, and thrust himself upon her before she left.
Response: Trump denied Zervos's account. "I vaguely remember Ms. Zervos as one of the many contestants on The Apprentice over the years," he said in a statement. "To be clear, I never met her at a hotel or greeted her inappropriately a decade ago. That is not who I am as a person, and it is not how I've conducted my life. In fact, Ms. Zervos continued to contact me for help, emailing my office on April 14 of this year asking that I visit her restaurant in California." At a campaign rally in Pennsylvania a few weeks later, Trump emphatically denied any wrongdoing and repeatedly accused Zervos and the other women of lying about their alleged encounters with him.
Status: Zervos filed a defamation lawsuit against Trump in New York in January, accusing him of using his immense public platform "to make false factual statements to denigrate and verbally attack Ms. Zervos and the other women" who came forward. A New York judge is currently weighing arguments from both parties on whether the case should proceed to trial. If Zervos prevails, Trump could be compelled to testify about the allegations before a jury.
We want to hear what you think about this article. Submit a letter to the editor or write to letters@theatlantic.com.
Matt Ford
is a former associate editor at
The Atlantic
.