'I Don't See Much Mercy in Donald Trump or Jeff Sessions'
Why clemency advocates don't have high hopes under the current administration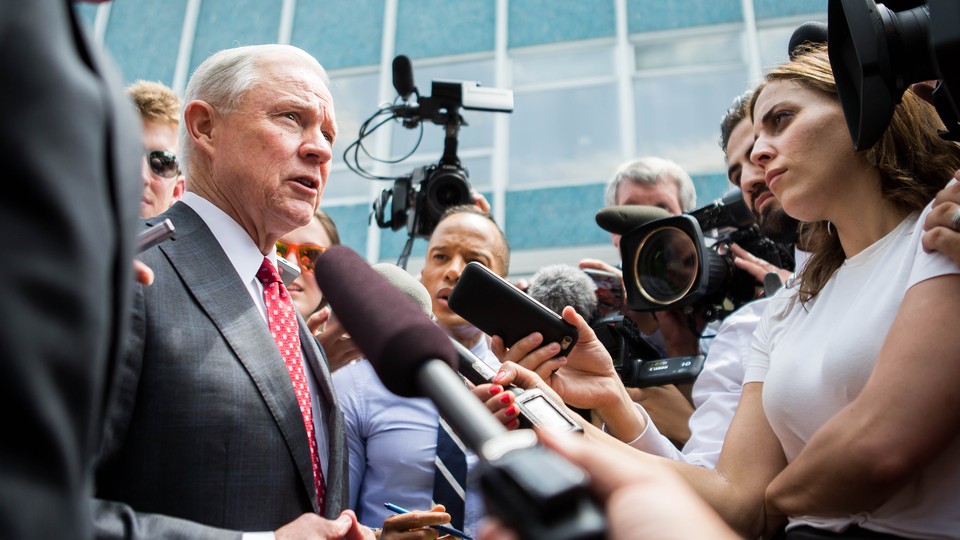 Barack Obama commuted the sentences of more than 1,700 federal prisoners, far more than other recent presidents, but there were over 10,000 clemency petitions pending when he left office in January. Those requests, relics of an ambitious but imperfect program, will still be pending when the present occupant of the White House leaves—unless they've been fed to the shredder in the interim.
At least that's the opinion of Mark Osler, one of the driving forces behind the Obama administration's Clemency Initiative, which launched in 2014. A law professor and former federal prosecutor, Osler runs a commutation clinic at the University of St. Thomas School of Law in Minneapolis that was responsible for getting 11 petitioners out of federal prison during the Obama years.
When it comes to the present administration's clemency policy, advocates like Osler know not to be aspirational. While he disagreed with the former president over some elements of the petitioning process, "at least Obama's heart was in the right place," Osler told me. "Clemency is going nowhere in the Jeff Sessions DOJ."
The Justice Department could not be reached for comment on its specific plans for clemency, but the administration's intentions seem manifestly different from Obama's. Where the previous White House tried to roll back the harshest sentences for low-level drug offenses, Attorney General Jeff Sessions has revived mandatory minimums. Where Obama supported criminal-justice reform, Trump has promised a return to "law and order." And Sessions himself was a critic of Obama's Clemency Initiative, calling its expanded guidelines "a thumb in the eye" of law-enforcement and court personnel.
So far, President Trump has used his pardoning power to absolve one person: Joe Arpaio, the ex-sheriff of Maricopa County, Arizona, and an early supporter of his campaign. While it's not unusual for a president in his first year to place clemencies low on his to-do list, clemency advocates doubt their work will ever be a priority.
A petition I worked on with Osler exemplifies the kind of cases Obama's initiative was meant to address—and to which Sessions' Justice Department would seemingly be less sympathetic. The petition was for a federal prisoner, Rudy Martinez, whose case I've reported and written about extensively. In 1991, I wrote an article about a cocaine network Martinez was accused to have led in the Twin Cities area. Later that year, he was sentenced to life in prison, a punishment that to me seemed unjust given what I knew about the network's hierarchy and a false testimony that led to his sentence. We kept in touch over the years, and I asked Osler to take on his case in 2014.
The Obama administration invited petitions "from nonviolent offenders who would have received substantially lower sentences if convicted of the same offenses today." Martinez was 26 years old and a first-time offender when he was sentenced to natural life without parole for participating in a continuing criminal enterprise, under guidelines that have since been rescinded. Judge Milton Shadur told him at the time that he considered the sentence unfair. But his hands were tied: "Rudy Martinez's case struck me as a prime example of how the guidelines could operate in an inappropriately disparate manner," Shadur wrote me in a letter. "His co-defendant, who appeared to be the principal offender in the cocaine-distribution conspiracy Martinez participated in, struck a deal for a three-year sentence in return for her testimony." She later admitted that she'd exaggerated the total volume of cocaine the ring distributed and the amount she purchased from Martinez; those initial claims made him eligible for charging under a statute that carried a mandatory natural-life sentence.
Four years into Obama's tenure, Clemency Project 2014, a coalition of pro bono lawyers and advocates that Osler was involved in, examined Martinez's case. By then, Martinez had become an accomplished jailhouse lawyer. He tried to appeal his conviction, petitioned for writs, and entered motions, but nothing made a dent. He seemed like exactly the kind of prisoner the project was looking for: His prison record was impeccable; he'd taken every education course on offer; he'd become an avid reader, and he'd stayed a major presence in the lives of his two sons and their mother.
But he had a close call with one of its guidelines: On-the-record episodes of violence, even if they didn't result in convictions, could be deal killers, and Martinez had previously been found not guilty of murder in a bench trial. Martinez alleges that a Chicago gang-unit detective named Reynaldo Guevara tried to frame him for an unsolved murder. Retired now, Guevara has been in the headlines in Chicago for the past two years. It's alleged that he sent as many as 51 men to prison on trumped-up charges, and so far five convictions he was instrumental in obtaining have been thrown out.
Although Martinez was found not guilty, the specter of that murder charge hung over his clemency case. But it didn't sideline it. Cynthia Roseberry, now the executive director of the Council for Court Excellence, a nonprofit that advocates for criminal-justice reform in Washington, D.C., was the project manager for the Clemency Project 2014. When Martinez's application reached her desk, she asked for chapter and verse on the murder. She could have disqualified him, but she was actively trying to get people out of prison, not find reasons to keep them in. Believing Martinez's account, she forwarded his petition to Obama's pardon attorney, who later recommended it to the president.
Under an administration that supports stricter punishment, especially mandatory minimums, Martinez's case could have fallen apart at multiple junctures—if it was considered at all. In August 2016, the Obama administration announced Martinez had been granted clemency, and by mid-September, he left prison.
Roseberry told me she still tries to stay upbeat about the prospects for clemency under Trump, citing her conservative friends who favor clemency because "they think it's morally right." She even saw reason for hope in Arpaio's pardon, which followed a long, bipartisan tradition of presidents using that power to help political associates. To Roseberry, the Arpaio pardon "shows the president is thinking about it."
Some of her fellow advocates take a dimmer view. Nkechi Taifa, the advocacy director for criminal justice at the Open Society Foundations in Washington, laughed when I asked her about the administration's view on clemency. "Clemency for who? Deserving people who were sentenced disproportionately under outdated guidelines? I don't think so," she said. "That's all about mercy, you know, and I don't see much mercy in Donald Trump, or Jeff Sessions."
The Obama administration's clemency program had its flaws. Though the initiative's launch in 2014 was seen as a victory, advocates felt let down by the administration's methods. Osler and Taifa, who for years had lobbied the administration, wanted to model the program on what the Ford administration did after the war in Vietnam. In 1974, President Gerald Ford convened an independent, bipartisan board that cleared over 20,000 applications and granted pardons to more than 14,000 draft dodgers in less than a year.
"If we'd gone that route, things would have been way different," Taifa told me. "We'd have had a body of experts devoted to the task at hand. Instead, we had a bureaucracy—well-meaning, most of them—but it took time to initiate the process, time to get it up to speed, and that was all time that could have been spent moving applications. In the end it was an admirable effort, but not nearly what it could have been."
More times than Martinez cares to remember during his quarter-century-plus behind bars, he awakened from a dream of the real world to find himself in prison. Since his release he's had the opposite experience, waking up in a panic thinking he's back in prison and clemency was just a dream. He told me he often wonders what the dreams of those more than 10,000 petitioners who never got an answer are like. "In a way, it might have been better for them if that possibility never existed," he told me. "You know, you tell yourself, 'If it happens, it happens' and you just keep on doing your time. But it does get into your head."
Were Trump moved to act on any of the pending applications, the bureaucratic impediments would still be daunting, Osler said. Recommendations from the pardon attorney are routed to the deputy attorney general, and Osler noted that the current deputy, Rod Rosenstein, has "got his hands full" overseeing Special Counsel Robert Mueller's inquiry into Russian interference in the election. "If he found time to approve an application, it would go to the White House Counsel, Don McGahn, who's busy bird-dogging the Mueller investigation," Osler explained. "So the chances of a deserving applicant getting a petition to the president's desk are just about zero."
For now, Osler is looking ahead. He plans to be in Iowa during the next presidential-primary season, pestering the candidates about clemency. And in the meantime his commutation clinic will concentrate on state prisoners.