Trump's Formidable Judicial-Appointment Machine Starts to Sputter
The president's ability to get confirmations to the bench has been his brightest spot, but this week saw two nominees withdraw and a third humiliated by a Republican senator.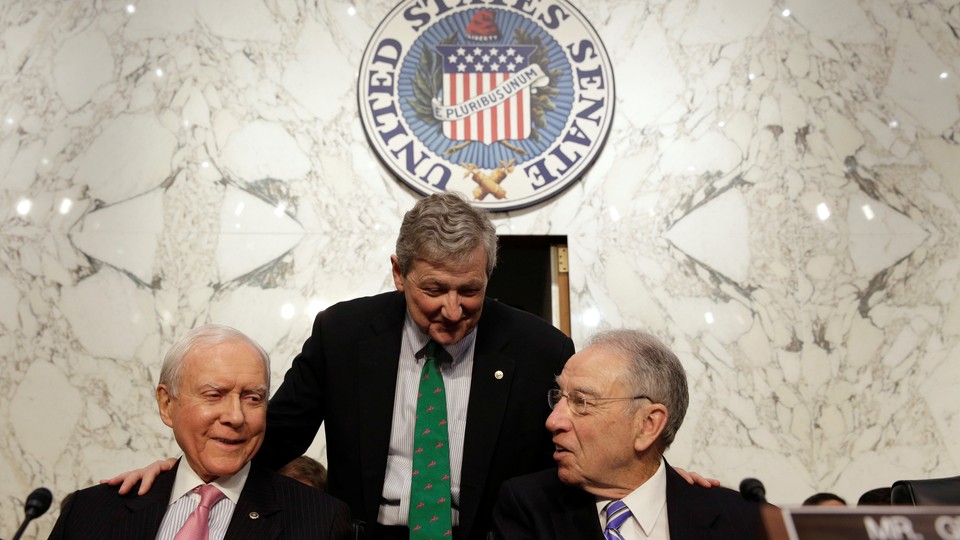 For a presidency beset by problems of policy and politics at home and abroad, judicial appointments have been a rare bright spot for the Donald Trump administration. Any list of the White House's biggest achievements begins (and arguably ends) with his successful appointment of Neil Gorsuch to the Supreme Court, a placement that will likely reshape jurisprudence for decades, and below that come a huge number of appointments to lifetime seats on lower courts.
This week, even that began to look a little shaky. Two picks for district courts withdrew their nominations after Senator Chuck Grassley, the chair of the Senate Judiciary Committee, publicly told the White House to reconsider their nominations, while a third was humiliated by a Republican senator during committee hearings.
On Tuesday, Grassley said he felt the administration should rethink the appointments of Brett Talley and Jeff Mateer. Talley had received the greater share of the attention: He had never tried a case (the fundamental task of district-court judges), received a rare "not qualified" rating from the American Bar Association, and has a passion for ghost-hunting. In 2011, he'd defended the KKK in a comment online. He also failed to disclose as required that his wife works for the White House counsel, who is deeply involved in choosing judicial nominees. Grassley's call for reconsideration was all the more curious because when he made it, the Judiciary Committee had already sent Talley's nomination to the full Senate, on a party-line vote. On Wednesday, Talley decided to withdraw.
Mateer had a history of anti-LGBT comments, including speeches in which he said same-sex marriage would lead to bestiality and called transgender children evidence of "Satan's plan." His decision not to disclose the speeches drew criticism from Senator John Cornyn, a Republican from Mateer's home state of Texas. Mateer had not yet received a committee vote, and the White House yanked his nomination too.
Then, on Thursday, Senator Sheldon Whitehouse, a Democrat from Rhode Island, shared a clip from a Judiciary Committee hearing on Wednesday. In the video, which went viral, Senator John Kennedy, a Louisiana Republican, dismantled Matthew Petersen, another district-court nominee. In his first year in Washington, Kennedy has established himself as one of the best and quirkiest questioners in the Senate, displaying an unassuming "country lawyer" approach that bears more in common with Sam Ervin than Kennedy's contemporary namesake.
In the clip, Kennedy questions Petersen on his experience. He has not tried a case in any court. He has never taken a deposition on his own, though he said he'd participated in about five as an entry-level lawyer. He has never argued a motion in state or federal court. He did not claim much literacy in the federal rules of criminal and civil procedure, which would govern the cases he'd hear as a judge. He expressed unfamiliarity with fairly common legal standards for admission of evidence and procedures for handling testimony. The cumulative effect is devastating—no wonder Whitehouse was eager to share questioning by his Republican colleague.
How could the Trump team's brightest spot suddenly dim? One reason the president has been so successful with judicial nominees so far is that he scarcely has had to rely on his own partially staffed, often-inexperienced, and bumbling staff to get the task done. In effect, the administration has farmed the selection of nominees out to the Federalist Society, the conservative legal group, which has carefully groomed and selected candidates for the bench. So far, that has worked well for Trump. The president has not expressed a coherent legal ideology, but he has long recognized judgeships as a key issue for conservatives and sought to use it to forge an alliance.
Now that seems to be hitting turbulence. In part, the president may be a victim of his own success. In short, the bench for the bench is getting thin. This week, the Trump administration set a record for number of circuit-court confirmations in a president's first year, and Trump has likely set a record for district-court confirmations as well. Given the pace, the White House may simply be struggling to vet nominees quickly enough to keep up.
What happens when a White House gets rushed or lazy? It starts picking political hacks, or people with more political connections than experience. Hence Talley, who doesn't have any court experience, but whose wife is a lawyer in White House Counsel Don McGahn's office. (He was deputy solicitor general of the state of Alabama and is a deputy assistant attorney general in the Trump administration.) Or Mateer, an apparent political zealot. Or Petersen, who as chairman of the Federal Election Commission and a former Republican staffer in Congress is a faithful GOP foot soldier but seems to have little in the way of preparation for the job for which he was nominated. It's reminiscent of Harriet Miers, the George W. Bush lawyer who was improbably nominated for the Supreme Court and promptly forced to withdraw.
Trump's record-setting pace of judicial appointments remains his biggest accomplishment, and an essential tool for keeping Republicans who might otherwise abandon him on the team. But the bumbling that the Talley, Mateer, and Petersen cases evince threatens to stall the pace of confirmations—and to raise objections among Republican senators like Grassley and Kennedy, who'd rather send nominees to the showers than the bench.