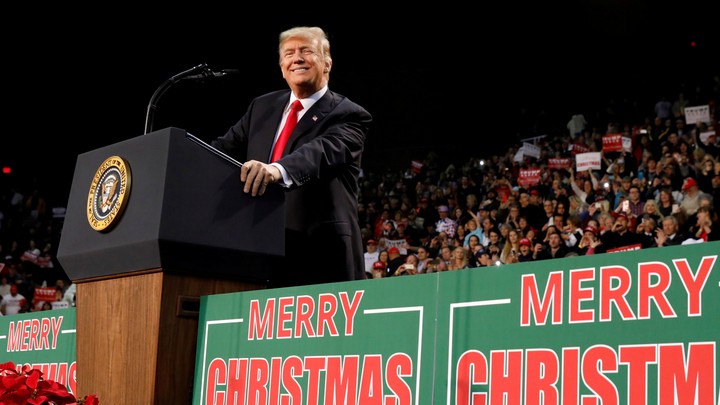 PENSACOLA, Fla. — When it was announced, President  Trump's decision to hold a rally here close to the Alabama border was seen as a coy way to stop just short of fully backing that state's Republican Senate candidate Roy Moore—but his speech on Friday made it clear that his support is unequivocal.
"We want jobs, jobs, jobs, so get out and vote for Roy Moore," Trump said about 40 minutes into his speech at the Pensacola Bay Center.
Trump had heard a man in the crowd yell, "We want Roy Moore"—"He's right," Trump said.
"We cannot afford—this country, the future of this country—cannot afford to lose a seat in the very very close United States Senate. We can't afford it folks. We can't afford to have a liberal Democrat who is completely controlled by Nancy Pelosi and Chuck Schumer. His name is Jones and he's their puppet," Trump said. "We need somebody in that Senate seat who will vote for our Make America Great Again agenda, which involves tough on crime, tough on borders … building the wall, strengthening our military, continuing our great fight for our veterans." Moore's Democratic opponent, Doug Jones, is a former federal prosecutor who is best known for prosecuting the remaining perpetrators in the 1963 bombing of 16th Street Baptist Church by the Ku Klux Klan.
The Alabama Senate race to fill Attorney General Jeff Sessions's vacant seat was supposed to be a shoo-in for Republicans. But that changed after Moore was accused by nine women of sexual misconduct or abuse when they were teenagers in Alabama, and nearly all of the institutional Republican party abandoned him—except Trump. Trump stayed quiet during the thick of the scandal, finally buoying Moore in remarks made to reporters right before Thanksgiving. Earlier this week, Trump made it official, tweeting that "we need Republican Roy Moore to win" and offering Moore his support over the phone.
Trump's last big rally was in September on behalf of Moore's then-opponent in the runoff, Senator Luther Strange, who lost to Moore a few days afterward. But even then, Trump seemed lukewarm on Strange and promised at the rally to back Moore, already a controversial figure because of his opposition to LGBT rights, anti-Islam comments, and losing his judgeship over his insistence on keeping a 10 Commandments monument in the state supreme court.  
One benefit of the rally not being an official campaign event for Moore was that Trump was free to fill most of it with his standard rally fare, touting his trade maneuvers and attacking the news media. Even so, Trump did more for Moore's campaign on Friday night than Moore himself, who has not publicly campaigned since Tuesday and has no public events until Monday, when he will appear at a "Drain the Swamp" rally in southeastern Alabama.
Pensacola is about an hour away from Mobile, Alabama, and shares the same media market. When Trump asked if anyone in the crowd was from Alabama, a large portion of the audience cheered.
Many Republicans had quietly dropped their opposition to Moore even before this—even Mitch McConnell, who had threatened to expel Moore from the Senate if elected, said on Sunday that the voters of Alabama should decide. Everyone, it seems, is now on the same page; Trump; his former chief strategist Steve Bannon, who backed Moore while Trump was still for Strange; the RNC, which had ditched Moore but is now supporting him again.
Moore's trajectory has mirrored Trump's after the leak of the Access Hollywood tape, which prompted a frenzy of disavowals in his party and then reversals as the election drew nearer. But a new development on Friday gave them more cover beyond just the likelihood of Moore winning. Beverly Young Nelson, a woman who had accused Moore of assaulting her when she was a teenager and displayed a high school yearbook signed by Moore at a press conference with Gloria Allred, acknowledged that she had added the date in her own hand, though she still says Moore signed the yearbook.
This was immediately portrayed as a "forgery" by some influential voices on the right, including Fox News, which later retracted its headline saying Nelson had "forged" the inscription.
Trump wasted little time in bringing up the yearbook.
"So did you see what happened today? You know the yearbook?" he asked. "There was a little mistake made."
Trump said of Gloria Allred, "Any time you see her, you know something's going wrong."
And the message on the yearbook, and generally on the credibility of Moore's accusers, appears to be penetrating, at least with attendees I spoke with.
"Today when I heard the woman had phonied up some of the entries in her yearbook or whatever it was, I started to wonder about the veracity of the entire story," said Dave Hoxeng, 61, a radio station owner in Pensacola. Hoxeng is no particular fan of Moore's but thinks Trump "doesn't have a choice. If the Republican Party wants to maintain their ability to get things done in the Senate, they need a Republican. So I suppose some people are gonna hold their nose and vote."
"I really think it is kind of suspicious," said Michelle Lovitte, 46, who works in data entry and lives in Mobile, Alabama. Lovitte pointed out that Moore has held public office over the years without the allegations coming up until now. "I don't buy it."
"If they wanted to accuse him about sexual harassment or sexual whatever they're claiming, that would have come out a long time ago," said Josie Cossey, 59, who owns a uniform shop in Pensacola. Cossey referred to the Nelson press conference with Allred, saying she thought Nelson's prepared remarks were a tell. "When you are sexually abused, you don't have to read a piece of paper. It's right here recorded in your mind. This is like a computer. So I knew right then and there that they're lying."
We want to hear what you think about this article. Submit a letter to the editor or write to letters@theatlantic.com.
Rosie Gray
is a former contributing editor at
The Atlantic
.