Trent Franks Becomes the First Casualty of the Post-Franken Landscape
The Arizona Republican resigned after acknowledging that he asked staffers to serve as surrogates for his children. The women reportedly felt he may have been propositioning them for sex.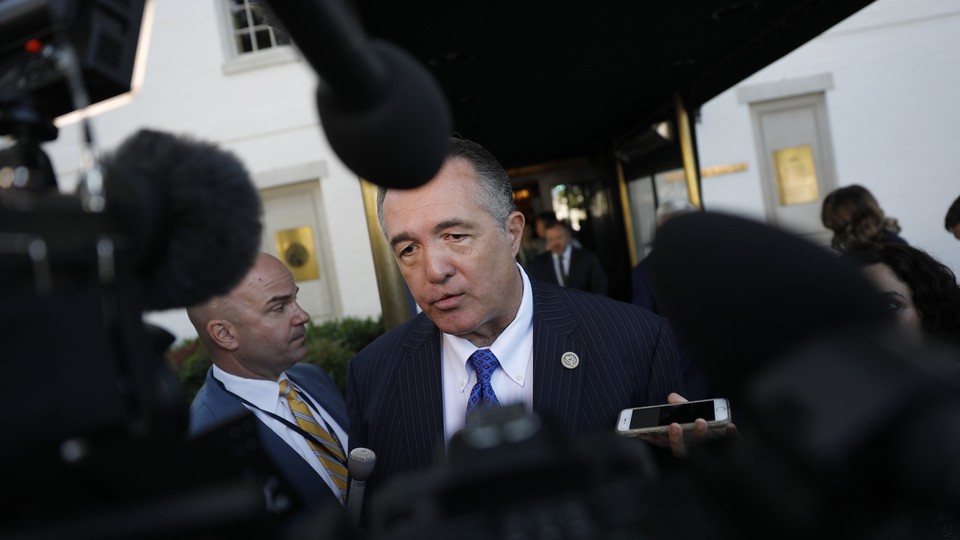 Updated on December 8 at 4:17 p.m.
Usually when a politician is shopping around for surrogates, this isn't what he means.
But Representative Trent Franks wasn't looking for people to speak on his behalf on the stump or on TV: The Arizona Republican was looking for a woman to bear his child, and he was searching within the ranks of his staff, asking two aides about the possibility.
While surrogacy does not typically involve sexual intercourse, the aides interpreted Franks's advances to suggest that was what he had in mind and complained, according to Politico. The Associated Press said that Franks offered one woman $5 million to serve as a surrogate.
Franks announced Thursday evening that he would leave Congress at the end of January, almost a year short of completing his current term in the House. Friday afternoon, he abruptly announced he would make his resignation immediate, shortly before the Politico and AP published their articles. Politico elaborated:
It was not clear to the women whether he was asking about impregnating the women through sexual intercourse or in vitro fertilization. Franks opposes abortion rights as well as procedures that discard embryos. A former staffer also alleged that Franks tried to persuade a female aide that they were in love by having her read an article that described how a person knows they're in love with someone, the sources said.
One staffer also reported being retaliated against after rebuffing Franks's suggestions, with her access to him cut off.
Franks is the third member of Congress to announce a premature exit this week alone, and his is easily one of the weirder cases to emerge from the wave of sexual assault and misconduct allegations sweeping the political world.
In his first resignation statement Thursday, Franks insisted he had "absolutely never physically intimidated, coerced, or had, or attempted to have, any sexual contact with any member of [his] congressional staff." But Franks said that he and his wife have long struggled with infertility, and had several miscarriages. They also attempted adoptions, only to have birth mothers change their mind, he said. They successfully had twins with one surrogate, but another attempt ended in miscarriage, Franks said, and his children had said they wanted siblings.
So far, so good, and very sympathetic. But things quickly went askew: Franks acknowledged approaching two staffers and inquiring about whether they would be willing to serve as surrogates. The women felt uncomfortable, and Franks said he learned this week that the House Ethics Committee was investigating him. Strange and even plainly unreasonable requests from bosses are not unheard of for congressional staffers, yet being asked to literally bear a member's child is perhaps novel.
The congressman blamed this misstep on losing perspective. "Due to my familiarity and experience with the process of surrogacy, I clearly became insensitive as to how the discussion of such an intensely personal topic might affect others," he said.
Franks, who represents suburban Phoenix, has long been known as a culture warrior, especially on reproductive issues. In 2013, he drew heat for dismissing rape and incest exceptions in abortion laws, saying the rate of conception from rape was low. He has also repeatedly tried to impose a ban on abortions after 20 weeks in the District of Columbia, infuriating Washingtonians. In 2011, Franks suddenly decided not to run for U.S. Senate, citing family reasons, the day before an expected announcement of his candidacy. While the $5 million figure reported by the AP is astonishing, Franks is a wealthy man, worth $9.85 million in 2014, according to tabulations by Roll Call.
Franks was an early and stalwart supporter of Donald Trump, and his district is reliably Republican. Arizona Governor Doug Ducey will be responsible for calling a special election to replace him.
In his statement, Franks acknowledged the wave of sexual-harassment allegations.
"We are in an unusual moment in history—there is collective focus on a very important problem of justice and sexual impropriety. It is so important that we get this right for everyone, especially for victims," he wrote. "But in the midst of this current cultural and media climate, I am deeply convinced I would be unable to complete a fair House Ethics investigation before distorted and sensationalized versions of this story would put me, my family, my staff, and my noble colleagues in the House of Representatives through hyperbolized public excoriation."
Franks is certainly right that the climate in Congress has changed—perhaps just on Thursday. One might consider it the Franken effect, after Senator Al, the Minnesota Democrat who announced his resignation Thursday morning. Franken was the subject of a series of complaints by women who said Franken had variously groped them or kissed them against their will. He admitted fault in some cases, disputed women's recollections in others, and in one flatly denied claims.
The alleged actions were both unacceptable and also less serious than allegations against some other members, such as Representative Blake Farenthold, a Republican, and Representative John Conyers, a Democrat. Until earlier this week, it appeared that Franken might manage to survive by acting contrite and agreeing to a Senate Ethics Committee investigation. But over the last few days, additional allegations and a successful Democratic effort to force Conyers to retire seemed to shift the ground. By Wednesday, it was clear that there was enough pressure inside the Democratic caucus to force Franken to step down.
Franks is the first test case of the post-Franken era, and he suggests that it will be much harder for politicians to try to ride out such scandals. Gone are the days when Senator David Vitter could admit patronizing an infamous D.C. prostitution ring and hold onto his seat, much less when President Bill Clinton could survive impeachment after an affair with a White House intern. Franks quickly decided to go, with his resignation reported even before the reason was known. Speaker Paul Ryan also said he told Franks he needed to resign.
Given that a number of anonymous congressional settlements for sexual harassment exist, it's hard to imagine that Franks will be the last member to fall. He might not even be the last member to step down this week. His quick fold will pressure others to leave with equal speed, and embolden leaders in both parties to force offenders out.
Yet two cases stand in jarring contrast. One is Roy Moore, the Republican candidate for U.S. Senate in Alabama, who stands accused of a range of sexual misconduct with girls younger than 18. But after his campaign was initially rocked, he appears to have regained his footing, and may even be leading Democrat Doug Jones ahead of an election on Tuesday. Some Senate Republicans have demanded he be expelled if elected, but other parts of the party, including Senate Majority Leader Mitch McConnell and the Republican National Committee, have softened their views since President Trump endorsed Moore on Monday. Moore being seated and serving in the Senate would seem bizarrely out of place in the current moment—though Moore's views are often anachronistic. The other case, of course, is Trump himself, who was even recorded boasting about sexually assaulting women.
While Moore and Trump defy the moment, however, Franks's hasty exit seems to augur faster and more frequent departures for politicians accused of bad behavior—including asking staffers to serve as surrogate mothers.