A Fatal Derailment in Washington State
A high-speed train traveling between Seattle and Portland crashed Monday morning, killing an unknown number of passengers and leaving coaches dangling from an overpass on Interstate 5.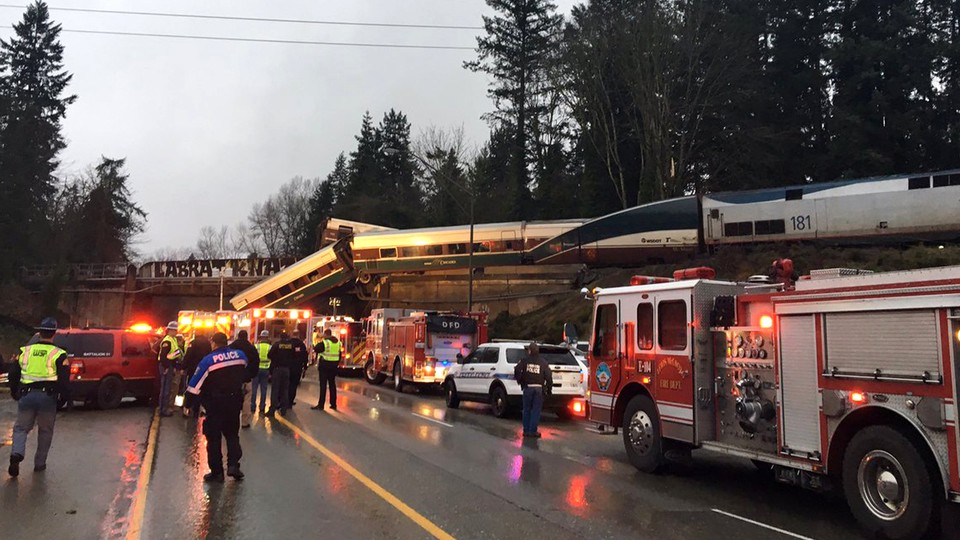 Updated on December 18 at 3:51 p.m.
A southbound Amtrak train derailed Monday morning south of Tacoma, Washington, leaving an undetermined number of casualties and generating dramatic images of cars dangling off an overpass over Interstate 5.
It was the first day of high-speed service along the line between Seattle and Portland. The reason for the derailment, at around 7:45 a.m. local time, was not immediately clear, and initial explanations and injury accounts aren't often reliable. Officials said there were multiple deaths on the train, but none among motorists, even though the fallen coaches struck vehicles on the highway. The southbound lanes of I-5 were completely closed and were expected to remain closed for hours. Local officials said at least 77 people were hospitalized. Amtrak said the train, number 501, had 78 passengers and five crew members aboard.
The news is a blow to Amtrak, the beleaguered government-owned rail corporation that runs most intercity rail service in the United States. Derailments along train lines in the United States are somewhat common—from January through September, there were nearly 900—but they are seldom catastrophic or fatal. Passenger service in the United States is generally safe, and Amtrak in particular is very safe; in recent years, commuter railroads have been more lethal. When people are killed in train-related accidents, they are most often pedestrians or motorists struck by trains. Train accidents are most likely caused by equipment or track problems, rather than human error. The worst national rail disaster in recent years came in May 2015, when Amtrak 188 derailed in Philadelphia, along Amtrak's crucial Northeast Corridor. That crash killed eight people.
Amtrak began the high-speed service in Washington state on Monday, with trains reaching a maximum of 79 miles per hour and shaving 10 minutes off the Portland-Seattle run. The train was on a new route, the goal of which was to prevent requirements that the train slow down around curves. Instead of running along track owned by the freight company BNSF, the passenger route would take a bypass along I-5, using track that already carries commuter-rail service. The inaugural run came after months of testing. First, officials conducted tests of signals and track to ensure they could handle the new trains. Then, beginning in February, Amtrak began dry runs with empty trains. The track itself is owned by Sound Transit, the local commuter-transit authority. (Amtrak owns and maintains few of the tracks on which it runs.)
By international standards, American passenger rail is slow, even on so-called high-speed routes. While the rolling stock—the cars and locomotives—can go faster, the tracks on which they run are often inadequate for higher speed. That's pinched Amtrak, which faces criticism for not delivering faster service but has limited control over improvements. President Trump has recommended slashing funding for Amtrak.
The National Transportation Safety Board will investigate the crash, which will determine a probable cause. NTSB has already sent a "go-team" to the site. Trains, like airplanes and ships, carry audio and data recorders to assist accident investigators. Investigations typically take months to complete. Some causes of crashes include flaws in tracks, excessive speed, cars on the tracks, and collisions with other trains, and the reason is often clear immediately or soon after. Amtrak 188 was an unusual case, in which determining the cause was challenging; NTSB ultimately concluded the engineer was distracted by radio traffic as he passed through a difficult curve where the train should have slowed down.
That crash spotlit slow progress in implementing positive train control, a technological fail-safe for trains that's intended to avoid derailments and collisions. In 2008, Congress mandated PTC be in place for all passenger, commuter, and hazardous-materials trains by the end of 2015, but under pressure from railroads, that deadline was extended to the end of 2018. Amtrak said Monday afternoon that PTC was not in effect on the stretch of track where Amtrak 501 derailed. A June 2017 Sound Transit report said installation work was in progress.
Local media reported that some officials were not excited about the new high-speed service, with the mayor of Lakewood, south of Tacoma, expressing concern that it would lead to deaths if safety precautions to protect residents from trains were not improved. Lakewood previously sued, unsuccessfully, to block the new route.
"Come back when there is that accident, and try to justify not putting in those safety enhancements, or you can go back now and advocate for the money to do it, because this project was never needed and endangers our citizens," Mayor Don Anderson told KOMO earlier this month.
While the circumstances and cause of Monday's wreck are not yet known, the reckoning Anderson predicted has arrived ahead of schedule.