One Cartoonist's Perspective on 2017
Looking back at the year's news through Sage Stossel's editorial cartoons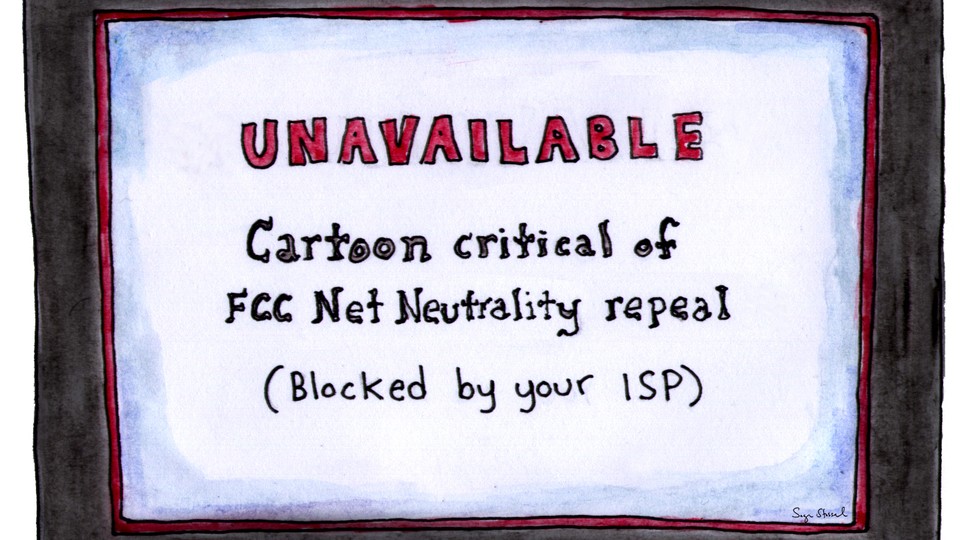 There has been no shortage of political news in 2017, which has meant plenty of inspiration for artists and particularly political cartoonists this year. And for Sage Stossel, whose editorial-cartoon column Sage, Ink appears regularly on our Instagram page, Trump continues to be a muse of sorts.
"My cartoons have always been topical, but in the past they were often more whimsical than pointed," said Stossel. A couple extended projects and a newborn drew her away from the craft for a while, but when Stossel got back to it in the summer of 2015, Trump had just declared his candidacy. "His behavior was so far outside the bounds of anything I'd seen when I was cartooning before, that I found myself feeling differently about what I wanted to accomplish—less drawn to light takes on side topics, and more drawn to trying to address the outrageousness."
In 2017, Stossel sent us cartoons addressing the healthcare debate, net neutrality, and Trump's relationship with Russian President Vladimir Putin. While inspiration doesn't always flow as fast as the news does, Stossel stays on top of current events by reading the news.
"These days," Stossel said, "There's so much political chaos and so many incendiary tweets and breaking developments that you have to stay more glued to the news than ever to keep up."
Luckily for those trying to keep up, Stossel's cartoons comment on news as it happens. Let us guide you all the way back to the beginning of 2017 for a fun (depending on your definition of fun) romp through the news, via our favorite cartoons from this year.
---
January
At the start of 2017, Trump signed an executive order that severely restricted immigration from seven Muslim countries, suspended all refugee admission for 120 days, and barred all Syrian refugees indefinitely. At the time, lawyers leaped into action at airports around the country, and since, the policy has continued to be challenged in courts.
---
February
---
March
In March, Bill O'Reilly was ousted at Fox News, after a New York Times investigation earlier in the month revealed that O'Reilly's employers at Fox News had paid out some $13 million to women who claimed the bombastic TV host had sexually harassed them or otherwise exposed them to inappropriate behavior. Alex Wagner wrote about how if Trump hadn't been elected, Bill O'Reilly might still have a job.
---
April
---
May
---
June
Rumors swirled in March of Supreme Court Justice Anthony Kennedy's potential retirement, a move that many felt could have outsize effects on the makeup of the highest court in the land.
---
July
During the G20 meeting in July, Trump and Putin met for a second, undisclosed time, notable because of Russian interference in the U.S. election and because of the current investigation by Special Counsel Robert Mueller, on potential collusion between the Trump campaign and Russians to influence the outcome of the race.
---
August
In August, Trump's remarks on the "Unite the Right" rally in Charlottesville to protest the city's decision to remove a statue of Confederate General Robert E. Lee from a local park provoked a myriad of responses.
In August, Trump's tweeted that North Korea "best not make any more threats to the United States" lest it face "fire and fury like the world has never seen."
---
September
Obamacare-repeal attempts in the House and Senate continued to glance in and out of the news throughout the year.
---
October
In October, Trump made claims that he was better at consoling the families of slain servicemembers than his predecessors, while offending the family of La David Johnson and skipping calls and letters to other grieving loved ones.
---
November
Sage weighed in on the post-Weinstein reckoning when longtime Today show host Matt Lauer was abruptly fired by NBC after allegations of sexual misconduct.
---
December