The Year in Party Politics
Selections from The Atlantic's coverage of 2017, when both parties had to adapt to an atypical political landscape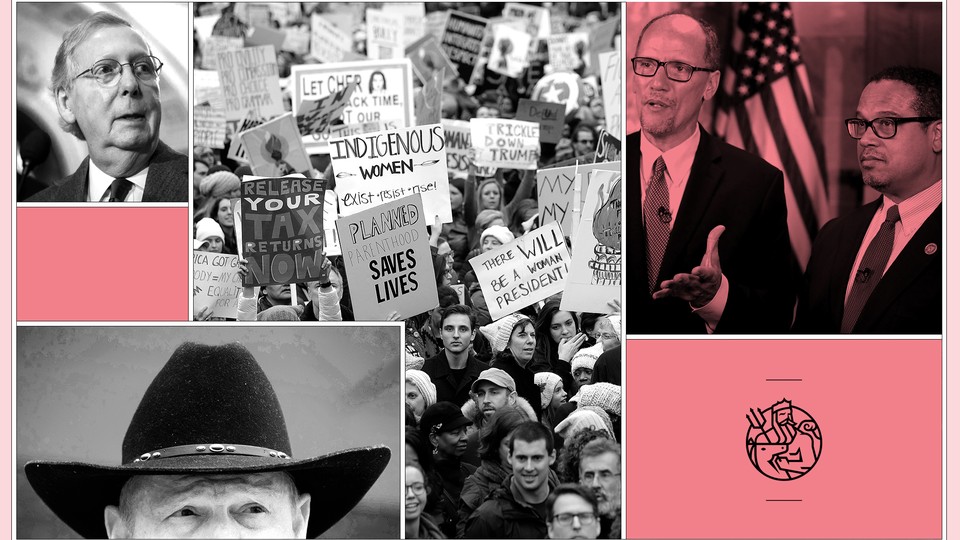 Every December, The Atlantic looks back on the previous year—to highlight not just the big moments, but the progression of big ideas. Below, the first of four installments looks at the year in party politics.
---
The 2016 presidential election shocked Americans nationwide—and spurred a reshaping of both parties. As Democrats reeled from the loss and tried to figure out where they'd gone wrong, Republicans found themselves in power—but with an unpredictable president at the helm.
In 2017, Democrats and Republicans alike had to navigate a Donald Trump presidency, temper competing factions within each party, and try to achieve policy aims—always with an eye toward the 2018 midterms.
Here are the stories that tracked each party's development over the course of the year.
The Democratic Party
At the start of 2017, Democrats were facing what Clare Foran called a "daunting future." Ronald Brownstein wrote about how the party would have to adjust post-Obama. And Michelle Cottle argued that, put plainly, "Democrats Are Unprepared for the Trump Era."
By Inauguration Day, though, at least one thing was certain: Democrats "were not isolated in their undiminished opposition to Trump," argued Ronald Brownstein. Conor Friedersdorf wrote that an estimated 3 million people took to the streets across the country, constituting a victory for the activist left. Later, Russell Berman explained how those same progressives were "forcing Senate Democrats into action."
Still, Democrats were facing an inter-party divide that the 2016 primary foreshadowed with establishment-types, like Hillary Clinton, on one end and progressives, like Bernie Sanders, on the other. This rift played out in the race for Democratic National Committee chairman. In the end, Tom Perez, a proxy for the establishment, defeated Keith Ellison, whom progressives supported.
Clare Foran reported that a pair of state House wins in May were the first signs of a possible Democratic wave in 2018, but it was still unclear whether or not the party would find sustained success. Bruce Reed and Rahm Emanuel argued that Democrats would need to offer district-matched candidates and a straightforward agenda if they wanted to win back voters. Franklin Foer wrote in our July/August issue that the key lay with appealing to the white working class. And Ronald Brownstein observed that Democrats had a pipeline problem: Their leaders didn't reflect the party's younger and non-white constituents.
In July, Democrats pitched what Michelle Cottle called a "kinder, gentler populism" with their Better Deal campaign. The campaign focused on an economic platform that would bridge ideological and demographic divides—and showcased "the influence of the Democratic Party's populist-progressive wing," argued Clare Foran. That influence also explained why Democrats were increasingly embracing single-payer health care.
Peter Beinart, meanwhile, was tracking something brewing out of sight of the mainstream: "The Rise of the Violent Left." How the party would respond to the growing Antifa movement, he wrote, would "help define its moral character in the Trump age." And for all the attention paid to the right-wing media, McKay Coppins found that "wild-eyed conspiracists and cynical fabulists" existed on the left, too. Even within the mainstream, it was becoming clear that Trump was "radicalizing the Democratic Party," David A. Graham wrote.
Exactly a year after their stunning defeat, Democrats showed up to state and local elections ready to win, and they did, taking the New Jersey and Virginia governors' mansions as well as a number of state House seats. In New Jersey, Democrat Phil Murphy defeated Republican Kim Guadagno in the contest to replace Governor Chris Christie, providing the party the opportunity "to enact progressive policies statewide." The Virginia race, meanwhile, saw Democrat Ralph Northam narrowly defeat Republican Ed Gillespie, who had, in the nail-biting weeks leading up to the election, shifted his campaign message to appeal to Trump voters. Vann R. Newkirk II argued that Democratic gains in the state marked "the first big victory for Democrats in the political mapmaking game in at least a decade." Ronald Brownstein nevertheless warned that Democrats had not "crack[ed] the competing Republican coalition" made up of older, blue-collar, non-urban, and evangelical whites.
The party also had to reckon with the #MeToo movement, as allegations surfaced against Representative John Conyers, Senator Al Franken, and others throughout the fall. While congressional leaders stayed markedly quiet on the allegations at first, the Democratic Party ultimately called for Franken to resign. Conyers also announced his resignation. Caitlin Flanagan revisited Democrats' response to Bill Clinton in the 1990s, contending that if "all the rest can be held accountable, so can our former president and so can his party."
Where 2016 culminated in a devastating defeat for Democrats, 2017 was bookended by a hope-inducing victory. The Alabama special Senate election pitted Democrat Doug Jones against Republican Roy Moore, who was accused of sexual misconduct with teenagers. "Everything had to break exactly right for Doug Jones to win … and it did,"  wrote Rosie Gray. Vann R. Newkirk II contended that, by exceeding voter-turnout expectations, "African American Voters Made Doug Jones a U.S. Senator in Alabama." Ronald Brownstein had another take: The race might've revealed more about "public reaction to Donald Trump's perpetually tumultuous presidency" than it did about the Democratic Party itself.
Clare Foran wrote that the Alabama election proved that "once-unthinkable upsets are not just possible for Republicans," but the question remains: "Can the Democratic Party Make a Comeback in 2018?"
The Republican Party
Republicans entered 2017 with a president in the White House and majorities in both the House and Senate, but it would be anything but a breezy year for the GOP. President Trump's inauguration speech set the stage: David A. Graham noted that it did not sound like it was coming from a "Republican president who takes office with a unified Republican Congress"; instead, it fit with the populist and nationalist ideology on which Trump had campaigned. And Molly Ball distilled the main question going into the year: Would Republicans give the new president what he wanted, even when he contradicted what they believed?
House Speaker Paul Ryan and Senate Majority Leader Mitch McConnell laid out an ambitious agenda for the party at the start of the year, which included repealing the Affordable Care Act, reshaping the tax code, funding a border wall, and much more.
The first order of business: repealing and replacing Obamacare. Vann R. Newkirk II broke down the Republican plan, noting that there were critics on all sides. Olga Khazan explained "What Hardcore Conservatives Really Want for Health Care," while Adrienne LaFrance tracked "The Silent Victims of the GOP Health-Care Proposal." After weeks of trying to pass a bill, House Republicans abandoned their attempt. This spelled trouble for the party, Russell Berman wrote, seeing as the passage of health-care legislation "was supposed to lay the groundwork and build momentum for a series of even tougher negotiation and votes to come."
In the spring, McKay Coppins talked to GOP lawmakers and wrote about "The Republican Identity Crisis." Some frustrated voters were "putting pressure on Republican lawmakers to stand up to the White House," Clare Foran reported. But Jay Caruso found that the party would have to reconcile the fact that Republicans in places like Cartersville, Georgia, were still standing by the president.
The party faced a test when Trump fired FBI Director James Comey in May—would they defend a president whose policy agenda they supported, or defend the norms that preserve liberal democracy? The Republican establishment chose Trump. Ronald Brownstein argued that by appealing only to their GOP base, Republicans were taking a big risk. But Peter Beinart explained that, behind the scenes, it was possible Republicans were quietly shifting their stance on the president.
The Virginia gubernatorial Republican primary also stirred questions about whether or not Republicans should be embracing Trumpism. Corey Stewart, the more Trumpist primary candidate, waged a stronger-than-anticipated challenge against establishment-backed Ed Gillespie, who ultimately won the GOP bid.
In the summer, John McCain broke with the party as it attempted to score its first big legislative victory of the year. McCain—who had recently been diagnosed with brain cancer—provided the decisive vote against the Senate's plan to repeal Obamacare, leading James Fallows to wonder: "Might McCain actually have won their quiet gratitude, by being the one who could afford to take a hit for stopping this reckless bill?"
Other Republicans were challenging Trumpism ideology, too. In the September issue, McKay Coppins detailed Arizona Senator "Jeff Flake's Gamble." Senator Bob Corker, after announcing his retirement, also publicly rebuked Trump—an ironic departure, David A. Graham pointed out, from his previous enthusiastic support for the president.
In August, a deadly protest in Charlottesville, Virginia, reignited questions about "conservatives and bigotry." David Frum argued that it was "Time for Republicans to Leap From the Boat." Indeed, some GOP lawmakers did "scold" Trump for sympathizing with "both sides," one of which was made up of white nationalists. But after talking to RNC party chairs and members, Elaine Godfrey and McKay Coppins found that "The Republican Establishment Stands Behind Trump."
Fallout from Charlottesville, continued inaction in Congress, and the ongoing Russia investigation weren't making things easy for the GOP by the fall. One Republican pollster admitted she was losing faith in her party. Donald Trump and the Republican Congress, Ronald Brownstein wrote, were "straining every fraying seam in their party's coalition" and alienating white- and blue-collar voters alike. And David A. Graham reported that while Trump's base was still as energized as ever, it was significantly shrinking.
But Trumpism was still winning in some parts of the country, as Alabama's special Senate primary race showed. When "The Incendiary Roy Moore" beat out establishment-backed Luther Strange, Republican candidates elsewhere took note.
Moore eventually presented "Republicans with a familiar dilemma" after being accused of sexual misconduct with teenagers in the final days of the race. President Trump, and then the RNC, eventually endorsed Moore. David A. Graham wrote that Republicans were "breaking their own standard in short order," while Conor Friedersdorf qualified the GOP's response as "Embracing Depravity."
Moore's eventual loss, according to Ronald Brownstein, exposed "the risky long-term trade Trump is imposing on his party: He is improving the GOP's standing among groups that are almost all shrinking in the electorate, at the price of alienating groups that are growing." Party strategists told McKay Coppins that the election was an indication that "The Republican Nightmare Is Just Beginning."
The end of the year did see one legislative accomplishment: passage of the tax bill. The win revealed that "tax cuts remain a singular unifying force for the modern GOP," Russell Berman wrote. For Ronald Brownstein, though, the method of writing the tax bill—which took place mostly behind closed doors—only showed "The Closing of the Republican Mind."