The Legacy of Ed Lee, San Francisco's First Asian American Mayor
Jean Quan, Oakland's first Asian American chief executive, talks about the impact of her colleague from across the Bay.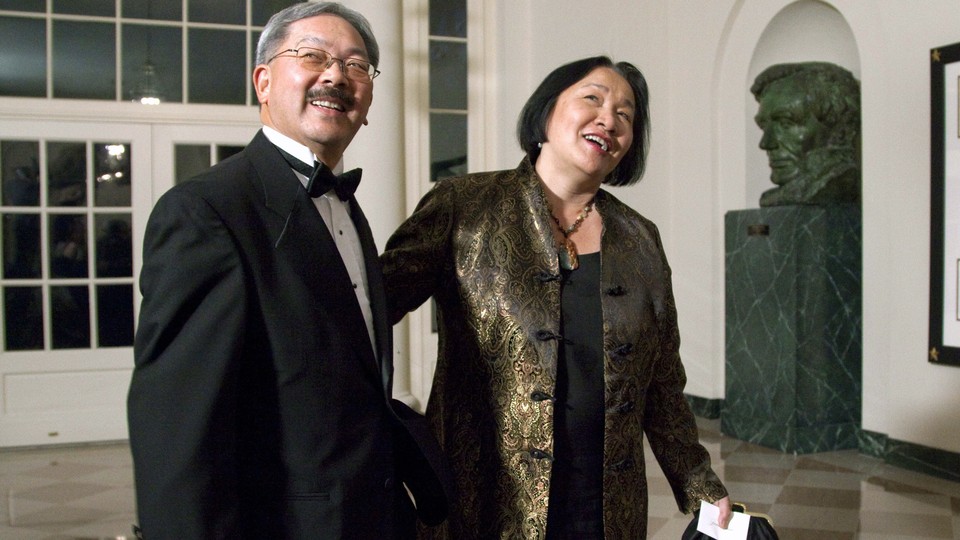 On Monday night, Oakland's former mayor, Jean Quan, set her alarm for 5 a.m. PST. She and other Democratic activists planned to wake up early to make a round of calls to Alabama voters and encourage them to vote for Senate candidate Doug Jones. Instead, on Tuesday morning, Quan woke to news of the death of a friend—and a big loss for the Asian American community. Ed Lee, the first Asian American mayor of San Francisco, had died overnight.
Quan met Lee when the two were young community activists, studying at the University of California, Berkeley, and advocating for San Francisco's poor, Asian American population in battles with landlords and employers. Both were Chinese Americans whose families ran restaurants. Both had lost their fathers at a young age. And both cared deeply about the plight of low-income workers and tenants in an increasingly expensive city.
As young activists, the two worked together to fight the gentrification of San Francisco's Chinatown—and pressed the federal government to conduct a civil-rights investigation into the brutal murder of Vincent Chin, a Chinese American man killed by autoworkers in Michigan. Three decades after first meeting, Quan and Lee found themselves only a short drive apart, leading two neighboring cities: Oakland and San Francisco.
Quan was elected first, becoming the first Asian American woman to lead a major U.S. city in 2011. Lee was appointed mayor in January 2011; he won two subsequent elections in November 2011 and in 2015.
Lee's record as mayor was controversial. He oversaw an employment boom, slashed the city's greenhouse-gas emissions, and encouraged several tech companies to relocate to San Francisco by offering them a business-friendly tax exemption. But he also presided over the doubling of housing prices and widening inequality largely driven by the influx of tech companies—things he and Quan had both fought against as young people.
Citing Lee's death, Quan told me she worries about a lack of Asian American political power and leadership under the Trump administration, whose policies targeting immigration—like the termination of the Deferred Action for Childhood Arrivals program—have mobilized Asian Americans.
I spoke with Quan, now a senior fellow at Berkeley's Government Alliance on Race and Equity, about her friendship with Lee and his legacy as both a pioneering Asian American and an advocate for San Francisco. Our conversation has been edited and condensed for clarity.
---
Elaine Godfrey: Tell me about when you met Ed Lee.
Jean Quan: A lot of people are surprised to know Ed grew up in the Seattle housing projects—he actually grew up in a more diverse neighborhood than most Chinese. He was very interested in helping at the housing projects in Chinatown.
He came to Berkeley to go to law school at Boalt Hall. My husband and I were student activists at UC Berkeley, and we were founders of the Asian American Studies program, so we had a lot of friends at Boalt Hall. We were in social circles together, because we were all still community activists. Our whole founding of Asian American Studies was to give back to the community and to work in the community. Many of our students and many of our friends went on to found agencies and were involved in housing struggles.
Ed, after he graduated from law school, became [part of] the low—and underpaid—staff for the Asian Law Caucus; in the Asian community, the ALC is like the NAACP Legal Defense Fund. It's the group that's done a lot of work on civil rights and immigration—a lot of their bread-and-butter was helping poor tenants.
I got to work with him very personally when I became an organizer for Service Employees International Union. SEIU at that time had no Asian American organizers. Ed [then worked for] the Human Rights Commission. We would find these cases [where service workers were paid unfairly] and win them, but then we would have to get [changes] implemented. It was [Ed's] job to make the companies pay these people a decent amount. I worked with Ed for a long time on that. And then he became a city administrator, and occasionally I would run into him.
Godfrey: How do you remember him from those early activist days?
Quan: Ed and my other friends, they were just fresh out of law school, they wanted to work in the community, and they were working for [a] civil-rights group that could barely pay them. He was working hard. [He and his wife] were fighting a lot of battles on behalf of the community. He was always there. He and my friend Alan [Yee, who was Lee's roommate at Berkeley] are both the sort of very serious, modest Asian American types.
I'll always remember the early years when we were all activists together, when we were fighting a lot of racism and discrimination against immigrants and exploitation of immigrants. As he emerged more as a politician, he was always very kind and very considerate of everybody—unlike most people who become mayors, who have to sort of claw their way up.
Godfrey: Tell me about Lee's decision to accept the mayorship of San Francisco.
Quan: When I became mayor [of Oakland], I knew people were trying to convince Ed to be mayor. We had a long talk, because I'd just been elected, and I was telling him how there had been so much publicity about the first Chinese American who was leading a major American city—how great it would be if he would do it.
For him it was a sacrifice, because mayors got paid quite a bit less than city administrators, and he was the city administrator of San Francisco. At the time, [after] I'd been elected, I'd asked for advice, I'd tried to steal his people.
Godfrey: Once he became mayor, how closely did you work with him?
Quan: He and I would talk and text each other as we were trying to do things, whether it was green-city policies or coordinating our legal defense against the plastics industry. It ended up being sort of a friendly competition of who's greener, who is more progressive as a city. We both had a lot of struggles with slowing down gentrification and trying to get affordable housing.
He got appointed right in the middle of January when Barack Obama was going to have [a] state dinner. The president had invited me and other famous Asian Americans to the state dinner. This was the first one with Hu Jintao, the president of China at the time.
[The dinner was] totally booked. Apparently this was the hottest ticket, and people were trying to get in. My husband said, "You know, you and Ed should just go." So I ended up taking Ed Lee as a date. It ended up being sort of a thing. It was, I think, pretty important for the Asian community because it was like, "Okay, they're finally getting into political power."
For Ed and me, we were always very aware of our responsibilities to the Asian community, that we're a role model for some—and just visible symbols of Asian Americans being part of the American democratic process.
Godfrey: Tell me more about that. Do you have any stories about how that awareness played out in your lives?
Quan: Asian Americans have always been annoyed at the Utah "golden spike" picture [taken at the 1869 opening of the Transcontinental Railroad] because the Chinese built the hardest part of the railroad, the part that went through the mountains. [They] dynamited canyons and hung off cliffs. At Promontory, Utah, when they took the picture, the Big Five were in the middle, and then some other bureaucrats, and then the white workers. The Chinese are barely in the picture.
So, when the new span of East Bay Bridge was built, Ed and I got to cut the link, and the joke was I brought a golden spike. In that picture, it was going to be the Chinese Americans who were at the center of the picture.
Godfrey: What is Lee's legacy? How do you think San Franciscans will remember him?
Quan: I think he's been one of their best mayors. I just hope that people will remember his calmness, his good humor—even in tough times. I hope they remember that he came up through the grassroots, through community organizing and working for human rights. He really worked very hard to become the COO of San Francisco.
He's the mayor that got the city through the recession and, quite frankly, stole all these companies from Silicon Valley. I was in friendly competition to get a few [of those companies], and we did get a few because we're cheaper. But he really was able to assemble a lot of the ones who started out on Page Mill Road, and near Stanford—they are all headquartered in downtown San Francisco now.
It was very controversial because he gave them a tax break, but he got them there. It was also controversial because they didn't build very much affordable housing during that period of time, and now they're playing catch-up.
When you're the mayor, you have to build consensus—you don't get to just advocate your position. What people appreciate was that he was very open. And because San Francisco is more prestigious than a city like Oakland, he got beat up on [its sanctuary-cities policy] by Trump. [Oakland] actually started it earlier and probably has a lot more immigrants to deal with. I think he did a good job defending it on the national level.
He and I were on the same side; most of the time we were facing the rest of the nation.
Godfrey: How do you see things changing now that Lee is gone?
Quan: The city employees are really going to miss him. The fact that he was the city administrator for quite a long time and has been mayor for six years made a lot of stability in the city. And the Asian American community will miss him. Ed was the sort of shining star. Other mayors across the country are going to miss him because he was a good colleague and a good coalition-builder.
[This week] we will honor the anniversary of the repeal of the Chinese Exclusion Act. [Ed and I] had talked a little about how we needed to make Americans aware of that. We need to bring back that part of our history and share it.
As Asian Americans in the era of Trump, with the attacks on immigrants, not having a major Asian American voice as a city leader will be a deficit—that's what I think about.