The Government Stays Open—But for How Long?
House and Senate Republicans passed a temporary spending measure to avert a shutdown, buying more time for negotiations on a year-end deal with Democrats.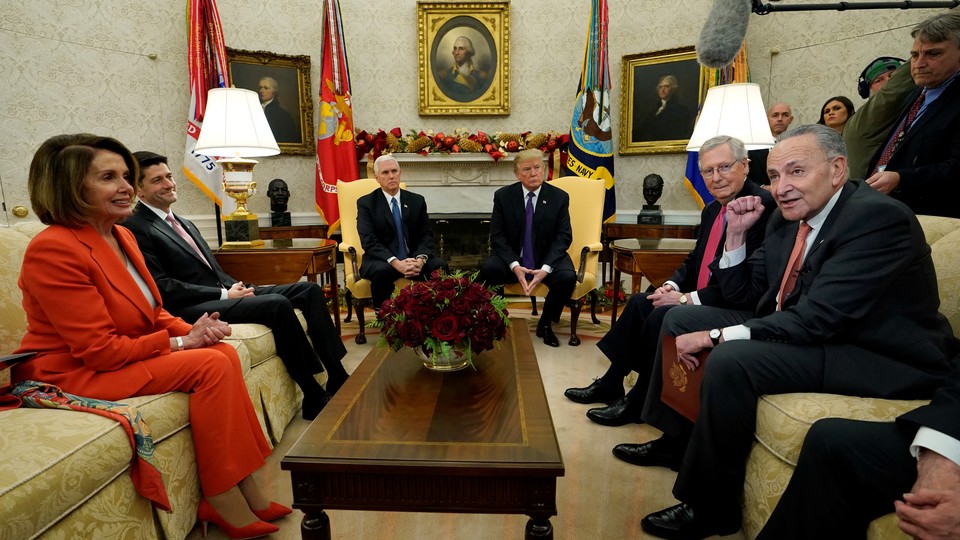 Updated on December 7 at 6:35 p.m. ET
Congressional Republicans on Thursday paused their drive for tax cuts to tackle a much more prosaic task: They acted to keep the government running for another two weeks.
The vote was not nearly as routine as it might sound, however. Conservatives in the House Freedom Caucus threatened to defeat the stopgap spending measure in a dispute over timing. And Democrats withheld their votes because the bill contained none of their year-end priorities: There were no protections for undocumented immigrants, no reauthorization of the Children's Health Insurance Program, and no extra money for Puerto Rico's recovery or to combat the opioid epidemic.
So the bill, a continuing resolution, squeaked by on a 235-193 vote. The Senate signed off on it two hours later, averting a government shutdown this weekend and setting Congress's next fiscal deadline for December 22. But the difficulty lawmakers had in merely "kicking the can down the road again," as one Democrat put it, is an ominous sign for the much more complex decisions Congress and President Trump will have to make in the weeks ahead.
To that end, Trump convened the top four congressional leaders from each party at the White House on Thursday to hash out a budget agreement—a meeting that came a week after Democrats snubbed the president after he insulted them on Twitter. "We had a productive conversation on a wide variety of issues," House Minority Leader Nancy Pelosi and Senate Minority Leader Charles Schumer said afterward. "Nothing specific has been agreed to, but discussions continue."
The first matter to be settled is how much money the government should spend overall in 2018. The pre-Christmas deadline is aimed at forcing Republicans and Democrats to agree on a top-line budget number, which would then apply to an omnibus appropriations bill that Congress would pass in January. Trump is demanding another big increase in defense spending, on top of the $15 billion boost he secured in the spring. But Democrats say they'll only go along with that request if Congress approves an equal bump for domestic agencies—a change that would reverse the steep reductions called for in the Trump administration's budget proposal.
Far more contentious are the debates about extraneous bills that Democrats and some Republicans are insisting on attaching either to the next government funding bill later this month or to the much bigger spending bill in January. Immigration tops that list. "We will not leave here without a DACA fix," Pelosi vowed on Thursday before the White House meeting. She was referring to legislation offering permanent legal status—and potentially citizenship—to immigrants who were protected from deportation under former President Barack Obama's Deferred Action for Childhood Arrivals program.
Trump has said the program will end in March unless Congress acts, and Democrats want the legislation included in exchange for their votes for a spending deal. Several dozen House Republicans have joined their call, but GOP leaders in both chambers are bowing to conservative opposition to tying the two issues together. "While all agreed on the need to address the DACA population, the Republican leaders stressed the need to address border security, interior enforcement, and other parts of our broken immigration system and that this should be a separate process and not used to hold hostage funding for our men and women in uniform," spokesmen for House Speaker Paul Ryan and Senate Majority Leader Mitch McConnell said in a joint statement after meeting with Trump and the Democratic leaders.
Instead, Republicans say they'll address DACA early in 2018 as part of a broader package tightening border security and cracking down on illegal immigration. But DACA alone could cause a government shutdown if Democrats hold the line. "They would be doing exactly what we did with Obamacare in 2013," warned Representative Tom Cole of Oklahoma, a senior House Republican. "They're free to do it. They have the votes to do it, particularly in the Senate. But I think in the end it actually drives Republicans together."
Health care is even more complicated. In exchange for her support of the Republican tax bill, Senator Susan Collins of Maine extracted a commitment from party leaders that two bipartisan proposals to shore up the Affordable Care Act's insurance markets would pass by the end of the year, likely as part of the spending deal. Collins said those bills—one to restore payments to insurers that Trump cancelled and another to fund reinsurance programs—would mitigate the impact of repealing the law's individual mandate in the tax bill. But conservatives in the House want no part of Collins' deal. "I think that would be a full-scale revolt on our side," Cole told me.
For months, Democrats have advocated exactly the policies Collins is demanding. But they are angry she is using them as justification to scrap the individual mandate, so they are not—as of now—explicitly pushing them as part of the budget agreements. They'd rather see her help vote down the tax bill and deal with health care after that.
As the tax bill nears completion, Republicans are finally seeing success in unifying their party behind a top legislative priority. But the next month will test them in a different way, by forcing them to deal with Democrats on thorny issues they have put off until now. They met the first, and easiest, challenge on Thursday, but the far more difficult votes are yet to come.