The 'Double Punishment' for Black Undocumented Immigrants
Although only 7 percent of non-citizens in the U.S. are black, they make up 20 percent of those facing deportation on criminal grounds.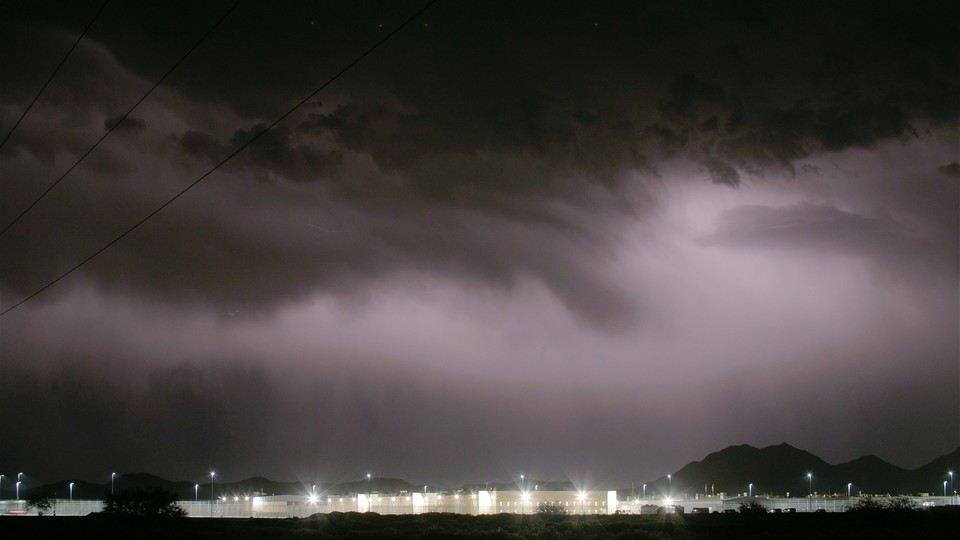 If it were not for the Canadian leaf tattoo on his wrist, Chris Gustave may not be behind bars.
In October, 24-year-old Gustave was staying at a weekly motel in Phoenix, Arizona, when police arrived searching for his friend, who had violated parole. At first, "all the attention was on him," Gustave told me in a phone interview last month. But then, Gustave claimed, an officer noticed the tattoo. "The dude just asked if I was Canadian, the next thing I knew I was in here"—"here" being the remote and sprawling Immigration and Customs Enforcement detention center in Eloy, Arizona.
Gustave is one of more than half a million black unauthorized immigrants in the United States—about 575,000 as of 2013. Last week, The New York Times reported that the presence of immigrants from Haiti and Nigeria, who together represent roughly 20 percent of the foreign-born black population, vexed President Trump. The Haitians "all have AIDS," Trump said in a June meeting with his top advisers according to the Times, while the Nigerians would not "go back to their huts" after seeing America, he said. (The White House denied the comments.)
Research suggests that because black people in the United States are more likely to be stopped, arrested, and incarcerated, black immigrants may be disproportionately vulnerable to deportation. The criminal-justice system acts like a "funnel" into the immigration system, said César Cuauhtémoc García Hernández, a University of Denver law professor who studies the nexus of policing and immigration law. New York University law professor Alina Das said black immigrants are "targeted by criminalization."
While the Obama administration prioritized immigrants with felony convictions for deportation, President Trump's executive orders effectively made anyone in the country illegally a target for removal. Arrests of non-criminals more than doubled, and among those who have been charged with a crime, the top three categories are "traffic offenses—DUI," "dangerous drugs," and "immigration," which means illegal entry, illegal reentry, false claim to U.S. citizenship, and trafficking, according to ICE. In fiscal year 2017, almost 74 percent of people arrested by ICE had a criminal conviction—arrests the agency uses to argue "that its officers know how to prioritize enforcement without overly prescriptive mandates."
But Hernández sees something different in the large number of criminal convictions among ICE detainees. "Racial bias present in the criminal-justice system plays itself out in the immigration context," he said. "There are so many entry points" to deportation, said Das, and "when you are a person of color who is also an immigrant, you face a double punishment."
A 2016 report by the NYU Immigrant Rights Clinic, where Das is the co-director, and the Black Alliance for Just Immigration found that although black immigrants represent about 7 percent of the non-citizen population, they make up more than 10 percent of immigrants in removal proceedings. Criminal convictions amplify the disparity: Twenty percent of immigrants facing deportation on criminal grounds are black.
Today, almost 10 percent of the black population in the United States is foreign-born, up from about 3 percent in 1980. As the number of black immigrants has grown, so, too, have the linkages between cops, courts, and the immigration system.
Aside from ICE's splashier arrests within so-called "sanctuary cities," most apprehensions nationwide happen inside jails once an immigrant has had contact with local police. This collaboration is a result of decades of legislation and executive action by both Democrats and Republicans. Two years after the passage of his controversial crime bill, former President Bill Clinton signed the Illegal Immigration Reform and Immigrant Responsibility Act in 1996. Known as IIRIRA (pronounced "ira-ira"), the law expanded mandatory detention and the number of deportable crimes. As the federal inmate population doubled, prison-like immigrant-detention centers rose up in tandem. In the early 1990s, there were around 5,000 immigrants detained each day; by 2001, the population quadrupled. And the Trump administration wants to keep that number growing: The president's 2018 budget called for increasing the daily detainee population to 51,000, a 25 percent bump over last year.
"Additional detention space does make Americans safer," argued Jessica Vaughan of the Center for Immigration Studies, a group that advocates for stricter enforcement. Detention also ensures that undocumented immigrants don't "disappear into the woodwork," Vaughan said. "The benefit of keeping illegal aliens in custody," she said, is that "it prevents the release of criminal aliens back into the community to have the opportunity to reoffend."
While the prison population has begun to dwindle in recent years—the incarceration rate fell 13 percent between 2007 and 2015—immigration detention remains "one of the fastest-growing sectors of the carceral state," said Kelly Lytle Hernandez, a University of California, Los Angeles, historian who studies the origins of U.S. immigration control.
ICE's Secure Communities program—which began under former President George W. Bush; was expanded, then killed, under his successor Barack Obama; then reinstated by Trump—provides local police with a national fingerprint database to check suspects for immigration violations. ICE can also deputize local law enforcement to make immigration arrests, a power authorized by IIRIRA. Some 60 law-enforcement agencies across 18 states participate in that program.
"Local police are some of the biggest feeders into the immigration-enforcement system," said Will Gaona, the policy director of the American Civil Liberties Union of Arizona. "And that's more true in Arizona"—where Gustave was picked up—"because of S.B. 1070." That 2010 state law, which has since been emulated in dozens of states, requires police to ask about immigration status if they suspect someone is in the country illegally.
In Gustave's case, local police dispute his version of events. Phoenix Police Department spokesman Vincent Lewis told me the officers at the motel found two guns and recommended felony possession charges against Gustave and his friend. According to Lewis, the tattoo was not why officers had a "reasonable suspicion" that Gustave was undocumented and decided to get ICE involved. "We wouldn't do that," he said.
Before landing in detention, Gustave had lived in the United States since he was three years old. He told me he did not apply to the Obama-era Deferred Action for Childhood Arrivals program, which shields immigrants brought to the United States illegally as children from deportation, because he had been charged with shoplifting from Walmart. Gustave may still be eligible to become a legal resident because he is married to a U.S. citizen, but detention has already taken a toll. His wife, Ashantae Guy, told me the couple had been living at the motel to save up for an apartment, but their savings were wiped out when she got in a car accident on the way to Eloy. Gustave told me he lost his job at a metal fabricator because he is detained.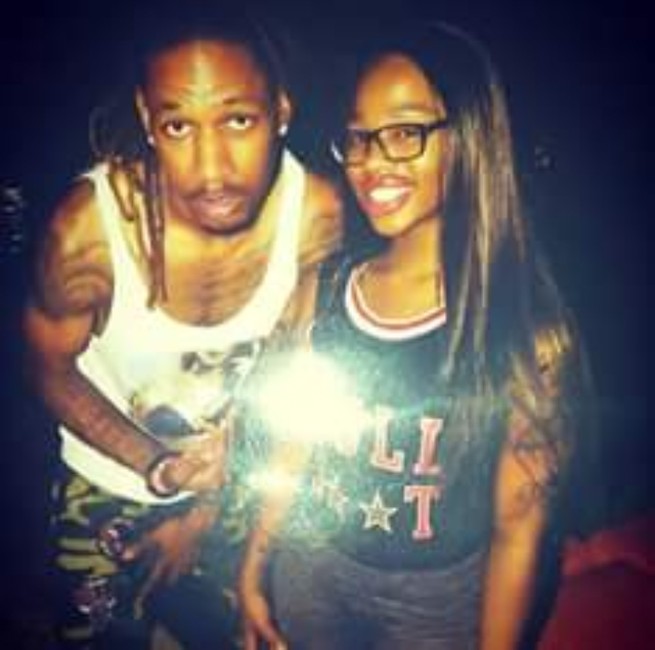 Like Gustave's conversation at the motel, unexpected or routine encounters with police can put black immigrants on ICE's radar—regardless of their criminal history. "Even if you take the undocumented part out, I'm more likely to be stopped while driving or walking," said 25-year-old Jonathan Jayes-Green, the co-founder of Undocublack, an advocacy organization for black immigrants. Jayes-Green, who is originally from Panama, is currently enrolled in DACA, but because Trump cancelled the program this fall, he'll lose his status in January 2019.
Every time he walks outside, he's "more likely to come into the criminal-justice system," Jayes-Green said. From there, "it's a fast track to deportation."