The Atlantic Politics & Policy Daily: Signed, Sealed, Delivered
President Trump signed the Republican tax-cut bill into law before flying to Florida for the holidays.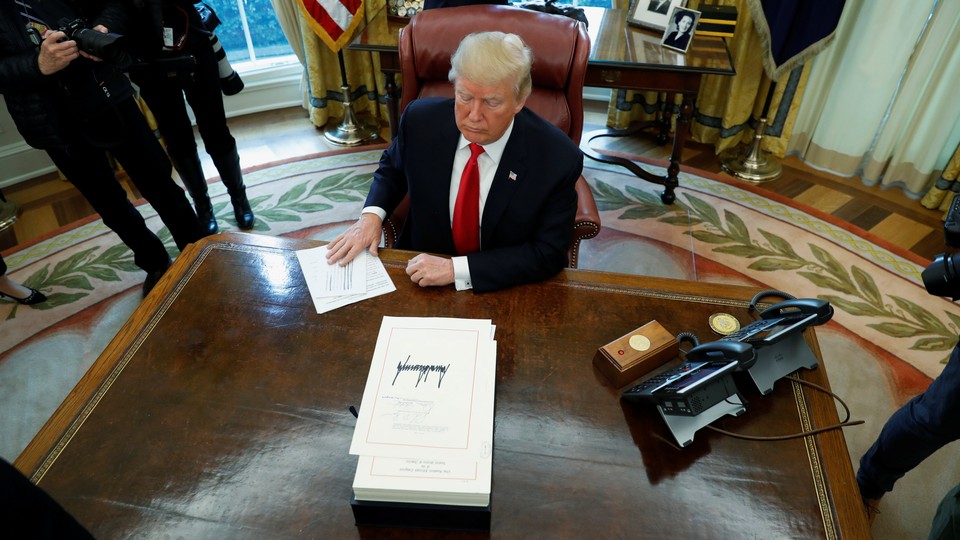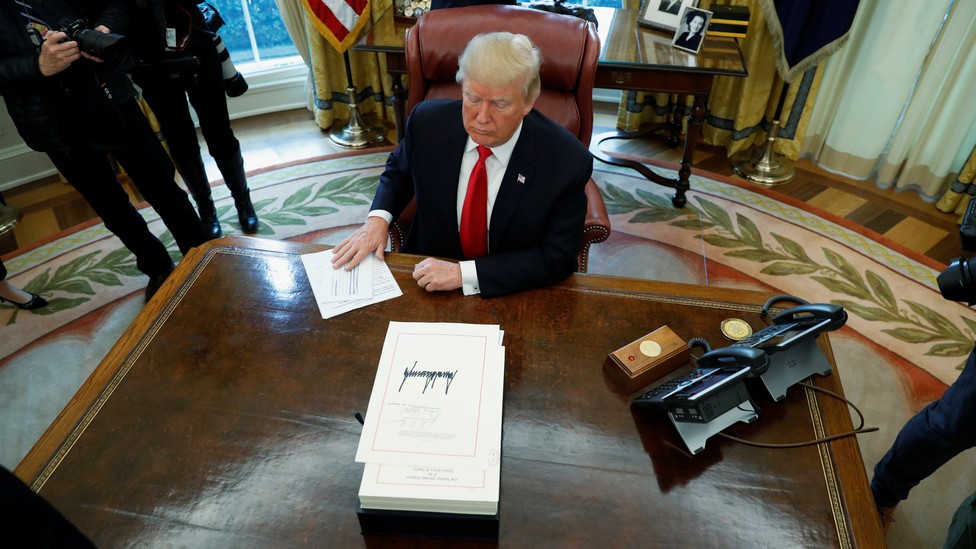 Today in 5 Lines
President Trump signed the Republican tax-cut bill into law before flying to Florida for the holidays. In a pair of letters, more than 40 former attorneys and members of Congress urged the Trump administration to support Special Counsel Robert Mueller in his investigation into Russian meddling in the 2016 presidential election. The White House confirmed that Deputy Chief of Staff Rick Dearborn will step down early next year. The UN Security Council voted to impose new sanctions on North Korea. Trump tweeted in support of Republican Representative Ron DeSantis for governor of Florida.
---
Today on The Atlantic
Follow stories throughout the day with our Politics & Policy portal.
---
Snapshot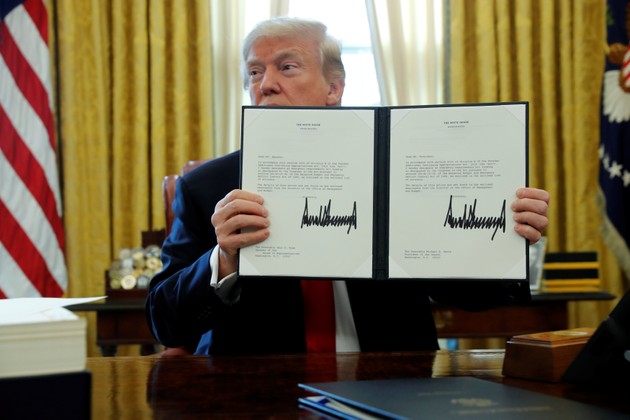 ---
What We're Reading
Begging the Question: Matthew Walther argues that the idea that Donald Trump colluded with Russia to win the 2016 election has become the most widely accepted conspiracy theory in Washington. (The Week)
Home for the Holidays: President Trump's Christmas visit to Mar-a-Lago will mark the 106th day he has spent at one of his own properties this year. (Dan Merica, CNN)
Foreshadowing: Aides and advisers in the Trump White House are reportedly preparing for a bloodbath in the 2018 midterms. (Alex Isenstadt, Politico)
Interpreting America: A recent debate between writers Cornel West and Ta-Nehisi Coates represents a crucial conversation about whether the promise of equality applies to black Americans. (Jane Coaston, Vox)
Who Is Reality Winner?: The former American intelligence specialist charged with leaking a classified report about Russian meddling in the 2016 election has an unlikely backstory. (Kerry Howley, New York)
---
Visualized
When Will the Tax Plan Kick In?: Here's a timeline. (Alicia Parlapiano, The New York Times)
Pictures of Christmas Past: Check out this gallery for a festive look back at the Christmases of yesteryear. (Alan Taylor, The Atlantic)
---
Question of the Week
This week, we asked whether the government, including President Trump, should be exempt from Twitter's new conduct rules. Most responses were a resounding no.
According to Theresa: "Obviously governmental individuals and entities should be holding themselves to the highest standards, but if they are not, they should be reined in by same rules that apply to non-governmental individuals and entities."
Bruce agreed, writing that Trump "has dragged American discourse into the gutter and this should be unacceptable on Twitter."
A small number of you argued that government entities should be exempt for transparency purposes. And for Billy, calls for Twitter to change its policy—or even ban Trump's account—are the real issue: "Passing judgement on the internal policies of privately held companies is neither my place nor yours. They should do as they see fit. What's the alternative? Passing a law requiring bureaucratic government control of Twitter's internal policies?"
Note: The Politics & Policy Daily is taking next week off, but we'll be back on January 2. Happy holidays, and see you in 2018!