The Atlantic Politics & Policy Daily: Trump Wants Moore
The president officially endorsed Alabama Senate candidate Roy Moore.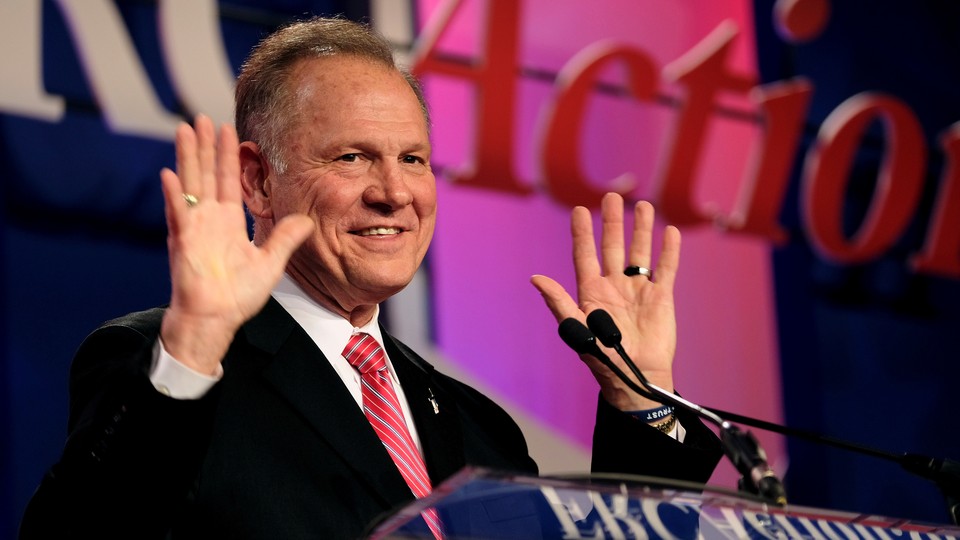 Today in 5 Lines
President Trump officially endorsed Alabama Senate candidate Roy Moore, tweeting that "Democrats refusal to give even one vote for massive Tax Cuts is why we need Republican Roy Moore to win in Alabama." Trump signed a proclamation that will significantly reduce the boundaries of two national monuments in Utah. The Supreme Court will allow the full enforcement of Trump's travel ban restricting travel from six Muslim-majority countries. Trump criticized the special counsel's Russia investigation and said he feels "very badly" for former National-Security Adviser Mike Flynn who pleaded guilty on Friday to lying to FBI agents. And in an interview with Axios, Trump's lawyer John Dowd said the "president cannot obstruct justice."
---
Today on The Atlantic
The Politics of Impeachment: Impeaching President Trump looks as unlikely as ever, argues Peter Beinart. Here's why.

Caught in the Crossfire: President Trump's tweets criticizing the Justice Department and the FBI don't just insult their leaders—they create a morale crisis for federal employees. (Jack Goldsmith)

Should Billy Bush Be Forgiven?: Megan Garber writes that the television host's recent New York Times op-ed might actually help explain how misogyny spreads in the entertainment industry.
Follow stories throughout the day with our Politics & Policy portal.
---
Snapshot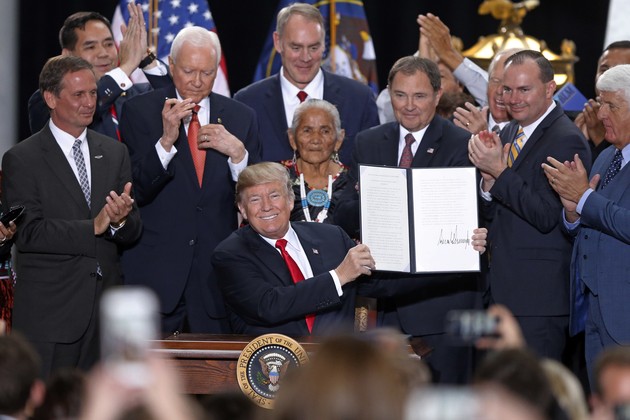 ---
What We're Reading
From Roy: One of the women who claimed that Alabama Senate candidate Roy Moore pursued her when she was a teenager shared evidence of her relationship with him. (Stephanie McCrummen, The Washington Post)
The Power of the People: The office of the president has become too powerful and too ornamental, argues Jay Cost. Here's how Americans can tame it. (National Review)
A Statute Worthy of Fear: If former National-Security Adviser Michael Flynn violated the Logan Act, then the "senior official" directing him would also be implicated. That could mean jail time—or impeachment. (Daniel Hemel and Eric Posner, The New York Times)
Whiskey vs. Estate Tax: Here's how many bottles of whiskey or trips to the movies you'd have to cut back on to save enough to qualify for the estate tax. (Philip Bump, The Washington Post)
On Edge: Former staffers' decisions to cooperate with the Russia investigation have concerned other members of Trump's inner circle: "Everyone is paranoid," said one source. "Everyone thinks they're being recorded." (Darren Samuelsohn, Politico)
The Limits of Scandal: Despite the sexual-misconduct claims against him, Roy Moore is still ahead of Democrat Doug Jones in the polls for Alabama's special Senate race—but it's not that surprising. (Nate Silver, FiveThirtyEight)
---
Visualized
Taxing Times: The House and Senate will have to resolve these seven differences between their tax bills before sending a final version to Trump's desk. (The Washington Post)
The Year in Review: From devastating hurricanes to clashes between protesters in Charlottesville, Virginia, this gallery presents the 25 most powerful images from 2017. (Alan Taylor, The Atlantic)
---
Question of the Week
On Monday, President Trump signed a proclamation that will dramatically reduce the size of two national monuments in Utah, which were designated as protected lands by former President Obama. Some critics say the Antiquities Act doesn't authorize presidents to remove previous designations and have promised to take the issue to court.
Do you think an existing president should have the power to roll back national-monument designations made by previous presidents? Why or why not?
Share your response here, and we'll feature a few in Friday's Politics & Policy Daily.