The Atlantic Politics & Policy Daily: Tax Strut
In a speech on the White House lawn, Trump, joined by GOP lawmakers, celebrated the passage of the Republican tax plan.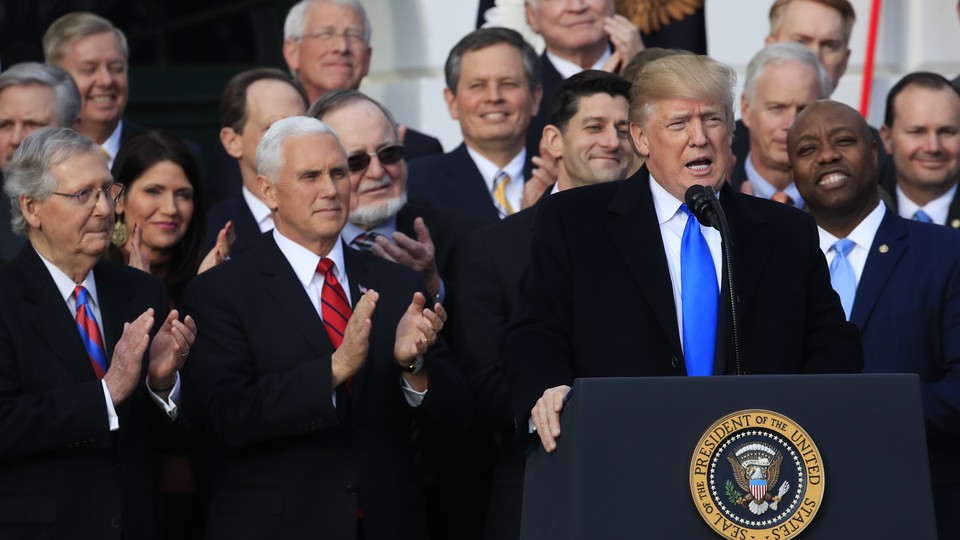 Today in 5 Lines
Republicans passed their tax-cut bill, sending it to President Trump's desk for signature. In a speech on the White House lawn, Trump, joined by GOP lawmakers, celebrated the passage of the legislation, saying "it's always a lot of fun when you win." Earlier in the day, Trump threatened to cut off aid to any country that votes for a UN resolution denouncing his decision to recognize Jerusalem as the capital of Israel. During a speech on the Senate floor, Senate Intelligence Committee Ranking Member Mark Warner warned that if Trump fires Special Counsel Robert Mueller, it could lead to a "constitutional crisis." A judicial panel awarded a contested ballot to Republican candidate David Yancy, producing a tie in Virginia's 94th District House race.
---
Today on The Atlantic
Follow stories throughout the day with our Politics & Policy portal.
---
Snapshot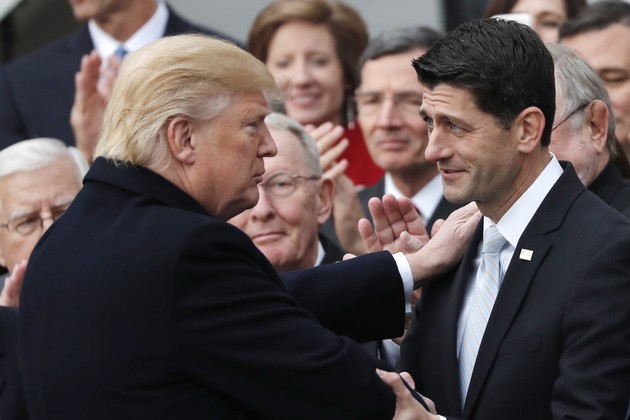 ---
What We're Reading
What Comes Next: Passing a $1.5 trillion tax package was the easy part. Now, for the hard part: an ugly debate over how to handle the plan's long-term consequences. (Heather Long, The Washington Post)
Compromise on the Horizon?: Lawmakers are working with the White House on a deal that will decide the fate of undocumented immigrants who were brought to the U.S. as minors. (Seung Min Kim, Heather Caygle, and Elana Schor, Politico)
No One's Stealing Anything: David French writes that Democrats responding to the Republican tax plan clearly don't understand the definition of private property. (National Review)
Meet the Apostates: These are the leaders of the Never Trump movement who were once part of the political establishment—and are now seen by some as its outlaws. (Sam Tanenhaus, Esquire)
More Trouble Than He's Worth: Now that Republicans have passed tax cuts, Bruce Bartlett argues that President Trump is expendable. (USA Today)
The ACA Will Survive: President Trump said on Wednesday that Republicans "have essentially repealed Obamacare." Here's why he's wrong. (Dylan Scott, Vox)
---
Visualized
What, When, and Who: Here are 10 things you need to know about the Republican tax-cut bill. (Kim Soffen and Reuben Fischer-Baum, The Washington Post)
---
Question of the Week
Twitter has changed its rules to protect against "hateful conduct," but as Robinson Meyer writes, there could be two loopholes in its policy that might help President Trump: The rules won't apply to government entities—or if "the behavior is newsworthy and in the legitimate public interest."
This week, we want to know: Do you think the government should be exempt from Twitter's new conduct rules?
Share your response here, and we'll feature a few in Friday's Politics & Policy Daily.
How are we doing? Send questions or feedback to egodfrey@theatlantic.com.