The Atlantic Politics & Policy Daily: Franken's Farewell
The Minnesota senator announced that he will resign amid a wave of allegations of sexual misconduct.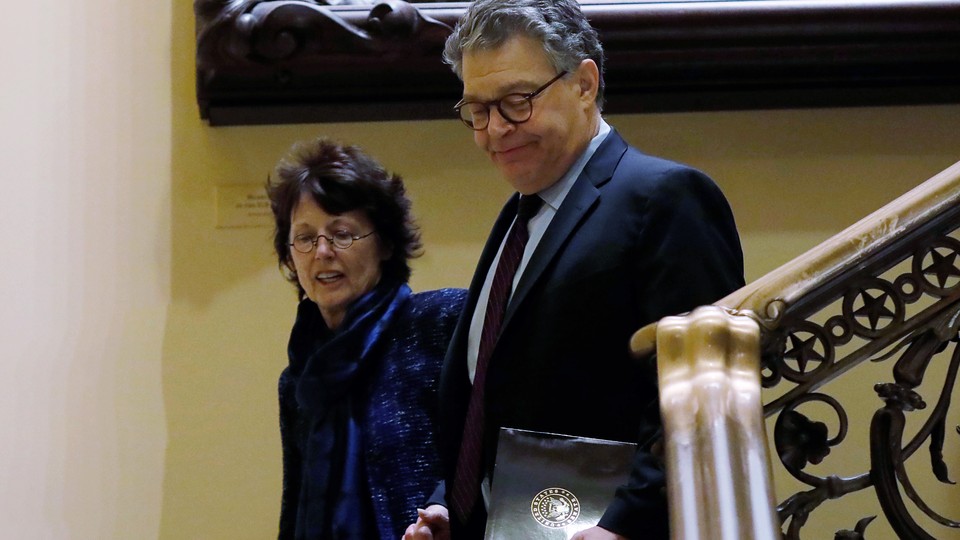 Today in 5 Lines
Minnesota Senator Al Franken announced that he will resign amid a wave of sexual-misconduct allegations and criticism from his fellow Democrats. Democratic and Republican leaders met with President Trump at the White House to discuss a spending deal to prevent a government shutdown. Former South Carolina police officer Michael Slager was sentenced to 20 years in prison for fatally shooting Walter Scott in 2015. Authorities said three people were killed in a shooting at a high school in Aztec, New Mexico. And Georgia Representative John Lewis said he won't attend the opening of the Mississippi Civil Rights Museum, calling it an "insult" that Trump will be attending.
---
Today on The Atlantic
What About Trump?: As allegations of sexual harassment take down powerful men in politics and media, the accusations against Donald Trump have largely gone unaddressed. Here are the 19 women who have accused Trump of sexual misconduct. (Matt Ford)

For Red America Only: Ron Brownstein argues that the Republican tax plans show how insular the party has become: "Neither Trump nor GOP congressional leaders are even pretending to represent the entire country—or to consider perspectives beyond those of their core coalition."

Checking in on Values Voters: The debate over Roy Moore in Alabama is the product of a dramatic shift in the political ethics of the religious right, writes McKay Coppins.
Follow stories throughout the day with our Politics & Policy portal.
---
Snapshot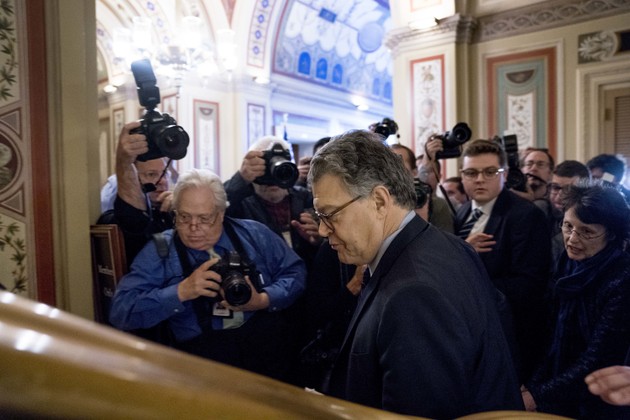 ---
What We're Reading
Who's Filling In?: Minnesota Governor Mark Dayton said he isn't ready to announce Senator Al Franken's replacement. But many expect him to appoint current Lieutenant Governor Tina Smith. (J. Patrick Coolican, Star Tribune)
It Starts With a Cake: Mark Joseph Stern explains how Supreme Court Justice Neil Gorsuch's radical views on the First Amendment could affect a wide range of civil-rights laws. (Slate)
Getting to Yes: Arizona Senator Jeff Flake, a staunch critic of the president, reportedly supported the Trump-backed tax bill after getting two concessions from his party. (Nash Jenkins, Time)
'Promise Keeper': Donald Trump promised to be a disruptor, argues Matthew Continetti, and his choice to recognize Jerusalem as Israel's capital "is his presidency in microcosm." (Free Beacon)
The Democrats Are Actually Fine: While the left hasn't reached consensus on every issue, Sean McElwee makes the case that it's the most united party in modern American political history. (The Outline)
---
Visualized
All Eyes on Los Angeles: Take a look at this map to see where the wildfires are raging in and around one of America's largest cities. (The New York Times)
---
Question of the Week
On Monday, President Trump signed a proclamation that will dramatically reduce the size of two national monuments in Utah, which were designated as protected lands by former President Barack Obama. Some critics say the Antiquities Act doesn't authorize presidents to remove previous designations and have promised to take the issue to court.
Do you think an existing president should have the power to roll back national-monument designations made by previous presidents? Why or why not?
Share your response here, and we'll feature a few in Friday's Politics & Policy Daily.