The Atlantic Politics & Policy Daily: Flynndictment
Michael Flynn, President Trump's former national-security adviser, pleaded guilty to making false statements to the FBI.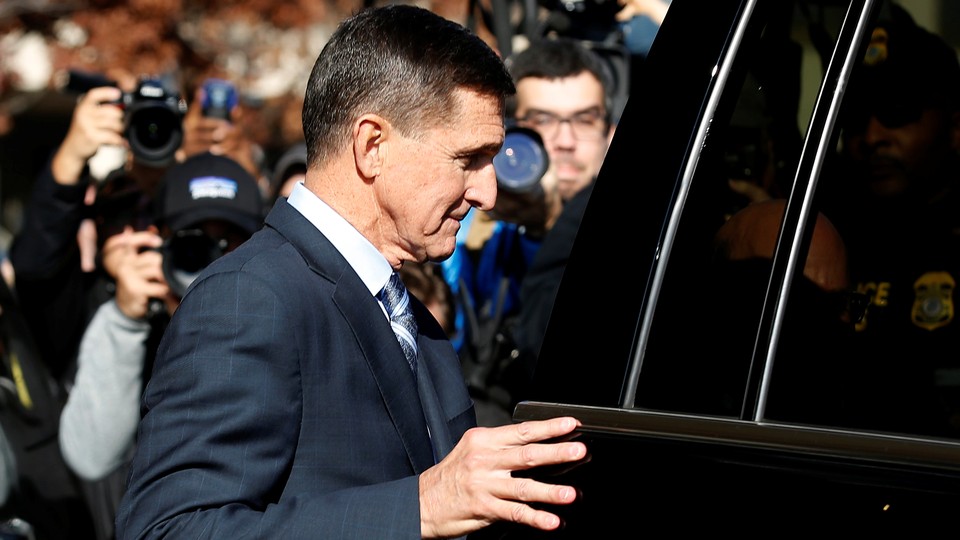 Today in 5 Lines
Michael Flynn, President Trump's former national-security adviser, pleaded guilty to making false statements to the FBI about his contacts with Russian officials, and is cooperating with Special Counsel Robert Mueller's investigation. The Washington Post reports that Flynn was acting in consultation with other senior Trump officials, including Trump's son-in-law, Jared Kushner. Majority Leader Mitch McConnell said that the Senate has secured the 50 votes it needs to pass its tax bill, which they will officially vote on tonight. Representative Blake Farenthold reportedly used $84,000 in taxpayer money to settle a sexual-harassment claim in 2014. And Trump is preparing to announce that the United States recognizes Jerusalem as the capital of Israel.
---
Today on The Atlantic
Follow stories throughout the day with our Politics & Policy portal.
---
Snapshot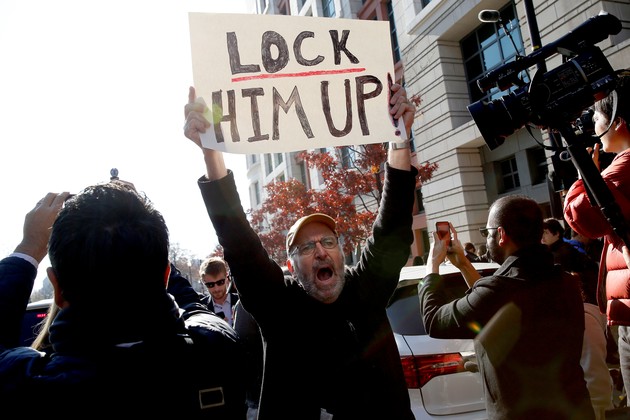 ---
What We're Reading
The Definitive Trump-Russia Timeline: Look back through the various events related to the Trump administration's ties to Russia. (Matthew Nussbaum, Politico)
When Dems Were Willing to Cut Taxes: Democrats haven't always hated tax cuts; in fact, some supported George W. Bush's tax package, which contained several similar provisions to the Republicans' current plan. (Kimberley A. Strassel, The Wall Street Journal)
When Abusers Tell the Story: Men in the media have "substantial control over what the public sees, consumes, and ultimately feels," writes Katie Rogers. So what have people learned about politics, power, and accountability from men accused of sexual misconduct? (The New York Times)
The Twitter Feed Misleads: Trump's presidency is far more conventional, and successful, than his tweets and off-script comments suggest. (Rich Lowry, New York Post)
Charlottesville, Criticized: Following the city's call for an investigation into the event, a review found that police failed on many fronts at the August white nationalist rally where Heather Heyer was killed. (Joe Heim, The Washington Post)
---
Visualized
Russia Connections: Struggling to keep up with the Russia-Trump relationship? Here's a look at the members of Trump's team who are connected to Russian officials. (Jasmine C. Lee and Karen Yourish, The New York Times)
---
Question of the Week
This week, we asked you to react to Richard Fausset's profile of Tony Hovater, a white nationalist who Fausset describes as "the Nazi sympathizer next door." We wanted to know: Do stories like this normalize people with extreme viewpoints?
Some of you were indeed critical of Fausset. Christina from Massachusetts wrote that she took issue with the writer being "so glib about Hovater's so-called 'normal' life." It's not a surprise, Christina wrote, that "bigots shop and cook and play Nintendo. The surprise is that Fausset thought there was a story here."
On the other hand, some of you thought that, in "normalizing" Hovater, the piece communicated a crucial aspect of white nationalists. "I thought the story was important precisely because it pointed out that seemingly normal people can hold these types of views," Vicki from Virginia wrote. "Evil doesn't always come with horns; it could be your next door neighbor." Charlie from Minnesota echoed that sentiment, writing that stories like Fausset's are "accurate and effective in that it portrays these guys as they are in most instances."
And many of you put the onus on readers to be aware of the article's larger goal. Sandy from California wrote, "This does seem like a case of killing the messenger. Can we not discern the difference between reporting that some fascists will come across as normal in their day-to-day interactions, especially with those they see as being 'acceptable?'"
Thanks to everyone who submitted responses, and stay tuned for next week's Question of the Week.