The Atlantic Politics & Policy Daily: FCC Ya, Net Neutrality
The Federal Communications Commission voted to repeal Obama-era net-neutrality regulations.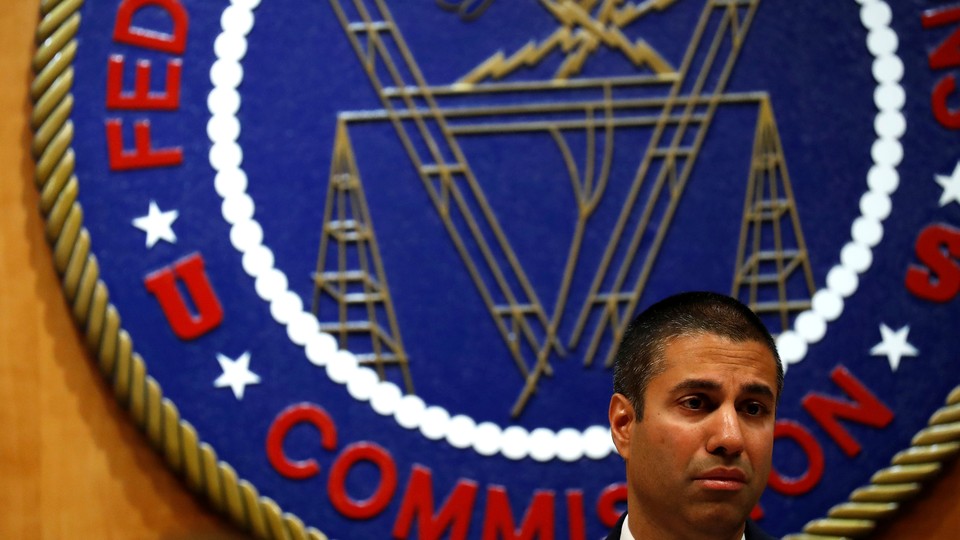 Today in 5 Lines
The Federal Communications Commission voted to repeal Obama-era net-neutrality regulations. Republican Representative Blake Farenthold of Texas announced that he will not seek reelection in 2018 amid allegations of sexual harassment. During a press conference, House Speaker Paul Ryan called it the "right decision." Florida Senator Marco Rubio said he will vote against the Republican tax bill unless the child tax credit is expanded. In a ceremony at the White House, President Trump touted his administration's deregulation efforts.
---
Today on The Atlantic
But Wait, There's Moore: Some Republicans breathed a sigh of relief when Roy Moore lost to Doug Jones in Alabama's special election on Tuesday. But party strategists are "bracing for the army of Moore-like insurgents they expect to flood next year's Republican primaries." (McKay Coppins)

'Time Is Running Out': On Wednesday, South Carolina Senator Lindsey Graham estimated that there's a 30 percent chance that President Trump will order a military strike on North Korea. (Uri Friedman)

What We Don't Know: Nonfatal gun violence has mostly been ignored, writes David S. Bernstein, so the public policies meant to reduce gun violence are based on incomplete evidence.
Follow stories throughout the day with our Politics & Policy portal.
---
Snapshot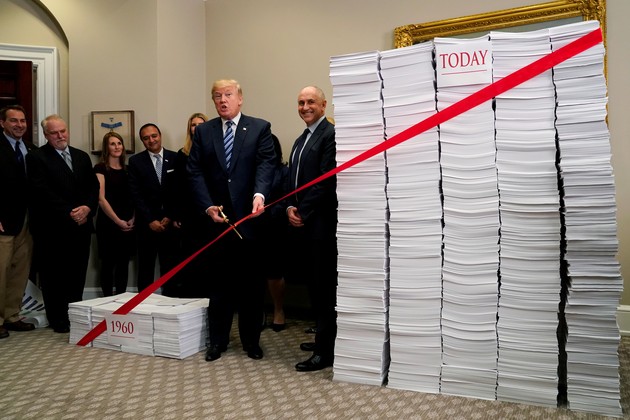 ---
What We're Reading
Goodbye, Net Neutrality: The Federal Communications Commission just voted to repeal net-neutrality protections. Here's what that means—and who it's most likely to affect. (Seth Fiegerman, CNN)
A Threat Unchecked: President Trump has consistently pushed back against the intelligence community's efforts to convince him of Russia's role in the 2016 election. According to administration officials, "Trump has never convened a Cabinet-level meeting on Russian interference or what to do about it." (Greg Miller, Greg Jaffe, and Philip Rucker, The Washington Post)
Regrets: In an interview with Teen Vogue, former Vice President Joe Biden said he wishes he would have better defended Anita Hill's testimony against Clarence Thomas: "I owe her an apology." (Brittney McNamara)
Eye on the Exit: Paul Ryan has reportedly told colleagues that he expects this to be his last term as speaker of the House. (Tim Alberta and Rachael Bade, Politico)
Deafening Silence: The war against ISIS's "caliphate" has been won, writes David French. Yet no one seems to care. (National Review)
Facing a Lawsuit: Omar Ashmawy, staff director and chief counsel of the Office of Congressional Ethics, is reportedly being sued for verbally and physically abusing women. (Jana Winter, Foreign Policy)
---
Visualized
The Finished Product: Here's how the final version of the GOP's tax bill would affect individuals, families, and businesses. (Wilson Andrews and Alicia Parlapiano, The New York Times)
---
Question of the Week
The 2018 Golden Globe nominations are in, including films like The Shape of Water, The Post, and Lady Bird, as well as an eclectic mix of television shows like Big Little Lies, This is Us, and Stranger Things.
This week, we want to know: If this political moment was a Golden Globe-nominated film, what would be its genre? What would it be called? And why?
Share your response here, and we'll feature a few in Friday's Politics & Policy Daily.
How are we doing? Send questions or feedback to egodfrey@theatlantic.com.