The Atlantic Politics & Policy Daily: Checks and Balances
Arizona Senator Jeff Flake appears to have donated to the campaign of Democratic Senate candidate Doug Jones, based on a photo of a personal check he shared on Twitter.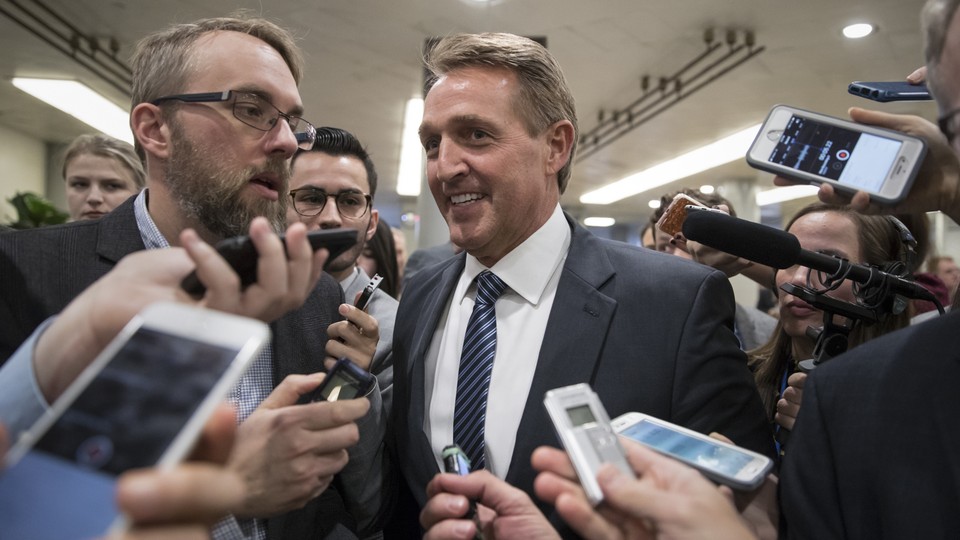 Today in 5 Lines
Michigan Representative John Conyers announced that he will retire on Tuesday, amid allegations of sexual harassment from former aides. The U.S. Supreme Court heard oral arguments in Masterpiece Cakeshop v. Colorado Civil Rights Commission, an important free speech and LGBT rights case that involves a baker refusing to bake a cake for a same-sex wedding. President Trump reportedly plans to recognize Jerusalem as the capital of Israel, which would upend decades of U.S. policy holding that the city's final status must be determined by a peace agreement between Israelis and Palestinians. Arizona Senator Jeff Flake appears to have donated to the campaign of Democratic Senate candidate Doug Jones, based on a photo of a personal check he shared on Twitter. And the International Olympic Committee banned Russia from attending the Winter Olympics over a state-sponsored doping scandal.
---
Today on The Atlantic
'God's Plan for Mike Pence': In our January/February issue, McKay Coppins describes the vice president's divine rise to power: "What critics should worry about is not that Pence believes in God," Coppins writes, "but that he seems so certain God believes in him."

Do the Politically Expedient Thing: After cutting ties with Alabama Senate candidate Roy Moore over sexual-misconduct allegations, the Republican Party has come slinking back to him, writes David A. Graham.

A Taxonomy of Predators: From the old-school flirts to the after-hours lechers, Michelle Cottle lays out the categories of creeps that female staffers on Capitol Hill learn to avoid.
Follow stories throughout the day with our Politics & Policy portal.
---
Snapshot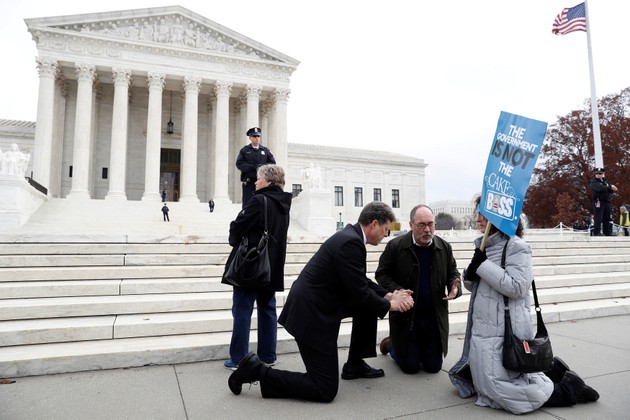 ---
What We're Reading
This Just In: NBC News reports that in her testimony before the Senate Judiciary Committee, Russian lawyer Natalia Veselnitskaya said Donald Trump Jr. asked her in their June 2016 meeting whether she had evidence of illegal donations to the Clinton Foundation. (Ken Dilanian and Natasha Lebedeva)
Ach: Special Counsel Robert Mueller has reportedly subpoenaed records on President Trump's relationship with Deutsche Bank. The president's lawyer denied this. (Steven Arons, Bloomberg)
Women for Roy: Alabama Senate candidate Roy Moore has been accused by multiple women of sexual misconduct. But if he wins the election, writes Ronald Brownstein, "it will be largely because of his support among women." (CNN)
Big Questions: A Colorado baker is arguing that he has the right to refuse to design a wedding cake for a gay couple on free-speech grounds. But does a cake count as speech? (Robert Barnes and Ann E. Marimow, The Washington Post)
Circumventing the CIA?: The Trump administration is reportedly considering a proposal to establish a private spy network to counter its "deep state enemies" in the intelligence community. (Matthew Cole and Jeremy Scahill, The Intercept)
'Blackballed': In 2014, Lauren Greene was a communications director on Capitol Hill. But after she accused Representative Blake Farenthold of sexual harassment, her career fell apart. (Rachael Bade, Politico)
---
Visualized
Harder Than It Looks: Check out these charts to get an idea of how tough it will be for Democrats to win back the House in 2018. (Kevin Schaul and Kevin Uhrmacher, The Washington Post)
A History of Gerrymandering: In this brief video, The Atlantic's Vann R. Newkirk II explains how politicians can use big data to win elections. (Alice Roth, Atthar Mirza, and Tynesha Foreman)
---
Question of the Week
On Monday, President Trump signed a proclamation that will dramatically reduce the size of two national monuments in Utah, which were designated as protected lands by former President Obama. Some critics say the Antiquities Act doesn't authorize presidents to remove previous designations and have promised to take the issue to court.
Do you think an existing president should have the power to roll back national-monument designations made by previous presidents? Why or why not?
Share your response here, and we'll feature a few in Friday's Politics & Policy Daily.