The Atlantic Politics & Policy Daily: Another One
Arizona Representative Trent Franks moved up his resignation and left office on Friday amid sexual-misconduct allegations.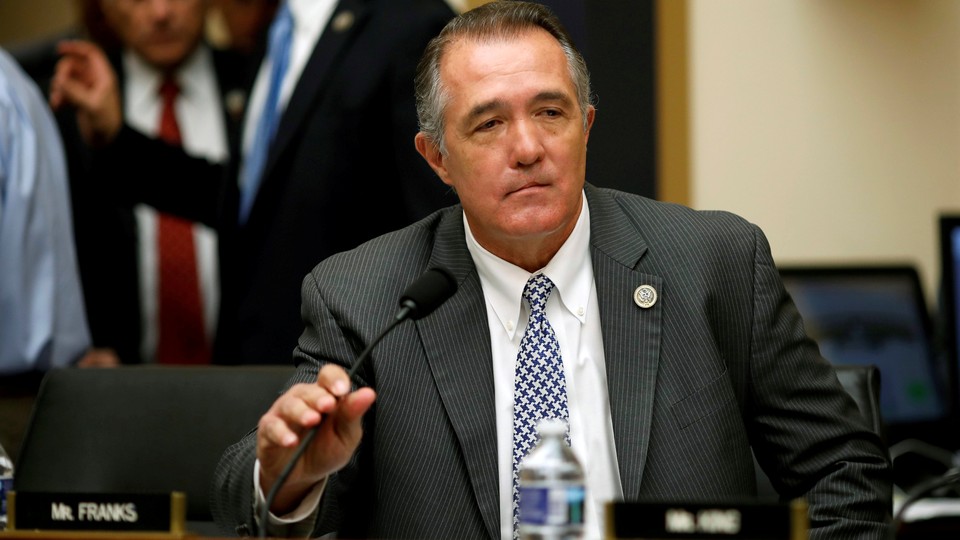 Today in 5 Lines
Arizona Representative Trent Franks moved up his resignation and left office on Friday, immediately before reports emerged that female staffers felt he had propositioned them when he brought up the possibility of them carrying his children as surrogate mothers. Before heading to Pensacola, Florida, where he will hold a campaign rally tonight, President Trump again tweeted in support of Alabama Senate candidate Roy Moore, who is accused of sexually assaulting teenage girls. Dina Powell, Trump's deputy national-security adviser, will leave the administration early next year. Trump signed a spending bill that will keep the federal government running through December 22. The U.S. economy added 228,000 jobs in November, and the unemployment remained the same, at 4.1 percent.
---
Today on The Atlantic
Follow stories throughout the day with our Politics & Policy portal.
---
Snapshot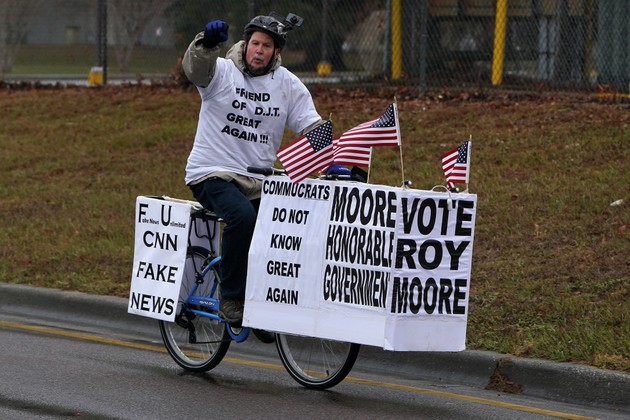 ---
What We're Reading
Surro-Gate: Politico reports that when Arizona Representative Trent Franks approached two female staffers about acting as a surrogate, "it was not clear to the women whether he was asking about impregnating the women through sexual intercourse or in vitro fertilization." (Rachael Bade and Jake Sherman)
'Politically Homeless': The path that led Republicans to Roy Moore began long ago, writes David Brooks: "Starting with Sarah Palin and the spread of Fox News, the G.O.P. traded an ethos of excellence for an ethos of hucksterism." (The New York Times)
Maternal Mortality: In the United States, black mothers are 300 percent more likely to die from pregnancy or childbirth-related causes. NPR investigates why. (Nina Martin and Renee Montagne)
It's Kirsten Gillibrand's Moment: Long before the recent wave of sexual-misconduct allegations against powerful men, Gillibrand had made a name for herself as the Senate's leading voice on sexual violence and gender discrimination. (David Freedlander, Politico)
'Inside the Bubble': Jane Coaston explains how conservative media has created an alternate reality that makes it easy for many Republicans to support a candidate like Roy Moore. (Vox)
---
Visualized
Turnout Counts: The special election in Alabama between Doug Jones and Roy Moore is on Tuesday. Here's what it would take for a Democrat to win the state. (Darla Cameron, Dan Keating, and Kim Soffen, The Washington Post)
After the Storm: According to the official death toll, 62 people died after Hurricane Maria struck Puerto Rico. But the actual number of deaths might be more than 1,000. (The New York Times)
---
Question of the Week
On Monday, President Trump signed a proclamation that will dramatically reduce the size of two national monuments in Utah, which were designated as protected lands by former President Barack Obama. This week, we asked whether you think an existing president should have the power to roll back national-monument designations made by previous presidents.
Many of you said no. Diane from North Carolina argued that the Federal Land Management Act of 1976 as well as the Antiquities Act endow the president with the power to designate monuments, but not to roll them back; Beth from California warned that if Trump does manage to roll back previous designations, "this could easily become another partisan issue. … History can't be undone or rewritten every four years."
However, others argued that presidents should have the power to alter previous designations. "The U.S. government owns more than half of Utah's land, which stifles communities wishing to use it for their own purposes, good or bad," Carl from Utah wrote. "There are valuable resources under much of that land, such as oil and coal. That should benefit the people, NOT the government."
And Maggie from Washington, D.C., said that while the president does have the right to alter designations, it doesn't mean he should.
The Antiquities Act doesn't authorize this but nor does it deny it. That being said, I don't believe that it's a good move. The reduction would add another page in the shameful history of our national government's relationship with Native Americans, as well as open up the land to mistreatment by fossil fuel companies. I believe that our natural wonders are part of what makes America "great," and should be preserved.
Thanks to everyone who submitted responses, and stay tuned for next week's Question of the Week.