Can Democrats Flip a House Seat in a District Trump Won?
In March, the party will try to appeal to white, working-class voters who were once loyal to it, but have since drifted to the GOP.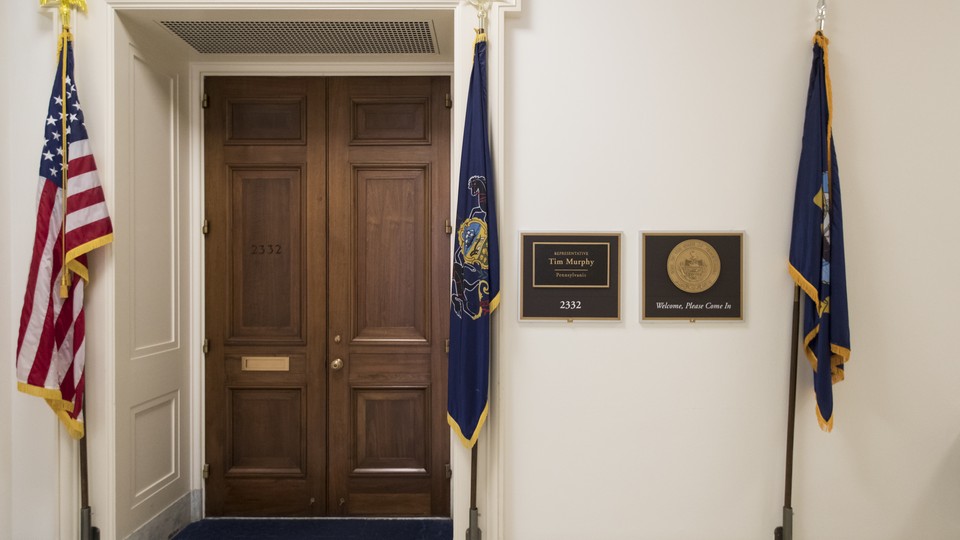 The next closely-watched special election is set to take place in a conservative Pennsylvania House district that will test the Democratic Party's appeal with white, working-class voters who now reliably vote Republican.
Democrat Conor Lamb will face off against Republican state Representative Rick Saccone on March 13 in a race to replace former Republican Representative Tim Murphy, a pro-life congressman who resigned earlier this year after reports surfaced that he had allegedly asked a woman with whom he had an affair to get an abortion.
The Democratic Party is ending 2017 on a high note after Doug Jones beat Republican Roy Moore in a major upset victory in the Alabama Senate special election. But Democrats have not yet shown they can win congressional seats in the Rust Belt and industrial midwest states of Michigan, Wisconsin, and Pennsylvania, which flipped from blue to red in the last presidential election. The March special election may gauge whether Democrats can make inroads in those parts of the political map.
"This gives Democrats an opportunity to go to the blue-collar, white voters that Trump won in 2016 and say, 'Trump betrayed you. He said he was going to be a populist president, and fight for you, but all he's done so far is favors for corporate America,'" said Brad Bannon, a Democratic strategist and president of Bannon Communications Research, a Washington, D.C.-based political consulting firm.
The Pennsylvania district is a mix of working-class rural areas and affluent suburbs populated with mostly white voters. The district was once considered favorable territory for conservative Democrats and Democrats still have a voter registration advantage, but now the district reliably votes Republican. Trump won the Pennsylvania district by 20 points and in 2012, Mitt Romney won it by nearly 17 points.
It's not yet clear how much of a chance Democrats will have. The Cook Political Report initially rated the race "Likely Republican" after Murphy's resignation, but has since changed its rating to "Lean Republican," indicating that the election could be competitive.
Nationally, Democrats have a number of advantages heading into elections in 2018. The president's party usually loses seats in the midterm elections, and Trump's approval ratings remain at historic lows. Democrats have performed better than expected in special elections in 2017, and have turned out to vote in high numbers relative to Republican voters. That adds up to a favorable landscape for the party.
Even so, that may not be enough to overcome the advantage Republicans have in the conservative Pennsylvania district. It hasn't been enough in any other House special election held under the Trump administration so far. In the past year, Democrats have lost a string of high-profile House seat special elections in red districts in Kansas, Montana, Georgia, and South Carolina.
Along with national factors, the Pennsylvania special election will be influenced by local forces like the quality of the candidates running and how well they match up to the district.
Lamb, a former federal prosecutor and military veteran, is so far running as a centrist Democrat. His campaign has chosen to emphasize a record of fighting the opioid epidemic, and taking on drug dealers and violent criminals.
Conspicuously absent from the Democratic candidate's campaign website is any mention of hot-button issues like abortion and gun control laws (though it does say he has led prosecutions against gun traffickers). In interviews, Lamb has said that "choice is the law of the land." He has said that he is "pro-Second Amendment," though he thinks that "we need to have the conversation" about gun control.
"This district as a whole is a pro-life, pro-Second Amendment type of place and the Republican nominee is kind of standard issue conservative Republican on those issues," said Christopher Nicholas, a Republican political consultant based in Pennsylvania. "The district is not going to elect someone who can't tell you where they stand on abortion and isn't a strong Second Amendment supporter."
Saccone is also a military veteran and, despite the anti-political establishment backlash, he seems to think his track record as a legislator is an advantage. His website warns that "Congress Is No Place for On-the-Job Training." It goes on to describe Saccone as a champion of lower taxes, cutting government waste, creating jobs, and protecting the United States from the threat of terror.
Saccone has embraced Trump, telling a Pennsylvania radio station that he "was Trump before Trump was Trump." His website, though, tries to sound a reach-across-the-aisle note by promising that Saccone "will fight for his constituents in bipartisan fashion."
Media outlets are already characterizing the race as a potential bellwether ahead of the 2018 midterms where Democrats hope to win back control of the House. Rural areas of the district do resemble the demographics of the industrial midwest states that flipped to Trump in the 2016 election. At the same time, however, the district is more reliably Republican than many of the battleground states where Democrats will compete in 2018.
To win the House, Democrats need to pick up 24 seats. The most logical targets for the party are the 23 seats held by Republicans in areas that Hillary Clinton won in the last presidential election. But even if Democrats pick up every single one of those seats, which may not happen because incumbents are difficult to beat, they would still fall short of winning the House unless they also win seats in districts Trump won. Pennsylvania's special election could be an early test of how successful the party will be at that.
If Democrats want to flip the Pennsylvania seat, hyping the race as the next big chance to pick up a seat may hurt more than it helps. So far, Democrats running in House special election races have performed best when their race flies under the radar. That was true for Archie Parnell, the Democratic candidate in the South Carolina special election earlier this year, who lost by a narrower margin than any of the other Democrats in House special elections. His race received little media attention, while others, like Democrat Jon Ossoff's in Georgia, were subject to intense national scrutiny.
A loss in a single special election isn't enough to derail Democratic prospects in the midterms. If Democrats exceed expectations and turn in a better performance than the party has historically in the district, but still come up short in Pennsylvania, that in and of itself could be a harbinger of midterm success.