Roy Moore's Last Gasp
The defeated Republican filed a last-minute, long-shot lawsuit hoping to halt the certification of Democrat Doug Jones's victory as the next senator from Alabama. A state judge denied the request.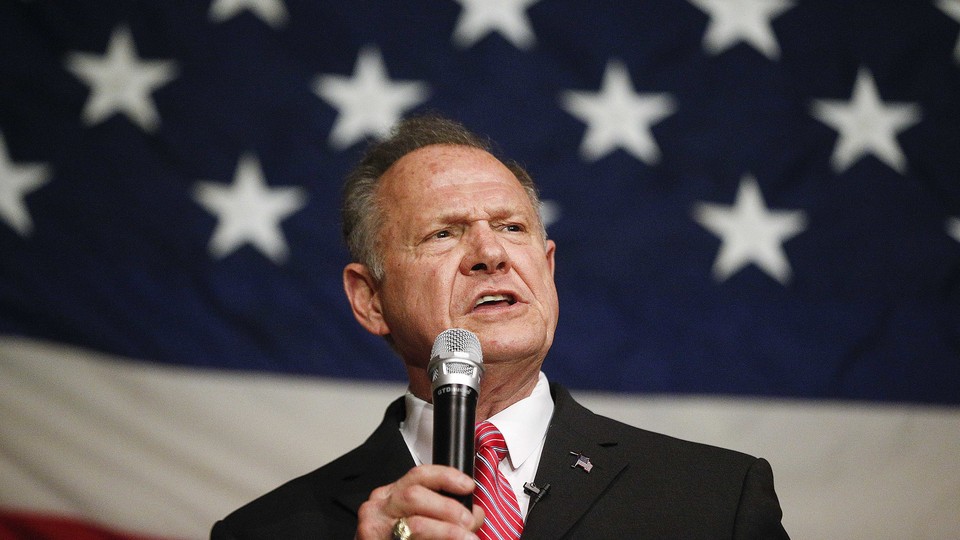 Updated on December 28 at 2:14 p.m. ET
A suspicious "diversion of votes" from the Republican to the Democrat. Unsecured voting machines. "Sharply and implausibly higher" turnout in a county that just so happens to have a large percentage of African American voters. An "unusual number" of out-of-state driver's licenses pointing to widespread election fraud. Voter "intimidation" by a Democratic super PAC.
Roy Moore is alleging that all of the above occurred in Alabama earlier this month when Democrat Doug Jones defeated him by 1.5 percentage points in the state's special Senate election—an outcome Moore believes was tainted and is possibly fraudulent. Late Wednesday, the twice-removed chief judge of Alabama filed a last minute complaint in state court to halt the certification of Jones's win until a "meaningful investigation" of voter fraud takes place. If necessary, Moore wants the Alabama courts to order an entirely new election. On Thursday, however, a state judge denied the request, according to media reports.
As Hail Marys go, this judicial pass was a wobbly one. It came the night before state officials were to meet to certify the election, and on Thursday morning, Secretary of State John Merrill—a defendant in Moore's lawsuit—said on national television that the certification would go forward as scheduled. Shortly after 2 p.m. ET, officials certified Jones as the winner of the Alabama special Senate election. The former federal prosecutor will be sworn into the Senate on January 3 when lawmakers return from their holiday recess.
Yet in its wild allegations, Moore's long-shot legal challenge was a fitting bookend not only to a crazy, scandal-fueled campaign but to a year that began with President Trump—Moore's erstwhile endorser—alleging that his own defeat in the national popular vote was the result of widespread fraud. Moore lost in a deeply red state after numerous women came forward to accuse him of sexually assaulting them as teenagers. And in one of the 80-page complaint's odder parentheticals, Moore claimed that he passed a polygraph test in which he denied the sundry allegations of misconduct, as if that new fact would persuade a judge to order a new election.
Most of the lawsuit focused on what Moore's attorneys described as electoral anomalies that raise questions about the 22,000-vote margin. They include "expert testimony" from a Florida-based elections analyst named Richard Charnin who wrote in an accompanying letter that there was "overwhelming statistical proof of fraud in Jefferson County." (Charnin is perhaps best known, to the extent that he is, as a positor of conspiracy theories about the assassination of John F. Kennedy and, more recently, the 2016 murder of Seth Rich, a staffer with the Democratic National Committee.) Moore alleges that in Republican precincts in the county, there was an unexplained drop-off in votes by people who checked off a straight party-line vote for the GOP but did not vote for Moore.
The complaint relies overwhelmingly on cherry-picked quotes in right-wing news outlets, such as one in which a Democratic organizer appears to have been overly excited about their efforts to turn out voters.  Seven pages of supporting documents are simply print-outs of comments on Breitbart.com, and another several pages are screenshots of text messages from people claiming they were harassed or intimidated by Democratic groups. It also repeats an allegation that Trump's presidential commission on voter fraud used to question Hillary Clinton's narrow victory in New Hampshire last year—the use of out-of-state IDs by voters. "Multiple out-of-state identifications were presented at voting places," the complaint alleges, "and a video testimonial confirms a 'fellowship' of people came to 'vote and canvas' together from different parts of the country."
It then quotes from a local Fox affiliate's story about Merrill's investigation of a voter fraud claim stemming from a TV interview conducted at Jones's victory party that went viral in conservative media. In the interview, an exuberant Jones supporter said: "We came here all the way from different parts of the country as part of our fellowship, and all of us pitched in to vote and canvas together, and we got our boy elected!" To most observers, that appears to be an in-artful description of political organizing, but Moore is hoping a judge will take it literally.
The complaint also questions the legitimacy of the surge in black turnout credited with sealing Moore's defeat, and it uses Merrill's own questionable prediction that turnout overall would not exceed 25 percent as justification. It notes that turnout outside of Jefferson County was 40 percent but that the county's turnout was more than 47 percent—in Moore's view, "inexplicably, substantially higher."
The word "inexplicably" appears throughout the complaint, and it seems to fit Moore's view of his defeat. He seemed unable to believe that black Alabamians could turn out in droves in spite of the many hurdles to voting placed in their way. And more broadly, he seems flummoxed by the idea that a Republican could possibly lose in Alabama—even one who had twice been removed as the state's chief judge for refusing to enforce the law and who was then repeatedly accused of sexual misconduct in the middle of a hotly contested election. The hodgepodge of evidence Moore presented, however, did not convince the judge, keeping the certification of Jones's victory in motion.