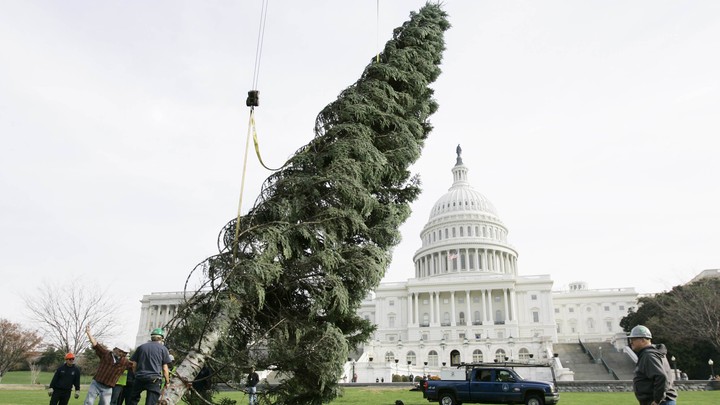 The holidays are a joyous time of year just about anywhere except in the halls of the United States Capitol.
That's when deals get cut; legislators cave; taxpayer money goes out the door by the billions; and, more often than not, conservatives lose. "From a conservative standpoint, nothing good comes just a few days before Christmas," Representative Mark Meadows of North Carolina, the chairman of the House Freedom Caucus, reminded reporters last week.
The latest mission for the hard-liners in the Freedom Caucus is making sure Republican leaders don't agree to set the next crucial federal-funding deadline for December 22, which they fear would leave Democrats with an armful of policy presents and stick conservatives with the legislative equivalent of a lump of coal. Yet in waging this fight over the next deadline, the Freedom Caucus could cause Congress to miss the one staring it in the face: this coming Friday, when the House and Senate must pass a stopgap spending bill or else the government shuts down.
Congressional leaders in both parties are now engaged in a legislative three-step, with the end goal being an omnibus spending bill to cover the remaining nine months of fiscal year 2018. With Republicans consumed by their tax bill, however, they ran out of time to deal with the budget. So the first step is for lawmakers to approve a two-week funding bill—known as a continuing resolution—by Friday to keep the government open through December 22 and buy time for more substantive negotiations. The next piece would be a second stopgap spending bill alongside a bipartisan budget agreement that would set the parameters for the much larger appropriations bill, which Congress would try to pass in January.
What conservatives fear most is not higher spending per se, but the pieces of unrelated legislation that party leaders might try to tack onto the bills that pass right before Christmas. Democrats and some prominent Republicans are pushing Congress to adopt—among other priorities—a bipartisan fix for the Affordable Care Act, a reauthorization of the Children's Health Insurance Program, and legislation offering permanent protection from deportation for immigrants who were brought into the country illegally by their parents. Specifically, the Freedom Caucus is worried that if the next deadline is right before Christmas, lawmakers will cave at the last minute in the rush to get out of Washington and home to their families.
The conservatives' solution, however, is an odd one: They want Speaker Paul Ryan to push back the date of the first stopgap spending bill by just one week, to December 30. The rationale seems to be that Republican lawmakers don't care about missing New Year's as opposed to Christmas, so they are more apt to stick to their guns once the holiday is behind them.
The dispute has led to unexpected drama inside the Capitol this week. On Monday evening, members of the Freedom Caucus briefly threatened to block a motion to set up a conference committee on the GOP's tax plan—a vote that is usually a formality. The next morning, Republican lawmakers held a heated debate inside their weekly caucus meeting, as Ryan and Majority Leader Kevin McCarthy tried to persuade them to accept the December 22 deadline. Ryan called it "a family discussion," which is generally code for talks where there's a lot of yelling. When it was over, the speaker acknowledged that the matter had not been resolved, and later in the day Republicans postponed a committee vote on bringing the stopgap measure to the floor.
The Freedom Caucus has leverage because Democrats are in no mood to help Republicans pass a spending bill that does not include their priorities on health care or immigration. They've already been fighting with President Trump over these issues, and Democratic leaders withdrew from a meeting at the White House last week after the president insulted them on Twitter. They're headed back to the White House on Thursday, but it's unlikely that a single, last-minute meeting will yield a bipartisan deal. Without Democratic votes, Ryan and McCarthy would need to find 218 on their own to get a bill preventing a shutdown through the House. (Democrats in the Senate are not expected to filibuster the measure once it passes the lower chamber.)
While the Freedom Caucus is taking its customary hard line, other conservatives are wary of overplaying their hand and pushing GOP leaders to cut a deal with Democrats instead—a move that could mean making concessions on policy. "We understand that, and we have seen that happen before," said Representative Mark Walker of North Carolina, chairman of the Republican Study Committee, a larger but more pragmatic group of conservatives in the House. Walker told me Ryan and McCarthy had made a persuasive case for their strategy in the party meeting, arguing that a shorter continuing resolution would lessen the risk that the Senate would "jam" the House with a pre-Christmas bill loaded with compromises. Top Republicans in the House and Senate have already tried to assuage conservative concerns by pledging that a deal for immigrants protected under the Deferred Action for Childhood Arrivals program would not happen until early next year.
The odds are still in favor of Congress averting a shutdown this week, but perhaps only because if the government's doors close, Republicans want to be able to blame "obstructionist" Democrats and not members of their own party. But a short-term spending deal would only delay the next fight for another couple of weeks, and set up yet another Christmas deadline for conservatives to dread.
We want to hear what you think about this article. Submit a letter to the editor or write to letters@theatlantic.com.
Russell Berman
is a staff writer at
The Atlantic
, where he covers politics.