President Trump Endorses Roy Moore
The president is officially backing the Alabama Senate candidate accused of sexually assaulting teenage girls.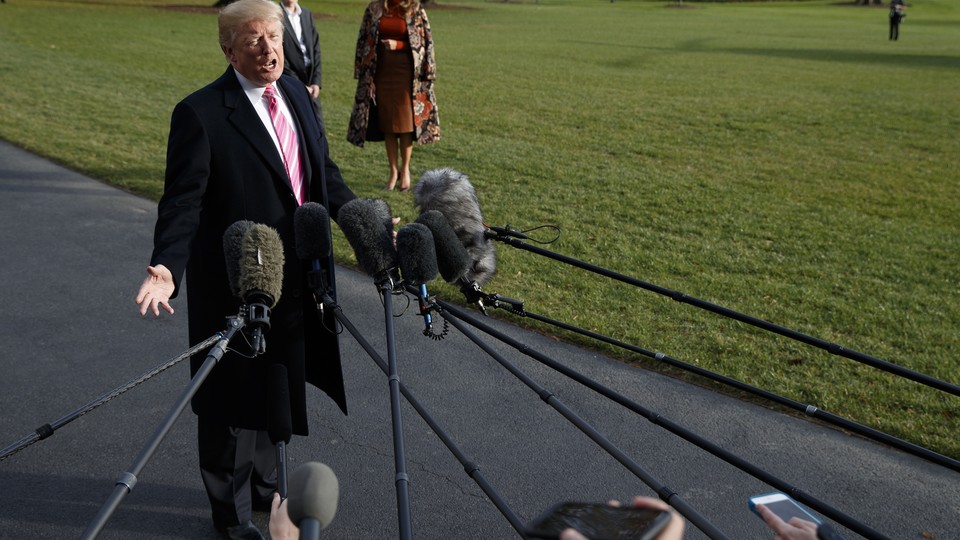 In the days after Alabama Senate candidate Roy Moore was accused of sexual abusing underage girls, several leading Republicans called on him to leave the race, including Speaker Paul Ryan, who said the Republican "should step aside."
Now, President Trump has his own message for Moore: "Go get 'em, Roy!"
That's according to the Moore campaign, which said Trump called Moore Monday morning to officially offer his endorsement, roughly a week before the state's special election to replace the seat vacated by now-Attorney General Jeff Sessions. "I am honored to receive the support and endorsement of President Donald Trump," Moore said in a statement. "President Trump knows that the future of his conservative agenda in Congress hinges on this election." Principal Deputy White House Secretary Raj Shah confirmed the conversation, saying the two men "discussed the state of the Alabama Senate race and the president endorsed Judge Moore's campaign."
The endorsement comes after nearly a full month of turmoil. In early November, several women alleged that Moore had pursued them when they were teenagers and he was in his early 30s;  two women say that Moore assaulted them. Moore has so far acknowledged that he pursued teenagers, but has denied the assault allegations and maintains that none of the girls were younger than the legal age of consent.
After the allegations surfaced, several polls showed Moore's support in Alabama dropping. The public reaction was strong, with both Democrats and Republicans, including Majority Leader Mitch McConnell, calling on Moore to exit the race. But since Thanksgiving, polls have shown Moore gradually overtaking Jones. Over the weekend, McConnell changed his tune, saying in an interview on ABC's This Week that the people of Alabama should "make the call."
On Monday morning, Trump, who defended Moore two weeks ago without not openly endorsing him, made his most supportive comments of the candidate yet, tweeting that "Democrats refusal to give even one vote for massive Tax Cuts is why we need Republican Roy Moore to win in Alabama." Trump also referred to Moore's Democratic opponent, Doug Jones, as a "Liberal Puppet."
In an interview on CNN, White House Legislative Director Marc Short said Trump was merely making the point that Moore has been a public figure in Alabama for decades, and that "the people in Alabama have an opportunity to choose and make some decisions about Roy Moore's character."
But Moore's controversial nature extends beyond sexual-misconduct allegations. The former judge was twice removed from the Alabama Supreme Court for refusing to follow a court order and for refusing to recognize the U.S. Supreme Court ruling legalizing same-sex marriage. Moore has argued that Muslims should not be allowed to serve in Congress, that homosexuality should be outlawed, and he has ties to neo-Confederate groups. As Tennessee Republican Bob Corker put it on Twitter on November 11, "Look, I'm sorry, but even before these [sexual-misconduct allegations] surfaced, Roy Moore's nomination was a bridge too far."
Apparently, though, it's not a bridge too far for Trump—nor for the many Alabamians who still support him.