From 'The Tapes of Wrath' to 'Poll Tide'
The year in politics, as told by the subject lines from The Atlantic's Politics & Policy Daily.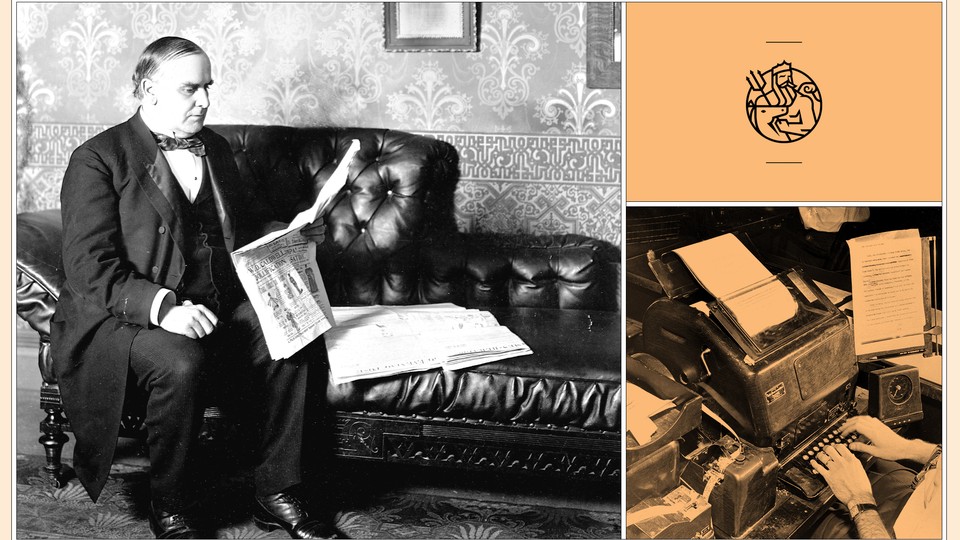 Every December, The Atlantic looks back on the previous year—to highlight not just the big moments, but the progression of big ideas. Below, the third of four installments from our coverage of politics looks at the first year of the Trump administration, retold through subject lines.  
---
The first year of Donald Trump's presidency has been an eventful one. The Russia investigation went wider and deeper. Prominent Republicans decided not to run for reelection. America got a new Supreme Court justice, and lost an FBI director. Democrats won a set of surprising victories. Republican-sponsored legislation  died and then was resurrected, passed and repassed. And all the while, the president tweeted.
We've chronicled all of these twists and turns in the Politics & Policy Daily newsletter and sent them straight to your inbox, every weekday afternoon, topped with a subject line to make you chuckle—or perhaps, roll your eyes.
Take a look back on 2017 with some of our favorites. And if you're not already a subscriber to the newsletter, sign up here.
The Spy Who Phished Me
In a declassified report, the U.S. intelligence community concluded that Russian President Vladimir Putin ordered an influence campaign on the U.S. presidential election.
Will You Accept this Robe?
President Trump nominated Neil Gorsuch to the U.S. Supreme Court.
Flynn Hot Water
National-Security Adviser Michael Flynn reportedly "discussed U.S. sanctions against Russia with that country's ambassador to the United States" before Trump was sworn in as president, contrary to previous denials by officials.
Puzder, We Hardee's Knew Ye
Andrew Puzder, the CEO of the company that owns Carl's Jr. and Hardee's, withdrew his nomination for secretary of labor.
Rand Paul and the Chamber of Secrets
Senator Rand Paul spent the day hunting for draft legislation to repeal and replace Obamacare, only to be denied entry into the room where it was reportedly being kept.
Kislyak and Tell
Trump called on Congress to investigate Senate Minority Leader Chuck Schumer and House Minority Leader Nancy Pelosi after photos surfaced of the two meeting with Russian leaders.
Tap o' the Morning!
Trump stuck by his claim that former President Obama wiretapped Trump Tower.
Nunes-theless, He Persisted
During a news conference, House Intelligence Committee Chairman Devin Nunes said that the identities and communications of Trump transition officials might have been inappropriately revealed in intelligence reports.
McMaster of the House
Trump removed White House Chief Strategist Steve Bannon from the National Security Council, signaling the growing influence of his new national-security adviser, H.R. McMaster.
Before and NAFTA
Trump told reporters he "will renegotiate" the North American Free Trade Agreement.
Battle Hmm ... of the Republic
Trump questioned why the Civil War could "not have been worked out."
We're Gonna Need a Bigger Showboat
In an interview with NBC, Trump called former FBI Director James Comey a "showboat," and said he was going to fire him "regardless" of what the Justice Department recommended.
The Tapes of Wrath
Trump suggested on Twitter that there might be tapes of his private conversations with former FBI Director James Comey.
Finding Memo
Trump reportedly asked former FBI Director James Comey to shut down the investigation into his former national-security adviser, Michael Flynn, according to a memo written by Comey.
Trump Pulls Out of D'accord
Trump announced that the United States would withdraw from the Paris climate agreement.
James and the Giant Speech
During his testimony before the Senate Intelligence Committee, former FBI Director James Comey told lawmakers that he believed Trump fired him "because of the Russia investigation."
Old McConnell Has a Plan
Senate Republicans released a 142-page proposal that would dismantle parts of the Affordable Care Act.
Catch-22 Million
The Congressional Budget Office projected the Senate Republican health-care bill would increase the number of uninsured by 22 million by 2026.
From Russia, 'I Love It'
Donald Trump Jr. released copies of his emails with Rob Goldstone in which they arranged a meeting with a "Russian government lawyer," who claimed to have potentially damaging information about Hillary Clinton.
Sean Voyage
Sean Spicer resigned as White House press secretary.
Goodnight, Sweet Reince
Trump chose Homeland Security Secretary John Kelly to replace Reince Priebus as White House chief of staff.
Too Mooch Too Soon
Trump removed Anthony Scaramucci from his role as White House communications director, just 10 days after Scaramucci was brought on staff.
Mitch Hunt
Trump continued to publicly criticize Majority Leader Mitch McConnell for the party's failure to repeal and replace the Affordable Care Act.
Loose Bannon
Trump fired Steve Bannon, the former Breitbart editor who helped fuel Trump's rise.
Elton Don
During his first address before the United Nations General Assembly, Trump threatened to "totally destroy North Korea" and referred to North Korean leader Kim Jong Un as "rocket man."
McCain't Gonna Happen
Arizona Senator John McCain announced that he could not "in good conscience" support the Graham-Cassidy health-care bill.
America's Next Tax Model
Chief White House Economic Adviser Gary Cohn said the Trump administration's new tax proposal is "purely aimed" at the middle class.
Rex Post Facto
Secretary of State Rex Tillerson denied that he had ever considered resigning from his position, but stopped short of explicitly refuting a report that said he called Trump a "moron."
The Fault in Our Czars
Representative Tom Marino of Pennsylvania withdrew his name from consideration to be the White House drug czar following a report that revealed he had tried to hinder government efforts aimed at combating the opioid epidemic.
It Goes Down in the DM
In private Twitter messages, WikiLeaks asked Donald Trump Jr. for his father's tax returns, and urged the Trump campaign to challenge the election results.
Jeff's Concessions
During his testimony before the House Intelligence Committee, Attorney General Jeff Sessions defended his past statements about Russia and the Trump campaign.
The Audacity of 'Dope'
National-Security Adviser H.R. McMaster reportedly mocked Trump's intelligence at a private dinner, calling him an "idiot" and a "dope."
Poll Tide
Republican Roy Moore and Democrat Doug Jones faced off in Alabama's special Senate election.
Parliamentarian Gives Bill the Byrd
Hours after the House passed a sweeping $1.5 trillion tax bill, the Senate parliamentarian found that provisions of the bill violated the chamber's Byrd rule.