Has Trump Persuaded Orrin Hatch to Block Mitt Romney's Senate Bid?
The longtime Utah senator had promised this term would be his last, and told friends he planned on retiring. But after the president's intervention, he may be changing his mind.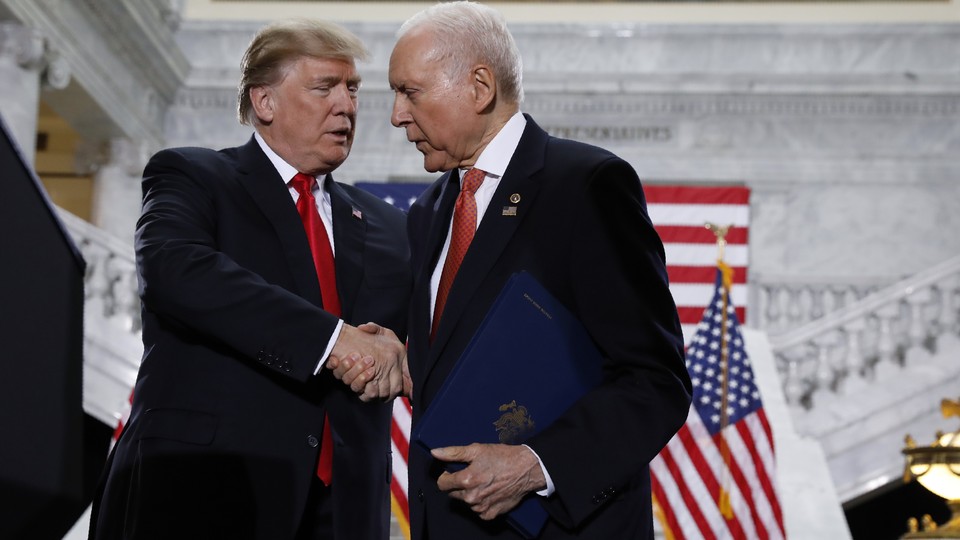 Just when Orrin Hatch thought he was out, Donald Trump pulled him back in.
After months of quietly laying the groundwork for his own retirement, the 83-year-old Utah senator has signaled to Republican allies in recent weeks that he's having second thoughts about leaving office when his term ends next year. Interviews with 10 people familiar with the situation—some of whom requested anonymity to speak candidly—suggest that President Trump's efforts to convince Hatch to seek reelection have influenced the senator's thinking.
This perceived about-face by the seven-term senator has enraged loyalists to Mitt Romney, who had been planning to run for Hatch's seat (at the senator's urging no, less). Meanwhile, many Utah Republicans have grown impatient and aggravated with Hatch as he repeatedly postpones announcing his reelection decision.
While it remains possible that Hatch will ultimately bow out—clearing the way for a Senator Romney—many in the state party now worry that a decision to run again would prompt an angry backlash from grassroots conservatives and establishment elements alike, leading to a chaotic primary fight.
"The feeling is he is holding the field hostage by running out the clock," said Derek Miller, the CEO of Utah's World Trade Center who said earlier this year he was considering a bid for the seat. "Not a bad political strategy, but it is viewed as selfish behavior that is detrimental to the party and the state. It seems to frustrate even Hatch's longtime supporters."
"If Romney decides to run," Miller added, "I will gladly lend my support to his candidacy. If Hatch runs agains and Romney stays out, I believe you will see many Republicans seriously consider getting in the race, myself included."
Boyd Matheson is another prominent Utah Republican who was exploring a Senate bid, only to announce last month that he would not run. "I think this kind of clears the last of the path for Mitt," he told me at the time. Matheson warned that any power play by Hatch would likely not be well-received in the state.
"Many of the senator's recent positions and statements have led Utahns to speculate if he was falling into the trap that so many politicians do," Matheson said, "becoming more interested in solving their own political problems than solving the American people's problems." As an example, he contrasted Hatch's decision to defend Trump's endorsement of Roy Moore with Romney's insistence that electing a man credibly accused of sexually abusing teenage girls "would be a stain on the GOP and on the nation." Hatch's response, Matheson said, "has deepened this fearful question of, 'Will he really say anything to hold on to power?' And Utahns are increasingly exhausted by that."
A spokesman for Hatch declined to comment for this story.
In public, Hatch has said that he would make up his mind about reelection by the end of the year, once congressional Republicans passed their tax reform bill—a process in which he played a key role as Senate Finance Chairman. But as I reported in October, Hatch had made clear behind the scenes that he was headed toward retirement—raising money for an institute or library in his own name, privately telling allies that he planned to exit the Senate after 2018, and personally recruiting Romney to launch a bid to become his successor.
In an April interview with National Journal, Hatch said,  "If I could get a really outstanding person to run for my position, I might very well consider [retiring]," adding, "Mitt Romney would be perfect."
In private, Hatch went so far as to hand-deliver a memo to Romney laying out the reasons that he should run for his seat, according to someone with direct knowledge of the document. A spokesperson for Hatch declined to comment.
By this past fall, sources close to both men were saying that a plan had been set in motion for Hatch to announce his retirement and for Romney to announce a campaign to replace him.
Then, the White House got involved.
Eager to keep his longtime adversary out of the Senate, the president went to work lobbying Hatch to run for another term. As the Washington Post detailed, Trump's recent trip to Utah was largely choreographed with the aim of boosting Hatch's standing with conservative voters, and convincing him not to let go of his Senate seat just yet. Speaking before a crowd of Utahns, Trump praised Hatch as the kind of "fighter" Republicans need in Washington now.
"We hope you will continue to serve your state and the country and the senate for a very long time to come," Trump told him.
The comment drew applause in the room—but in Utah's political class it set off alarm bells. "I think he's going to welch on Romney," one prominent Republican in the state griped to me.
In a recent meeting, Chris Hansen, the executive director of the National Republican Senatorial Committee, told a group of GOP political consultants that he had detected a recent shift in Hatch's attitude toward reelection, according to a source who was present, who requested anonymity to discuss the confidential conversation. The source said Hansen speculated that Hatch might run again, serve out the remainder of his committee chairmanship, and then retire after two years.
Polls show Utah voters overwhelmingly want this to be Hatch's final term—as he promised it would be when he was campaigning in 2012—and his low approval ratings suggest he could be exceptionally vulnerable to a primary challenge. Of course, Hatch does have defenders in the state, who argue that his seniority and close relationship with the White House make him a valuable asset to Utah.
But Hatch's coziness with Trump—who is uncommonly unpopular for a Republican president in such a deep-red state—cuts both ways, politically. Many Utahns believe a Senator Romney would provide a much-needed check on the president. And while the former Massachusetts governor, who owns a house outside Salt Lake City, has said he won't run for the seat unless Hatch decides to retire, some Romney loyalists are now urging him to enter the race regardless.
"I've been encouraging Mitt to just send out a Tweet that says, 'Orrin, thank you for encouraging me so strongly to consider running for the Senate. I have, and I'm going to do it. I couldn't have done this without you!'" one Romney ally told me. "But Mitt's too much of a gentleman at his core."
Indeed, while it is widely assumed that Romney could effectively end Hatch's career simply by throwing his hat in the ring, few people who know Romney believe he's willing to muscle an old friend out of office like that. But within Romney's inner circle, some are still holding out hope.
"If we get beyond the end of the year, or into January, and Hatch has still not said anything, and kind of keeps playing this game," said one longtime Romney adviser, "I think there's a chance that all bets are off at that point."