New York City Has Its Own Fund to Bail People Out of Jail
It's one of several ways local officials are trying to reform a bail system that the state largely controls.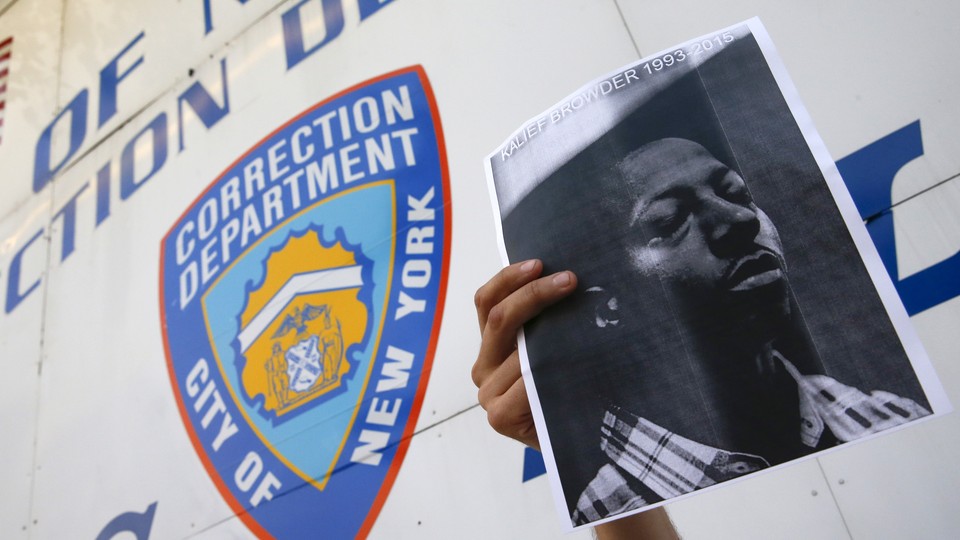 At 7 p.m. on a Thursday inside the Bronx Criminal Court, Lisa Whiteside is trying to determine who she can prevent from spending the night on Riker's Island. She scans the docket of 30 scheduled arraignments, knowing it will likely double in length as the night gets longer. Whiteside sits across one side of a thick glass barrier and asks promising candidates whether they have secure housing. What the circumstances were behind their arrest. What headspace they are in now. Not all people get to the face-to-face meeting, but those who do have a chance to argue that they should be helped. And Whiteside must then decide whether to pay their bail.
Whiteside is a charitable bail-fund agent in the Bronx. She pays bail for some New Yorkers who can't afford to pay it themselves.
She's part of a program that may seem counterintuitive. The Liberty Fund, created by New York City, sets free some of the very people that local municipal judges have deemed a flight risk.
The program is, in the words of civil-rights advocate Nick Malinowski, "a little weird." "You have the city paying for the police to make the arrests, the prosecutors to prosecute, and now you're going to have the city fund the bail money to pay [people] out?" said Malinowski, the civil-rights campaign director at Vocal NY, a grassroots organization focused on mass incarceration.
But the fund, which actually relies on money from a private donor for the bail costs, is one of several initiatives by the city to disassemble the bail system from the inside. New York City doesn't get to make policy about bail—it doesn't have the authority to decide whether to abolish or reform the criminal courts' policy for holding people in jail before they face trial. So, instead, city officials have created a program that works within a system they want to eradicate.
"I don't see [the Liberty Fund] as bail being institutionalized; I see it as an important step in doing away with the bail system as we know it," said David Long, the Liberty Fund's executive director. "Here is the blueprint for the Liberty Fund: We do a very good job, and in three or five years we have the stats for meaningful bail reform. A new system or a better system is put into place. The blueprint is charitable bail funds put themselves out of business."
***
Nationally, 62 percent of people in jail have not been convicted; they are simply waiting for trial. In New York City, that percentage is closer to 75. Often, this is because they cannot afford to pay the bail—usually a cash sum—that's set to ensure that they return to court. A report from the Center for Court Innovation states that in 2014, only 13.9 percent of New Yorkers were able to produce bail before they were put on a bus to Riker's Island, New York City's main jail complex.
In addition to putting people still presumed innocent behind bars, cash bail may sway defendants to take guilty pleas so they can avoid sitting in jail until trial. According to the Brooklyn Community Bail Fund, people are nine times more likely to plead guilty if they cannot afford bail.
Power to abolish or replace the bail system rests with the state legislature in Albany. "When it comes to cities and bail reform, a lot of it is state law," said Alex Crohn, who is general counsel at the Mayor's Office of Criminal Justice. "Cities don't normally have laws that govern what pretrial justice can look like, so our hands are tied a bit."
But the city has taken significant steps in recent years to chip away at the system handed down by the state. Mayor Bill DeBlasio recently pledged $30 million to a set of four criminal-justice reforms as part of a larger campaign to close Riker's Island. One of those reforms is aimed at reducing the number of people detained on bail of $2,000 or less. It includes the expansion of the Bail Expediting Program, which contacts defendants' relatives and guides them through the bail payment process. It also includes the creation of the Liberty Fund.
In 2015, outgoing City Council Speaker Melissa Mark-Viverito proposed the idea of a city bail fund in her State of the City address, and the council earmarked money to be set aside for that purpose. The $1 million from the city council pays for overhead costs like staff and rent.
Mark-Viverito was inspired by the model of other charitable bail funds that have been operating for years in New York City, most notably the Bronx Freedom Fund and the Brooklyn Community Bail Fund. "Pilot programs with strict limitations have shown that bail funds are enormously successful, with an appearance rate in the 90th percentile, potentially saving the city millions in incarceration costs," she said in her address, referring to the nonprofit bail funds.
Because the other, already-overextended charitable bail funds in New York City usually operate from 9 a.m. to 5 p.m. ET, the Liberty Fund handles the night-court shift, trying to fill a void that opens once the sun sets.
The other charitable funds operate without any coordination with the city. And, unlike players within the bail-bond industry, they don't charge defendants to post their bail. The bail-bond industry has been a vocal opponent of most reforms to the bail system, fighting to preserve its livelihood. Charitable bail funds, on the other hand, work to render themselves obsolete. The Liberty Fund works off of that model, but it is subject to many additional restrictions on how its funding can be used.
All bail funds come with limits. As enforced by the New York Charitable Bail Act of 2012, charitable bail funds can only post bail for misdemeanors less than $2,000. Which means that defendants who are accused of pricier misdemeanors or any felony are excluded. Kalief Browder, who was held at Riker's Island for three years without a trial in part because he could not afford his $3,000 bail, has become a symbol of the criminal-justice system's failings. But he could not have been helped by a charitable bail fund: Browder had been charged with grand larceny, which is a felony, for allegedly stealing a backpack.
The Liberty Fund has further restrictions handed down from MOCJ. There are 11 misdemeanors for which the fund is not allowed to post bail, largely sex offenses like public lewdness and promoting prostitution. These restrictions are set by the city to avoid bailing out people who have been charged with "sex crimes, and things where there is a big concern about releasing those people with no supervisions," Crohn said.
The Liberty Fund is also required to use an eight-question risk-assessment tool—the same one used to establish eligibility for the supervised-release program—to determine whose cases it can pick up. The questions touch on a person's age, employment status, warrant history, and past convictions.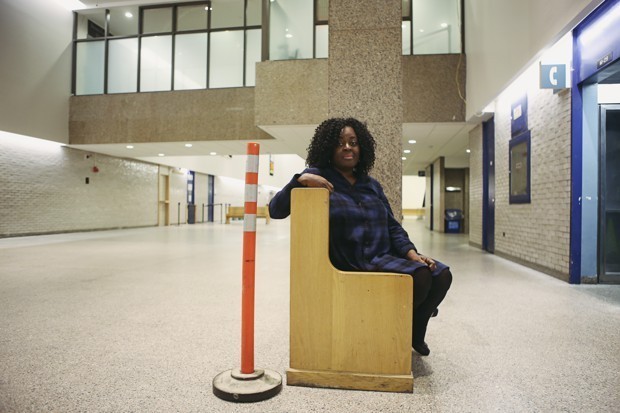 These measures are a departure from most other charitable bail funds, which use individual assessments instead of a single risk-assessment tool and do not withhold bail based on the type of crime alleged. "We never looked at a crime to say, 'Well, we don't like that kind of crime, so we're not going to bail you out,'" said Marianne Simberg, who used to run the Madison County Bail Fund in upstate New York. "Because, if they had their own money, they would have been out."
Though politicians and activists who want to abolish cash bail agree that the system is flawed, they don't always see eye to eye on how the system should be remedied. Politicians tend to be in favor of using risk-assessment tools, a method that has nearly eliminated cash bail in New Jersey. Many activists, on the other hand, believe those tools are flawed and biased against poorer communities of color. They want an overhaul of the way policing is done. They want judges to set different kinds of bail. (New York state's bail statute provides eight alternatives to cash bail, though cash bail is set most frequently.) And they want more programs like supervised release or community-service alternatives.
New York City's policies and programs are progressive compared with those in the rest of the state and within the majority of the nation. Insha Rahman, a senior planner at the Vera Institute of Justice, likened the city's efforts at bail reform to David battling against the state and bail industry's Goliath.
New York state Senator Michael Gianaris, who represents New York's 12th district, has been trying to pass legislation in Albany to abolish cash bail. But he isn't optimistic about its chances. Ignorance, he said, is the biggest obstacle. "Usually, [opposition] is from representatives from communities that don't have as much experience with criminal justice," Gianaris said.
***
Until the state can pass broader legislation on bail, the city believes stopgap measures like the Liberty Fund facilitate the best-case scenario.
Since its rollout in August, the Liberty Fund has posted bail for 79 people. Agents for the relatively new fund are still trying to get the word out about their existence: Whiteside said she used to hustle up to public defenders "like a cab service" when court began and would hand them a business card while she explained what the Liberty Fund was.
Advocates of bail reform are torn between relief that they have reinforcements helping them keep more people out of Riker's Island and concern about the signal the city is sending by creating a bail fund.
"How can we get the courts and system actors to actually change their hearts, mind, and behaviors, if we're allowing them to do business as usual knowing people can be bailed out in bail funds?" Rahman asked.
"I see value in a bail fund, because it's so immediate," she said. "But is it the only answer? No, it's one proof point. Other proof points are less sexy: working with local court systems, training judges on making bail decisions differently, and just simply releasing more people."
Terrance Bogans, a former public defender who now works at the Brooklyn Community Bail Fund, said bail funds "have always been responses to an injustice placed on a community by the state." But, he added: "To have the system copying the community instead of making the changes the community would want is where things become a little problematic."
Community bail funds say they've been proving the case against bail for years. The Bronx Freedom Fund first ran from 2007 to 2009 before a judge ruled it was an uninsured bail-bond business. It was instrumental in getting the Charitable Bail Fund Act—which allows nonprofits in New York to pay bail of $2,000 or less for misdemeanor defendants—passed in 2012, and it has been operating ever since. Over the past two-and-a-half years, the Brooklyn Bail Fund has posted bail for 2,500 people, 95 percent of whom have returned to make all of their court dates and have been two to three times more likely to have their cases either dismissed or resolved with a noncriminal outcome.
"We've proven 2,500 times that the bail system doesn't work, is inherently unjust, and essentially punishes you for being poor," Bogans said. "We're taking on the 'worst of the worst' in terms of warrant history, in terms of flight risk, and yet people are still coming back to court. Of course, we're helping people, but at what point does the strategy have to change to make people listen to us?"
Even Whiteside admits that, when interviewing for her current job, she was "baffled" by the fact that the city was hiring bail associates. "What is the value?" she asked, referring to bail system. "Is it to ensure that [defendants] return to court? Bail funds have proven that most people eligible to a bail program do return. So, if we know that, why do we have these systems in place?"
Crohn, of MOCJ, understands the concern that a city bail fund may appear to legitimize cash bail. But he also believes that the fund is a way to work within the confines of the current system. "I categorize our reform efforts into two buckets: working with the system as it is, and working towards the system we want. We would never stop work in one bucket because we haven't yet gotten to the other one." Until the state legislature moves to abolish the bail system, Crohn said, "we can't be blind that money bail exists."