Memphis's Novel Strategy for Tearing Down Confederate Statues
In a surprise move Wednesday evening, the city sold two parks to a nonprofit corporation that promptly tore down monuments to Nathan Bedford Forrest and Jefferson Davis.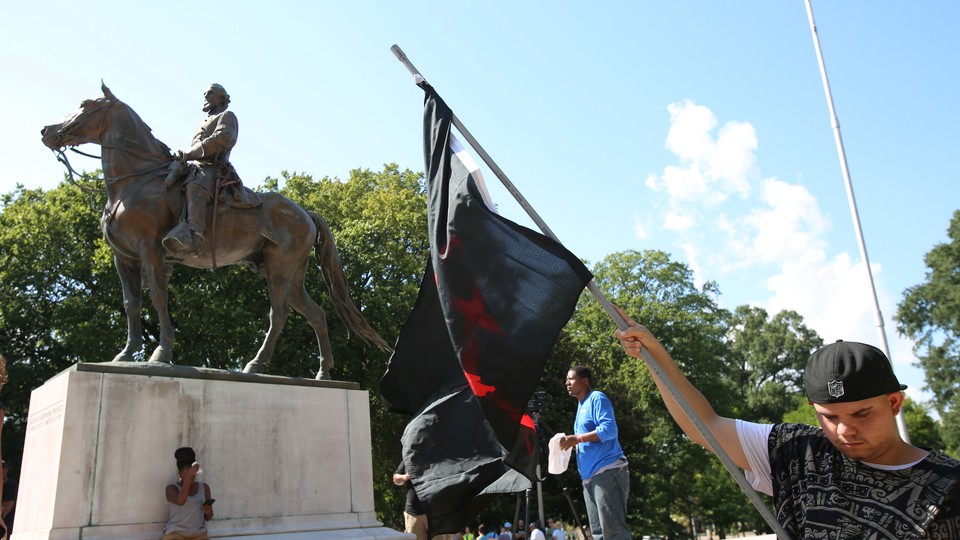 When Memphians woke up Wednesday, they lived in a city that owned Health Science Park and Fourth Bluff Park, and that featured prominent public statues of Confederate President Jefferson Davis and General Nathan Bedford Forrest.
When they woke up the morning after, neither was true.
In a surprise move Wednesday evening, Memphis's city council voted to sell the two parks to a new private nonprofit corporation that will run them, on condition that they keep the parks public. Mayor Jim Strickland signed a contract with the nonprofit, Memphis Greenspace, on Friday, and the council ratified it. Soon afterward, Greenspace, which was incorporated in October, began removing the statues, with celebratory crowds gathering to watch, singing, "Na Na Hey Hey Kiss Him Goodbye." The statues have been removed to a place nobody can find, according to the city's chief legal officer.
Its stealthy, sudden removal of the statues echoes the actions of leaders in other cities, including New Orleans and Baltimore, who opted to take down Confederate monuments with little warning for reasons of security. But the legal maneuver is a new one—the latest, and perhaps most unorthodox, strategy by local leaders to get rid of monuments that local communities detest but are forbidden by state law from removing. Memphis's choice may offer a new path forward for other cities grappling with monuments, but the decision could also elicit legal challenges and raises some awkward questions about the rule of law.
Leaders in Memphis have long wanted to get rid of the statues. Tennessee seceded during the Civil War, though it was a hotbed of loyalism and sent more soldiers to fight for the Union than any other Confederate state. But while the Volunteer State is conservative at the state level, Memphis is not. The city is nearly two-thirds African American, and the presence of monuments to Davis, who led a traitorous revolt from the United States dedicated to maintaining black slavery, and Forrest, a Confederate general infamous for slaughtering surrendering black soldiers and for later co-founding the Ku Klux Klan, was offensive and nonsensical.
There likely wasn't any other way to take the statue down. In 2013, Memphis renamed Forrest Park "Health Sciences Park." Two years later, the city council voted to remove the statues, but its was blocked by a state law. Tennessee is one of several Southern states that prevent the removal of Confederate monuments on public property without state approval, or require review from a historical commission. These preemption laws are part of a broader battle between conservative state governments, often dominated by white conservatives, and more liberal cities, often with large African American populations. Race is a frequent subtext in such discussions, but the debate over Confederate monuments makes that dimension explicit.
Memphis recently renewed its request to remove the Forrest statue, but in mid-October the Tennessee Historical Commission rejected the request. (There are clear dissonances in the decision: Even as the state refused to allow Memphis to act, Governor Bill Haslam has backed a push to remove a bust of Forrest from the state capitol.) Mayor Jim Strickland said the Greenspace workaround had been in development for months, and he signed a contract with the company on Friday. As soon as the council ratified it Wednesday, workers swung into action to remove the statues.
While activists across the South have long deplored Confederate monuments, the 2015 massacre in Charleston, South Carolina, helped jumpstart more serious efforts to remove them. When leaders in Charlottesville, Virginia, pushed to remove statues of Stonewall Jackson and Robert E. Lee, white supremacists rallied in the university town in August, resulting in violence that left one woman dead. Since then, there has been an accelerated push to remove monuments around the county.
As the Charlottesville case shows, such statues provide useful rallying points for white supremacists, who have been more vocal and emboldened in the Trump era. But the association between racist movements and Confederate statues is not new. Many Confederate monuments were erected in two waves—one in the late 19th century, during the Redemption Period and rise of Jim Crow, and the second as a reaction to the civil-rights movement of the 1950s and '60s. In both cases, the memorials served as public symbols of white supremacy. As Kevin Levin wrote here several years ago, the Forrest statue in Memphis was a rallying point for anti-desegregation protesters in 1958.
Many municipal leaders have concluded that Confederate monuments are indefensible. They celebrate a traitorous rebellion against the United States government that arose to protect slavery, and today, they strike a message of exclusion against African American citizens, even as they use those same citizens' tax dollars to maintain them.
Over the last few months, local officials in some jurisdictions have simply acted to remove monuments. In Birmingham, Alabama, another majority-black city saddled with a Confederate monument the local government detested, the city council and mayor decided in August to simply cover up a monument, drawing a lawsuit from the state government and more than $3 million in fines to date. In Durham, North Carolina, where state law prevents removal of monuments, a crowd of protesters gathered and tore down a statue commemorating Confederate soldiers that sat on the lawn of the former county courthouse.
The removal of the Forrest and Davis statues in Memphis is a step forward, but the method by which it was done is likely to draw legal challenges, whether from the state government or from the Sons of Confederate Veterans, which has battled any attempts to remove the statues. That could produce some curious legal questions: For example, if the city's sale were to be overturned, could it be forced to put the statues back up? (In Durham, there's been discussion over whether the county could be required by state law to purchase and erect a new statue to replace the crumpled one protesters tore down.)
Memphis's strategy also raise other uncomfortable questions. While the state law shows little respect for local control and protects racist symbols, it is also the law. The city's sale of the parks is designed to follow the letter of the law while brazenly flouting its spirit.
"It's important to remember what I've said all along: I was committed to remove the statues in a lawful way. From the beginning, we have followed state law—and tonight's action is no different," Strickland wrote in a note Wednesday. "The Historical Commission was not the only legal avenue."
The distance between righteous civil disobedience and risky breakdown of rule of law is not as wide as it might seem, however, and it's easy to imagine ways in which such a procedure could be abused. What if local authorities defied state or federal authorities to erect a pro-Confederate statue? That's not so far-fetched: After the Supreme Court's Brown v. Board of Education ruling, state and local authorities thumbed their nose at the federal government by privatizing public functions. Rather than allow black students, public schools closed, with private "segregation academies" opening to teach white students. (Many of these schools remain open.)
Ideally, Memphis's action will provide a warning to state governments that continue to defend Confederate monuments. Preemptive laws represent an effort to thwart local decisionmaking about what sort of heritage a community honors. Memphis, Birmingham, and Durham show that when the state government stands in the way of local will, citizens have a range of options for fighting back.