Republicans Are Split Over What to Tackle Next
With the GOP's tax cut enacted, Paul Ryan wants another conservative push to overhaul the safety net, while Mitch McConnell sees bipartisanship in 2018.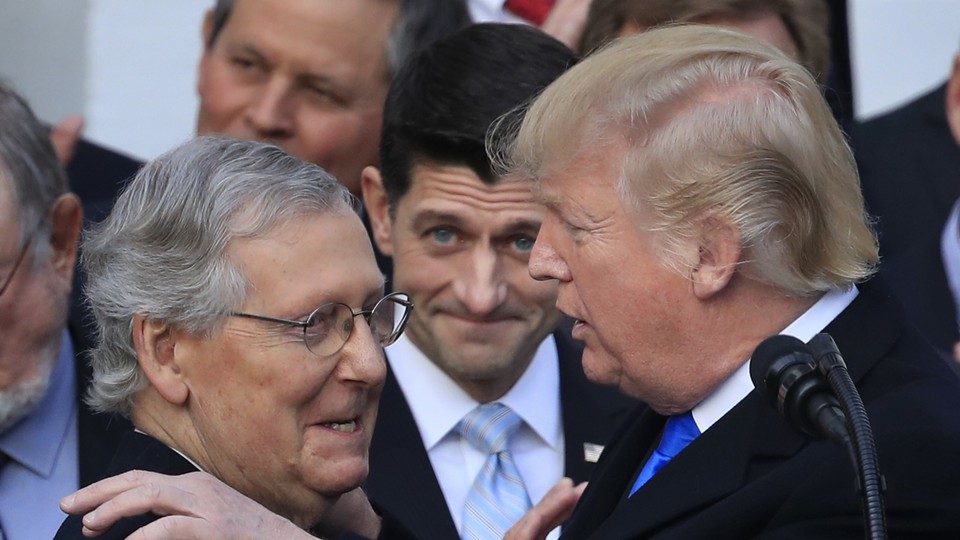 No sooner had Paul Ryan and Mitch McConnell sealed their first major legislative win last week than their next strategic split emerged: What should Republicans tackle next?
Having steered a $1.5 trillion tax cut to passage, the speaker wants his endangered House majority to stay the rightward course and move swiftly to an overhaul of welfare programs and Medicaid—and perhaps even the partial privatization of Medicare that Ryan has advocated for years. "Welfare reform is going to be our next lift," Ryan told The Weekly Standard's Stephen F. Hayes. Conservatives in the House have been pushing to impose work requirements on recipients of food stamps, and they're intent on making another attempt to enact the cuts to Medicaid that Republicans tried to include in their ill-fated repeal of the Affordable Care Act. Ryan, too, has been talking about proposals to consolidate the raft of federal anti-poverty programs that he argues are failing the nation's poor.
McConnell, however, has sent a much different message about the Senate's 2018 agenda. After a year of almost entirely party-line voting on judicial nominations, health care, and taxes, the majority leader says he want to pursue more bipartisan legislation in the midterm election year. McConnell has been talking up a potential two-party deal on immigration and a consensus bill to change the Dodd-Frank Wall Street reform law of 2010. He's even indulging President Trump's desire for a major push on infrastructure—a pricey priority that likely would attract Democratic support only if it greatly exceeds the $200 billion that the administration wants to fund.
What isn't on McConnell's list is welfare or entitlement reform. "I think the Democrats are not going to be interested in entitlement reform, so I would not expect to see that on the agenda," he told Mike Allen of Axios last week. During a year-end press conference the next day, he told reporters that "the sensitivity of entitlements is such that you almost have to have a bipartisan agreement in order to achieve a result."
McConnell's declaration was important because it appeared to rule out using the same partisan, budget reconciliation process that Republicans used on health care and taxes to try to ram through changes to Medicaid and food stamps. The GOP will have one more crack at reconciliation—which circumvents the Senate's 60-vote threshold to defeat a filibuster—before the 2018 elections, and a coalition of major conservative groups is gearing up to pressure party leaders to reserve that tool for entitlement reform and another stab at repealing Obamacare, according to a senior GOP aide to a conservative House member who spoke on the condition of anonymity to describe a strategy that hasn't yet been formally announced.
A likely pivot from tax cuts to spending cuts was the great fear of Democrats who opposed the Republican tax bill on the grounds that it was just the opening gambit of a party intent on "starving the beast" and using a reduction in tax revenue as justification to shrink the social safety net. But conservatives have been open about their desire to reduce the size and scope of the federal government. Before unveiling the GOP tax bill in the fall, Ryan secured the support of conservatives for the Senate's budget resolution—which ignored a House proposal for $200 billion in additional spending cuts—by promising them that in 2018, they'd have the opportunity to vote both on "deficit-reducing legislation" and a balanced-budget amendment to the Constitution.
McConnell's reluctance to tackle welfare and entitlements is less about a disagreement on policy than it is a frank assessment of his thinning ranks. It was hard enough for him to marshal 50 out of 52 Senate Republicans to support repealing Obamacare and slashing taxes, and he only succeeded on one of those missions. In 2018, the GOP will have just a 51-49 majority, thanks to the imminent arrival of Doug Jones, the Democrat who captured a Senate seat in Alabama earlier this month. For the same reason, McConnell has been downplaying the likelihood that Republicans will take another run at Obamacare repeal, if for no other reason than since they couldn't do it with 52 votes, it's foolish to think they could do it with 51.
Ryan's prerogatives are different: He may be entering his final year as speaker, whether by his own choice or that of the voters. While the Wisconsinite has dismissed speculation that he would leave Congress in the immediate aftermath of his tax-cut victory, he has notably not issued the same denial about a possible retirement after the 2018 elections. In media interviews last week, Ryan said he had not even talked with his wife about running for reelection. But with the House majority in jeopardy anyway, the speaker and his members know that unified Republican control in Washington might well be fleeting. "Conservatives see this as the last, best chance," the GOP aide said.
The big question is how Trump sees it. The president in recent weeks has talked up both welfare reform and his long-awaited infrastructure proposal, the details of which his aides have promised would come in January. "At some point, and for the good of the country, I predict we will start working with the Democrats in a Bipartisan fashion," Trump tweeted at the end of last week. "Infrastructure would be a perfect place to start. After having foolishly spent $7 trillion in the Middle East, it is time to start rebuilding our country!"
With the agenda unsettled, the next several weeks will be a battle among Republicans for the president's ear ahead of the State of the Union address and the party's annual policy conference. One lesson conservatives took from the tax debate was that the most effective way of steering policy in their direction was not to pressure McConnell or Ryan but to lobby the president directly in phone calls, meetings, and even television appearances. It was how they succeeded in getting a repeal of Obamacare's individual mandate added to the tax bill—a maneuver both GOP congressional leaders initially resisted out of fear it would tank the broader effort.
For conservatives, the goal is not to get Trump to abandon his infrastructure push; they understand it's one of his passion projects and a core promise he made to his voters. "We're trying to minimize the damage of this," the aide said. So far, conservatives have succeeded. Infrastructure has languished as a presidential priority, and with the help of White House Budget Director Mick Mulvaney, a former House spending hawk, the parameters of a plan that once called for upwards of $1 trillion in federal spending has been whittled down to $200 billion or less.
Cuts to welfare and entitlement spending and a simultaneous infusion of federal funds for roads and bridges aren't necessarily mutually exclusive. The White House could argue that it's using the savings to spend money on job creation. But in reality, the choice of a legislative priority in an election year might be binary—a move to use Republican majorities to conservative ends as long as they exist against a belated move to the political center with a bipartisan campaign for an infrastructure bill. With Ryan and McConnell split on the question, the decision is probably Trump's to make.