Marco Rubio Makes His Move
With Republicans already tight on votes, the Florida senator says he'll oppose the final tax bill if party leaders don't meet his demands to expand the child tax credit for working families.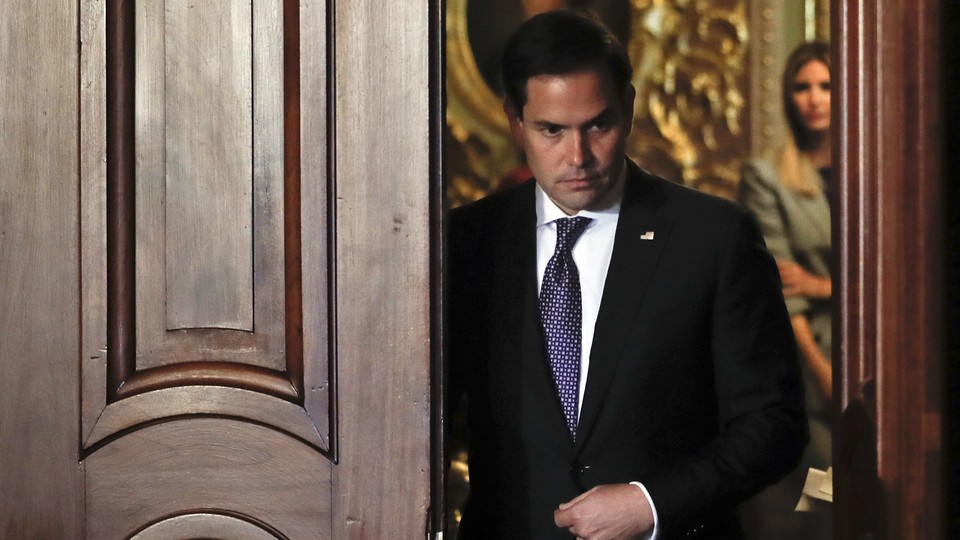 For weeks, Marco Rubio has been prodding Republican leaders to tilt the party's tax overhaul ever-so-slightly away from corporations and the wealthy and more toward working families.
The Florida senator has made speeches on the Senate floor, offered an amendment that his colleagues helped defeat, and tweeted complaints about the GOP's priorities for slashing taxes—all the while pushing his proposal to allow more people on the lower end of the income scale to take advantage of an expanded child tax credit. Republican leaders resisted his idea, and Rubio voted with them anyway.
But on Thursday afternoon, Rubio took his campaign an important step forward: He told top Republicans he'd vote against the final tax bill next week if they did not agree to his demands.
"Senator Rubio has consistently communicated to the Senate tax negotiators that his vote on final passage would depend on whether the refundability of the child tax credit was increased in a meaningful way," Rubio spokeswoman Olivia Perez-Cubas told me on Thursday, confirming The Washington Post's report on the senator's threat.
All along, Rubio's partner on the child-tax-credit proposal has been Senator Mike Lee of Utah. But Lee isn't yet joining him in publicly threatening to vote no. "Senator Lee is undecided on the bill in its current form," spokesman Conn Carroll said. "Senator Lee continues to work to make the [child tax credit] as beneficial as possible to American working families."
Republican leaders certainly can't afford to lose both Rubio and Lee, and they may not be able to sacrifice either one. The GOP needs 50 out of its 52 members to back the tax bill once a House-Senate conference committee unveils its final compromise. One senator, Bob Corker of Tennessee, voted against the initial Senate bill and appears unlikely to change his mind. Senator Susan Collins of Maine is undecided, having conditioned her vote on promises that party leaders may not be planning to keep. Senator John McCain of Arizona is back in the hospital due to side effects from his treatment for brain cancer. And the election of Democrat Doug Jones in Alabama has added even more urgency to the GOP's rush to pass its tax bill: Once Jones is sworn in at the end of the year, Republicans likely will have one fewer vote to spare.
All of which means Rubio has leverage, and he's finally decided to use it. Working with Ivanka Trump, Lee, and other colleagues, Rubio earlier won support for doubling the child tax credit from $1,000 to $2,000 per kid. But because Republicans have only made $1,100 of the credit refundable, its benefits skew toward higher earners. As Rubio has argued, a family earning between $20,000 and $50,000 a year does not have a large enough federal tax liability to take the full $2,000. An analysis from the left-leaning Center on Budget and Policy Priorities, which backs Rubio's proposal, found that 26 million children would not qualify for the full credit because of the refundability cap. "We have a provision in which the family making more gets more for their children than the family making less. That makes no sense," Rubio argued during floor debate over the Senate bill.
Rubio and Lee offered an amendment that would have made the expanded credit fully refundable while offsetting the additional cost by cutting the corporate rate only to 20.94 percent instead of 20 percent. (It is currently 35 percent.) But the Senate roundly rejected that change. Republicans voted against it because they prioritized the lower corporate rate, and Democrats who would normally support the policy did not want to put their stamp on a GOP bill they plan on campaigning against.
Yet Republican leaders turned around and tweaked the corporate rate anyway—not to expand the child tax credit but to lower the tax rate for wealthy individuals from 39.6 percent to 37 percent. That appeared to be the final insult for Rubio, who, to that point, had voted with the party. "20.94% Corp. rate to pay for tax cut for working family making $40k was anti-growth but 21% to cut tax for couples making $1million is fine?" he tweeted incredulously on Wednesday.
It's not clear whether Rubio is demanding that the expanded credit be made fully refundable to win his vote, or whether he could support a more modest change. In a tweet on Thursday afternoon, he suggested he could accept less than full refundability. "Tax negotiators didn't have much trouble finding a way to lower the the top tax bracket and to start the corporate tax cut a year early," he wrote. "Adding at least a few hundred $'s in refundable cuts for working families who seem to always be forgotten isn't hard to do either."
And whether he'll actually make good on his threat is an equally open question. Despite criticizing Donald Trump harshly on the campaign trail last year, Rubio has voted nearly in lockstep with him as president. Early in the year, he made a show of threatening to oppose Rex Tillerson's nomination as secretary of state only to come around in the end. Perhaps with that in mind, Trump did not seem particularly worried about Rubio's warning about the tax bill. "I think that Senator Rubio will be there," the president said at the White House, "very shortly."